New Hires Will Play Important Roles in Manufacturing and Deployment of Eos Aurora Utility-Scale Storage Systems
NEW YORK--(BUSINESS WIRE)--Eos Energy Storage ("Eos"), makers of the safe, ultra-low-cost Znyth® battery, today announced the addition of four new hires to support manufacturing and deployment of the companys utility-scale energy storage solution. David Henry joins as Chief Financial Officer, Richard Hanna as Vice President of Manufacturing, Daniel Friberg as Director of System Engineering & Integration, and Keith Powers as Director of Field Operations.

"Were gratified to have these industry leaders on board," says Jim Hughes, Eos Chairman of the Board and former First Solar CEO. "Their combined knowledge and expertise is helping to expand production and deploy MWh-scale storage on the grid—all with an unwavering focus on quality and continuous cost reduction. Their addition to the team represents another important step in our evolution from a technology company to a global product manufacturing and sales organization."
As CFO, Dave Henry will be responsible for all finance and accounting functions. He will draw on his nearly 30 years of experience in manufacturing companies to drive improvements in business processes and controls. Henry previously served as Executive Vice President, CFO and Treasurer of American Superconductor Corporation, where he led the company through a period of 14 consecutive quarters of revenue growth. He has also held finance roles at AMI Superconductor and Fairchild Semiconductor Corporation.
"Eos has the opportunity to be a leader in what is expected to be a multi-billion dollar market for stationary energy storage systems in the next few years," says Henry. "Im excited to apply my experience in utility equipment manufacturing and finance to help the company reach its potential."
As Vice President of Manufacturing, Richard Hanna is applying extensive background in battery, EV and hybrid powertrain technology to his management of supply chain, automation, quality control, and global manufacturing expansion. Hanna most recently served as Executive Director of Battery Operations for Apple at the companys Cupertino, CA headquarters. From 2008 to 2014 he was CEO of California-based EV manufacturer Electric Vehicles International. Prior to that, Hanna spent eight years at Texas-based advanced storage company Valence Technologies, where he rose to VP of Worldwide Operations and oversaw a supply chain and manufacturing operation spanning from China and Ireland to the United States.
"I was immediately drawn to the technology on account of its simplistic design and manufacturability," says Hanna. "The Znyth battery is completely different from the lithium batteries Im used to. There are no clean rooms required and no complex deposition processes; we can manufacture these batteries in a machine shop like environment and are now working to increase volume, yield, and throughput through automation while expanding localized production lines in target international markets."
As Director of System Engineering & Integration, Daniel Friberg will oversee engineering of the Eos Aurora DC battery system, including Eos proprietary battery management system, and will support third party integration and AC system design. Prior to Eos, Fribergs work in the energy storage sector involved leading successful engineering teams at both ABB and Parker-Hannifin. Under his leadership, these teams were responsible for the deployment of more than 200 MW of storage systems worldwide. Friberg has over 25 years background in electrical engineering in functions ranging from field service and systems engineering to sales support.
"I'm joining Eos to make a difference at the cutting edge of energy storage, in an organization with a clear technological advantage," said Friberg. "Energy storage and renewable energy are key to the future of the power grid; the simplicity and cost-effective nature of the Eos battery aligns with my vision for how energy systems should and will be evolving."
As Director of Field Operations, Keith Powers will be responsible for project management from installation onwards, coordination with and training of Eos Aegis system integration partners, and remote monitoring, maintenance and warranty services. Powers comes to Eos with 19 years of electrical utility and renewable energy project management and installation experience. Over his career he has managed construction of over 1.5 GW of utility-scale renewable energy systems, having most recently worked with Iberdrola Renewables and its successor company Avangrid Renewables.
"Im excited to work with this game-changing technology and world-class team to grow the installed base both in the U.S. and abroad," said Powers. "The modularity and scalability of Eos proprietary Energy Stack design makes installing MW-scale energy storage systems look a lot like building a solar array. Easy to install, outdoor-rated building blocks can be flexibly deployed to decrease total cost of ownership for the customer."
Eos is in the midst of global expansion of its safe, robust and cost-effective grid-scale energy storage solutions. The companys core product, the Eos Aurora, is a grid-scale battery system employing Eos aqueous, zinc-based Znyth technology. With pricing announced by Eos in April, the company is taking orders today for volume purchases at $160 per usable kWh for shipment in 2017 and $95 per usable kWh for shipment in 2022.
About Eos Energy Storage
Eos mission is to deliver energy storage solutions that enable safe, reliable, and affordable electricity for utilities and their customers. Eos produces a long-life, inherently safe, and easy-to-install DC battery system designed for grid-connected as well as commercial and industrial markets. The Eos Aurora® is the lowest-cost and highest-performance energy storage system designed to optimize grid infrastructure, enhance reliability, and control energy costs. Eos is located in Edison, NJ, and New York, NY; For more information, please visit www.eosenergystorage.com.
Contacts
Media:
Eco Branding for Eos Energy Storage
Molly Rafelson, 1-866-945-9445 ext. 707
eos [at] ecobrandit [dot] com
Featured Product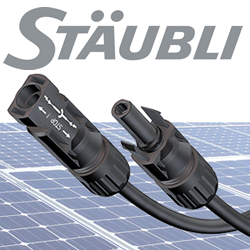 ​Stäubli Electrical Connectors are used on more than 300 GW, over 50% of the PV capacity worldwide. The MC4 family of UL and TUV listed products include connectors, in-line fuses, branch connectors, cable assembly and more.