Government and private sector leaders assemble to unlock geothermal's 200GW of potential
Abu Dhabi, U.A.E., 5 September 2017 — Leaders and ministers from more than 25 governments will meet in Florence, Italy on 11 September, to accelerate the global adoption of geothermal energy. The Global Geothermal Alliance (GGA) meeting represents the largest such ministerial gathering dedicated to geothermal energy development.

Geothermal energy today accounts for just 0.3 percent of globally installed renewable energy capacity. However - once start-up costs are met - it is one of the lowest-cost and most reliable renewable energy sources available. The global potential for geothermal is estimated to be in the region of 200 gigawatts.
Entitled: 'Working Together to Promote Geothermal Energy Towards a Sustainable Energy Future' the conference will bring together private and public sector representatives to address and overcome barriers that have hindered the deployment of geothermal despite its vast potential. The meeting is organised by the Italian government, including the Ministry of Foreign Affairs and International Cooperation, the Ministry of Economic Development, and the Ministry for the Environment, Land and Sea together with the International Renewable Energy Agency (IRENA).
"In line with our commitment to the COP21 Agreement, the Italian Government is determined to promote renewable energy and invest in innovative, zero-emission technologies with low environmental impact, including in the geothermal sector," said Italian Minister for Environment Mr. Gian Luca Galletti.
"My country is engaged, and will continue to pursue objectives within the framework of our National Energy Policy and Strategies based on our broad and remarkable renewable energy knowledge," continued Minister Galletti. "This is especially true of our geothermal energy experience, having developed the first-ever geothermal energy production plant in Lardarello, Tuscany," he concluded.
"Globally, geothermal energy remains largely untapped despite its huge potential for low-carbon power generation and direct use in heating and cooling," said Mr. Adnan Z. Amin, IRENA Director-General. "Right now we may only be harvesting six per cent of proven geothermal energy potential, meaning the sector represents a significant opportunity to decarbonise the energy system and drive economic growth in the 90 countries with proven resources.
"This Global Geothermal Alliance ministerial is a milestone that, in the strongest possible terms, demonstrates renewed will to unlock the potential of geothermal and reinforce the importance of its deployment to the global energy transition," concluded Mr. Amin.
The conference will attract more than 200 attendees who will hear global government and business leaders discuss the challenges and opportunities associated with scaling-up geothermal energy. In particular, the meeting will focus on identifying the mechanisms required to de-risk geothermal investments, creating regulatory consistency and pathways to strengthen institutional and human capacity within the sector.
Launched in 2015 at COP21 in Paris, the GGA is an inclusive multi-stakeholder platform of public, private, intergovernmental and non-governmental actors committed to scaling up geothermal energy deployment worldwide. Its membership is composed of 42 countries, and 29 partner institutions, including multilateral organisations, development partners, international and regional organisations, global financial institutions and private sector.
The Alliance aims to enhance multilateral efforts towards a more favourable environment to achieve a 500 per cent increase in global installed capacity for geothermal power generation and a 200 per cent increase in geothermal heating by 2030.
Geothermal energy is energy in the form of heat within the sub-surface of the Earth that is carried up to the surface as water and/or steam. Depending on its characteristics, geothermal energy can be used to generate clean electricity, or in direct use applications such as heating, cooling, the agribusiness and in industrial applications, to name a few.
The environmental footprint of geothermal energy is negligible and its predictability and reliability make it a significant contributor to decarbonisation of the global energy system, while increasing security of supply, and boosting local economic development.
###
For more information about this meeting or the GGA you can contact GGA@irena.org
About the International Renewable Energy Agency (IRENA)
IRENA is mandated to be the global hub for renewable energy cooperation and information exchange by 152 Members (151 States and the European Union). 28 additional countries are in the accession process and actively engaged. IRENA promotes the widespread adoption and sustainable use of all forms of renewable energy, in the pursuit of sustainable development, energy access, energy security and low-carbon economic growth and prosperity. www.irena.org
Featured Product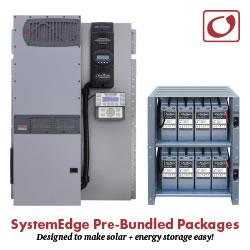 Each pre-bundled package is designed to make solar plus energy storage easy. By combining OutBack's most popular FLEXpower pre-wired systems with matched OutBack energy storage, SystemEdge takes the guesswork out of installing solar plus storage. Every SystemEdge package includes a FLEXpower factory pre-wired system, application-specific EnergyCell batteries and racking, FLEXware ICS Plus combiner and all the necessary connection hardware.