EnSync Energy technologies integrate and aggregate DER assets to deliver 21st-century grid services and performance
EnSync Energy Systems, a leading developer of innovative distributed energy resources (DERs), today announced the launch of a collaborative utility vertical initiative, targeting investor-owned utilities, independent system operators (ISOs) and third-party generators. EnSync Energys Matrix Energy Management and DER Flex technologies will provide the initial market entry products and services to accomplish automated visibility and control of distributed electric generation resources on both sides of the conventional utility meter.

EnSync Energy contracted Deborah Galimba, president and chief executive officer of XUTILITY and a former electric generation interconnection senior consultant at PG&E, to lead the utility vertical initiative. She will be responsible for optimizing utility-scale power source deployment, empowering system operators and tapping into new financial opportunities in third-party private markets.
"Utilities are struggling to maintain relevancy during a time of increasing third-party generation contributions," said Galimba. "DER Flex offers safe distribution solutions that enable utilities to advance into the 21st century with resource planning models that move seamlessly between third-party and utility-controlled energy resources. The grid evolution tools provide remote visibility to system operators and encourage third-party energy generation, while allowing utilities to maintain and extend their roles as the vital service provider. By modernizing utility infrastructure with the DER Flex and Matrix technologies, teams can reduce outage risk, increase grid stability and streamline safe remote power deployment, which ultimately benefits electricity consumers everywhere."
EnSync Energy has created a fully integrated product ecosystem that converts behind-the-meter DERs into dispatchable energy fleets. EnSync Energys DER Flex and Matrix Energy Management products communicate over NERC/CIP secure control remote platforms so that utilities and ISOs can access and control multi-metered assets and provide additional revenue benefits for the generator owner.
EnSync Energys proven technology is currently deployed in an industrial application with the Canadian utility ENMAX. ENMAXs site uses the Matrix hardware as a physical power plant aggregator connecting multiple generation resources. The DER Flex software — the brains behind the energy — communicates, manages and remotely dispatches DER assets across the meter for ENMAXs grid stability needs and revenue opportunities.
Hawaiian Electric Company (HECO) is an early adopter of the Matrix and DER Flex technologies and has selected EnSync Energy as a DER aggregator in the Department of Energy (DOE)-funded SEAMS for SHINES initiative. The HECO program intends to leverage EnSync Energys commercially available products to create market advantages for bidirectional meter control that enhance utility-controlled grid services.
"Were very pleased to have Deb Galimba join our efforts, as she shares our vision of how EnSync Energy technologies are uniquely positioned, as the next generation grid becomes reality," said Dan Nordloh, EnSync Energys executive vice president. "Debs passion for communicating our distinct advantage is proving to be instrumental in furthering existing relationships and opening new conversations with utility industry leaders. It is rewarding to see the progress of our technology strategy, and our utility vertical initiative is the next logical step that offers the opportunity for generating new revenue growth for EnSync Energy."
Featured Product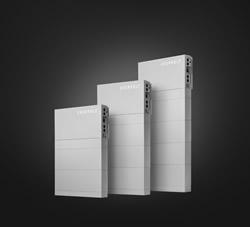 Renewable energy stored in an EVERVOLT home battery system is the perfect backup plan against an uncertain utility grid and weather events. Run key appliances longer and live life when the unexpected happens. EVERVOLT battery storage systems are covered by a complete 12-year warranty from Panasonic.