Four SunLink experts headline panel sessions on large scale solar market dynamics, PV monitoring and performance, codes and standards and new market opportunities
LAS VEGAS--(BUSINESS WIRE)--SOLAR POWER INTERNATIONAL -- SunLink Corporation, the leading full-scope solar energy solutions provider, will join top solar industry executives and experts on four different panel sessions at the solar industrys largest and most influential conference, Solar Power International (SPI), taking place in at the Mandalay Bay hotel in Las Vegas, NV September 11-13, 2017. SPI will bring more than 18,000 solar industry professionals from more than 80 countries to learn about and discuss the solar industrys latest trends, including whats next for photovoltaics (PV), energy storage and smart energy.

SunLink CEO Michael Maulick and @sunlink thought leaders talk future of #solar at #SPICon
Tweet this
On opening day, Monday, September 11, SunLink Vice President of Products Kate Trono will engage in a discussion on PV monitoring and performance titled "What Nobody Tells You About PV Monitoring and Performance Guarantees," at 2:30 pm at Lagoon J. This session will investigate risk allocation and performance guarantees both during construction and operations and maintained post commissioning for large utility projects.
Later that afternoon from 4:00 pm, SunLink President & CEO Michael Maulick will engage a panel discussion comprised of industry executives on large scale solar market dynamics titled "Halving Large Scale Solar Projects by 2030: The Evolution of Cost Savings in Solar Generation" at Lagoon H.
"The solar industry in the U.S. has come a long way but as an industry we need to move the conversation beyond pounds of steel and start helping customers better understand the intrinsic value of their long-term assets," said Michael Maulick, president and CEO of SunLink. "There are direct parallels to the tech industry where the integration of disruptive technologies like artificial intelligence, IoT and cybersecurity have created breakthroughs to accelerate the industry. By creating smart, intelligent energy that monetizes energy generation we can make the transition from solar being a niche energy player to the countrys dominant clean energy driver."
At the Annual SEIA Codes & Standards Workshop to be held on Wednesday, SunLink Vice President of Engineering Rob Ward will present his views on how well the industrys codes and standards are keeping up with increasingly complex and larger scale solar projects on a panel titled "Solar Codes and Standards: The Solar Report Card," at 1:10 pm at Lagoon H. Later during the same workshop, SunLink Structural Engineering Manager Lauren Busby Ahsler will speak on "Market Opportunities" at 3:45 pm which will examine the market opportunities that codes and standards work can help secure and what additional collaboration the industry can provide to ensure continued solar deployment growth.
Visit SunLink in the SPI Exhibit Hall at Booth #3319
About SunLink
SunLink Corporation brings powerful solar energy solutions to market through innovative, highly engineered products, in-demand customer services and best-of-breed software that make solar PV electricity easier, safer, more reliable and less expensive to install. In addition to bringing to market well-designed products that are agile in their implementation, the company leverages unparalleled R&D, a legacy of more than a GW of successful projects, state-of-the-art engineering and creative problem solving to develop optimized, full-scope product+service+software solutions for roof and ground-mount solar projects of every size and complexity. It is this unique combination of trusted insights, products, services and EnTech convergence that helps solar developers and installers overcome obstacles and furthers the industrys shared mission of advancing universal solar power adoption. For more information, visit sunlink.com or follow twitter.com/sunlink.
Featured Product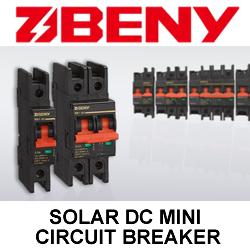 The BB1-63 modular miniature circuit-breakers can be used in solar DC circuits up to 1200 VDC (4-poles execution). Application in solar DC circuits, battery energy storage systems and UPS. Arc flash barrier design keeps solar equipment more safe and reliable. For DC circuit over-current protection.