Featuring commercial and utility-scale inverters
LAWRENCE, Mass.--(BUSINESS WIRE)--Yaskawa Solectria Solar, the leading U.S. commercial PV inverter manufacturer, introduced its new Solectria SLX line of American made inverters for commercial and utility-scale applications.

Yaskawa Solectria Solars SLX inverters are engineered and manufactured in United States, and are designed to achieve unmatched quality and reliability. Each individual component of the inverter is carefully selected and tested to perform reliably beyond the expected 20-year life of the inverters. This new product line will transform the 1000VDC commercial and 1500VDC utility-scale market by setting new standards in quality and reliability and vastly improving PV inverter uptime performance.
"Yaskawas quality and reliability testing are unlike anything the PV industry has ever seen. Since Solectria Renewables was acquired by Yaskawa America in 2014, we have incorporated Yaskawas quality methodologies into our PV inverter design and production processes," said Phil Vyhanek, President of Yaskawa Solectria Solar. "The SLX 1000 and SLX 1500 have endured testing to ensure that each individual component as well as the finished product will last beyond 20 years. PV project developers, owners, and EPCs will appreciate the new level of inverter reliability and durability, which drastically lowers the cost of installation and O&M, while increasing power production."
The SLX 1000 inverters are offered in 60 and 65 kilowatt (kW) power levels and the SLX 1500 inverters are offered in 125 and 166 kilowatt (kW) power levels. They offer wireless HMI and connectivity, reducing the cost of installation and commissioning. Various options for the integrated combiner include fused or unfused inputs as well as PV connectors.
"Yaskawa understands quality and reliability, as demonstrated over the past 100 years in all of our power electronics equipment. We are the only drives and motion control manufacturer to win the Deming Prize for excellence in Total Quality Management. This flagship, premium inverter line reflects the high quality and reliability that is built in to every other Yaskawa product," said Mike Knapek, CEO of Yaskawa America, Inc.
Yaskawa Solectria Solar will be exhibiting at Solar Power International in Las Vegas, Nevada September 10-13 where they will showcase the SLX 1000 and SLX 1500 inverters in booth #3783.
About Yaskawa - Solectria Solar
Yaskawa Solectria Solar, a wholly-owned subsidiary of Yaskawa America, Inc., is the largest commercial inverter manufacturer in the U.S. Solectrias products include 3.8 to 750 kW inverters, string combiners and web-based monitoring for all size solar systems. Solectria is backed by over 100 years of power electronics and inverter experience. All of Solectrias three-phase central inverters are made in the USA. PV System owners, developers and EPCs rely on the high performance, reliability and bankability of Yaskawa Solectria Solar. To learn more, please go to www.solectria.com.
Featured Product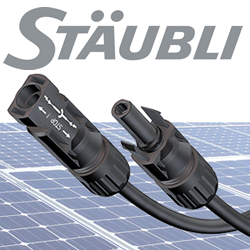 ​Stäubli Electrical Connectors are used on more than 300 GW, over 50% of the PV capacity worldwide. The MC4 family of UL and TUV listed products include connectors, in-line fuses, branch connectors, cable assembly and more.