Better Methodologies for Calculating Solar Value Should Be Developed During the Next Phase of the Case
WASHINGTON, D.C. - The solar industry responded to the New York Public Service Commission's (Commission) approval of utility implementation plans in the Value of Distributed Energy Resources (VDER) proceeding. These critical plans set the compensation for solar customers in each utility service territory and established a successor program to net metering in New York. The Solar Energy Industries Association (SEIA), the New York Solar Energy Industries Association (NYSEIA) and the Coalition for Community Solar Access (CCSA) released the following joint statement:

"Although the industry supports the Commission's goal to properly quantify the full value of clean energy, the recently approved utility implementation plans use incomplete and inadequately refined methodologies that fail to accurately calculate the economic and environmental benefits of solar.
"New York has ambitious goals for deployment of clean, distributed energy, and those goals cannot be met without a stable regulatory environment. We are concerned about the signal this sends to clean energy businesses evaluating investment decisions throughout the region, and the impact on the nascent community solar industry.
"During the case, the solar industry explained the flaws in the utility VDER implementation plans and proposed several alternatives for compensating solar customers for the values their projects provide. While we recognize these initial implementation plans are a first step toward more precise valuation, we are discouraged that the Commission approved the assumptions behind the utilities' plans.
"Our organizations remain committed to ensuring that the VDER framework captures all the value that solar provides to customers and the grid. As the second phase of the VDER case begins, the solar industry seeks a more robust, deliberative process that will allow for a thorough examination of utility data, consideration of independent analysis by outside experts, and sufficient opportunity for discovery and debate over the complex questions involved in this case."
###
About SEIA®:
Celebrating its 43rd anniversary in 2017, the Solar Energy Industries Association® is the national trade association of the U.S. solar energy industry, which now employs more than 260,000 Americans. Through advocacy and education, SEIA® is building a strong solar industry to power America. SEIA works with its 1,000 member companies to build jobs and diversity, champion the use of cost-competitive solar in America, remove market barriers and educate the public on the benefits of solar energy. Visit SEIA online at www.seia.org.
About NYSEIA:
NYSEIA is the only statewide membership and trade association dedicated solely to advancing solar energy use in New York. Led by a diverse Board of Directors and growing staff, NYSEIA strives to achieve responsible and sustainable solar energy adoption throughout the state that will create good-paying jobs, benefit communities and reduce environmental impacts from fossil fuels. Learn more at nyseia.org.
About CCSA:
Founded in February 2016, CCSA is a business-led trade organization that works to expand access to clean, local, affordable energy nationwide through community solar. Community solar refers to local solar facilities shared by individual community members, who receive credits on their electricity bills for their portion of the power produced. Community solar projects provide American homeowners, renters and businesses access to the benefits of solar energy generation unconstrained by the physical attributes of their home or business, like roof space, shading, or whether or not they own their residence or building. These programs can also expand access to solar energy to low-income households. For more information on CCSA, visit the website at www.communitysolaraccess.org, follow the Coalition on Twitter at @solaraccess and like the Coalition on Facebook atwww.facebook.com/communitysolaraccess.
Featured Product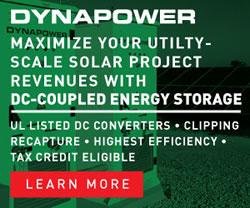 The addition of energy storage to an existing or new utility-scale PV installation allows system owners and operators the opportunity to capture additional revenues. Traditional storage plus solar applications have involved the coupling of independent storage and PV inverters at an AC bus or the use of multi-input hybrid inverters. An alternative approach - coupling energy storage to PV arrays with a DC-to-DC converter - can help maximize production and profits for existing and new utility-scale installations. DC-Coupled Utility-Scale Solar Plus Storage leads to higher round-trip efficiencies and lower cost of integration with existing PV arrays and at the same time, opens up new revenue streams not possible with traditional AC-coupled storage, including clipping recapture and low voltage harvesting, while being eligible for valuable tax incentives.