A surge of market entrants means more competition and opportunities for better offerings through partnerships, report finds
BOULDER, Colo.--(BUSINESS WIRE)--A new Leaderboard Report from Navigant Research examines the strategy and execution of 15 vendors of solar monitoring and home energy management systems (HEMSs).

Linking solar monitoring and HEMSs is becoming more common as countries move from traditional support mechanisms like feed-in tariffs and net metering to regulatory models that rely on self-consumption and include time-of-use components that hurt solar generation. In this new regulatory world, analytics are essential to new business models for installations that depend on self-consumption of the electricity generated locally or that will be aggregated in virtual power plants. Click to tweet: According to a new Leaderboard Report from @NavigantRSRCH, in terms of strategy and execution, SMA Solar Technology AG and Solar-Log are the leading vendors of solar monitoring and HEMSs.
"SMA and Solar-Log understand that, to create value in the future residential solar market, they needed to become an essential part of the HEMS—they are achieving this by creating platforms that can be integrated with other smart home products," says Roberto Rodriguez Labastida, senior research analyst at Navigant Research. "With relatively few monitoring systems and HEMSs on the ground, contenders and challengers have some time to improve their solutions through enhancing analytics, building partnerships, and offering new services to move up in the rankings."
While the solar monitoring and HEMSs market remains nascent, it is expected to evolve as home automation players enter the market and as companies from other value chains, like energy storage and load management, vie to provide core competencies and additional services like aggregation. Despite the competition, this market also presents opportunities to partner and build even more compelling products and services, according to the report.
The report, Navigant Research Leaderboard: Residential Solar Monitoring and HEMS, analyzes the Strategy and Execution of 15 leading residential solar monitoring and HEMS vendors. These players are rated on nine criteria: vision; go-to market strategy; partners; technology; geographic reach; sales, marketing, and distribution; product performance; product portfolio and ecosystem; and staying power. Using Navigant Researchs proprietary Leaderboard methodology, vendors are profiled, rated, and ranked with the goal of providing an objective assessment of their relative strengths and weaknesses in the global residential solar and HEMS market. An Executive Summary of the report is available for free download on the Navigant Research website.
About Navigant Research
Navigant Research, the dedicated research arm of Navigant, provides market research and benchmarking services for rapidly changing and often highly regulated industries. In the energy sector, Navigant Research focuses on in-depth analysis and reporting about global clean technology markets. The teams research methodology combines supply-side industry analysis, end-user primary research and demand assessment, and deep examination of technology trends to provide a comprehensive view of the Energy Technologies, Utility Transformations, Transportation Efficiencies, and Buildings Innovations sectors. Additional information about Navigant Research can be found at www.navigantresearch.com.
About Navigant
Navigant Consulting, Inc. is a specialized, global professional services firm that helps clients take control of their future. Navigants professionals apply deep industry knowledge, substantive technical expertise, and an enterprising approach to help clients build, manage and/or protect their business interests. With a focus on markets and clients facing transformational change and significant regulatory or legal pressures, the firm primarily serves clients in the healthcare, energy, and financial services industries. Across a range of advisory, consulting, outsourcing, and technology/analytics services, Navigants practitioners bring sharp insight that pinpoints opportunities and delivers powerful results. More information about Navigant can be found at navigant.com.
Featured Product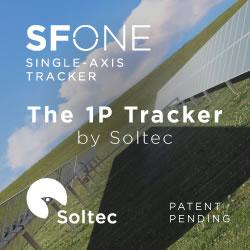 SFOne is the 1P single-axis tracker by Soltec. This tracker combines the mechanical simplicity with the extraordinary expertise of Soltec for more than 18 years. Specially designed for larger 72 an 78 cell modules, this tracker is self-powered thanks to its dedicated module, which results into a lower cost-operational power supply. The SFOne has a 5% less piles than standard competitor, what reduces a 75% the labor time.