Exhibitors say the expansion of EV and HEV markets worldwide is a positive development for the coil winding, electric motor and transformer manufacturing industry. Breakthrough technologies and new products were also highlighted during the show.
Electric vehicles (EV) continue to be the focus on the third day of CWIEME Chicago, where six experts discussed EVs future development and its impact on internal combustion engines during the morning panel.

"One of the things we are likely to get caught off guard by is the internal combustion engine people that are working very aggressively to squeeze every last percentage point of efficiency out of the engine," said Tom Prucha, business development director for Protean Electric, who was one of the experts on the panel. "As the trend has established, EVs are the future and fossil fuels are not, and costs should come down with that. So, while the engines get more efficient and the cost to power them goes down, [internal combustion engines] are going to be a formidable contender against EV technology."
The other five experts on the panel included Jaydip Das, senior manager, application engineering, Carpenter Technology Corporation; J. Rhett Mayor, CEO, DHX Machines; Konstantinos Laskaris, chief motor designer, Tesla Motors; Peter Littlewood, professor of physics, University of Chicago and emeritus director, Argonne National Laboratory; Matthew Doude, Center for Advanced Vehicular Systems, Mississippi State University.
Experts say while its hard to predict when EV will reach 50% market penetration, it is clear that China will be a leader, closely followed by Europe, and that the U.S. will be last.
"China and Europe are largely driven by regulations over pollution," Littlewood said during the panel. "China is already the largest user of electric vehicles globally and they are ramping up manufacturing of batteries at enormous rates."
China recently announced its planning to ban the production and sale of fossil-fuel-powered vehicles, following in the footsteps of countries like India, France, Britain and Norway.
"Chinas the worlds largest auto market, by making this announcement, they effectively created a de facto standard for the rest of the world," Doude said.
In the U.S., the agent for change when it comes to EVs, will not be the Environmental Protection Agency, but rather the California Air and Resource Board (CARB), according to Doude.
"Its anyones guess as to whether or not the US will implement a gas or conventional car quota, regulation or ban. But it doesnt actually matter because California will. California will introduce a ban or phase out gas-powered cars within the next couple of years," Doude said. "By CARB doing so, its effectively a national policy.
Matthew Doude with the Center for Advanced Vehicular Systems, Mississippi State University, says the California Air and Resource Board will be the agent for change when it comes to EV development in the U.S.
Powerful network
The in-depth knowledge sharing throughout CWIEME Chicago is what many exhibitors and attendees say they appreciate most about the three-day event.
"CWIEME Chicago is educational, with a concentration of people who are very specific to my industry," said David Palombo, president and CEO, Aveox Inc., an attendee at the show. "Its very interesting to meet new vendors and see new products and technologies. If I can find new vendors and new manufacturing technologies at the event, that will be very beneficial to my business."
For exhibitor SKF, a Gothenburg, Sweden-based bearing and seal manufacturing company, which has exhibited at both CWIEME Berlin and Chicago in the past, the show provides insight into industry trends and customer demands.
"It helps with product development because you get a whole lot of different opinions from people from different countries and regions. Then you can streamline it by finding the overlapping interest and demand," said Sean McCall, regional sales manager, motor QC systems, central U.S., SKF.
Design optimization
Other breakthrough technologies shared during CWIEME Chicago include Protean Electrics electric in-wheel technology designed for medium-to heavy-duty commercial vehicles. Conceptually, the electric in-wheel technology could have several advantages over central motors including:
• Providing greater drive range — In-wheel motors remove efficiency losses associated with gear, differential and CV joints situated around the vehicle.
• More creative freedom — In-wheel motors revolutionizes car design. No requirement for existing power components means car design is no longer compromised.
• Improved driver handling — Individual wheel motors provide torque distribution to different wheels, providing better stability and control.
• Cheaper production — In-wheel motors with integrated inverters do not require gear, differential, drive-shafts or external drive electronics, which mean lower costs for systems, development and manufacturing.
"Even if our motor and invertor isnt the most efficient, we are gaining several digits of efficiency just by eliminating the gear box," Prucha said.
Several manufacturers showcased their latest products during CWIEME Chicago, including Nittoku America, which displayed its cassette winding technology for electric motors.
"The cassette winding method offers higher slot fill, lower coils ends and overall less wasted copper and lower resistance when compared to traditional method," said Alexander Josberger, marketing manager for Nittoku America. "All that contributes to the increase of motors performance."
Demak, a company specializing in resin dispensing equipment, displayed its new Continuous Vacuum (CV) technology. Pietro Colombotto, the companys marketing and sales representative at CWIEME Chicago, explained that the use of resin to insulate electro-mechanic and electronic components in motors, transformers and capacitors helps improve their reliability and performance, especially when they are exposed to external factors.
"Our CV machine automates the whole resin insulation process, which brings more velocity and efficiency to the process," Colombotto said.
Featured Product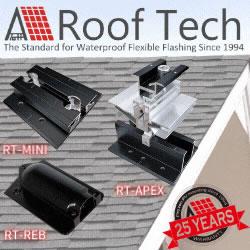 Now Roof Tech brings you the most innovative, watertight mounting systems ever developed for solar photovoltaic systems. Designed and manufactured exclusively for us by Japan's longtime leader in roofing technologies, Roof Tech products are 100% code-compliant and offer fast, simple installation and huge savings on shipping costs due to their compact, rail-less design. Learn more about our full line of versatile PV mounting solutions now available for residential installations. The next generation in rooftop solar mounting solutions."