The six projects will utilize Array's DuraTrack® HZ v3 solar trackers to supply clean energy to 238,000 homes across Australia
SYDNEY - October 11, 2017 - Array Technologies, the worlds most trusted name in solar tracking, today announced use of the companys award-winning DuraTrack HZ v3 trackers in six new Australian solar projects. The projects, scheduled for commercial operation in 2018, total 586 MW of new solar power in Australia and will provide reliable, clean power to 238,000 homes across Queensland and Victoria.

Australia has one of the fastest growing solar markets in the world. A recent RenewEconomy report shows that the countrys solar capacity is on track for 12 GW of installed capacity by 2020, double the current total. Arrays trackers add value for Australian developers and EPCs with their streamlined installation, zero scheduled maintenance, and industry-leading reliability.
Projects in this burgeoning solar tracker portfolio include:
• Ross River: A 148 MW solar installation close to the City of Townsville, Queensland. This project will power the equivalent of 54,000 Queensland homes and is currently under construction with completion expected in August of 2018.
• Gannawarra: The first large-scale solar farm in Victoria. This 60 MW facility, located in Northwest Victoria, will power the equivalent of 25,000 Victorian homes. The system is anticipated to be online in March of 2018.
• Whitsunday: A 69 MW solar farm located just outside of Collinsville in North Queensland. Whitsunday will bring power to the equivalent of 31,000 Queensland homes and is expected to commence commercial operation in March of 2018.
• Hamilton: Located in close proximity to Whitsunday in North Queensland, Hamilton is a 69 MW facility that will bring power the equivalent of 31,000 Queensland homes. The system is expected to commence commercial operation in March of 2018.
• Daydream: A 180 MW solar farm in North Queensland. Daydream will bring clean power to the equivalent of 73,000 Queensland homes and is expected to commence commercial operation in August of 2018.
• Hayman: A 60 MW facility also located in North Queensland. The Hayman solar farm will power the equivalent of 24,000 Queensland homes and is expected to commence commercial operation in August of 2018.
In addition to these six recent projects, Array is also providing trackers for three projects in New South Wales, Australia - Parkes (66 MW), Griffith (36 MW) and Dubbo (28 MW). Completion of all three installations is expected by the end of 2017.
"Australia is an important market for Arrays global business strategy," said Ron Corio, Array Technologies founder and CEO. "Given the fast trajectory of this market, it is critical that in the design process, developers fully understand the long term cost and performance implications of their equipment selection. With over 28 years in the tracker business, we are confident that our product will meet the high standards of the Australian solar market."
"We are very pleased to have been selected by some of Australias top developers and EPCs for 10 large scale utility projects in our first 10 months of operation in Australia." said Alan Brown, Array Technologies Sales Director and General Manager for Australia.
These new international projects come on the heels of a new report in which independent analysis from TÜV Rheinland PTL LLC found that Arrays trackers have unparalleled project economics as compared to competing tracker architectures. The report finds that Arrays architecture provides project owners with 4 Cents/Watt DC higher pre-tax Net Present Value (NPV) and 6.7% lower Levelized Cost of Energy (LCOE), driven by 31% lower lifetime O&M costs. To request a copy of the report, please contact marketing@arraytechinc.com or visit http://www.arraytechinc.com/tuv-report-findings/.
Array Technologies will be displaying its industry-leading solar tracking technology at the upcoming All-Energy Australia conference (October 11-12, 2017 in Melbourne). To learn more about these upcoming projects and the benefits of Arrays DuraTrack technology, attendees are encouraged to visit the Array Technologies team at booth 3020.
About Array Technologies:
Array Technologies, Inc. is the leading solar tracking solutions and services provider for utility-scale projects. With efficient installation and high reliability, durability and performance, Array delivers the best project returns in the industry. Arrays DuraTrack HZ v3 has been optimized through 28 years of experience and 13,000 miles of installed tracker products. Array Technologies is headquartered in Albuquerque, NM. For more information, please visit arraytechinc.com.
Featured Product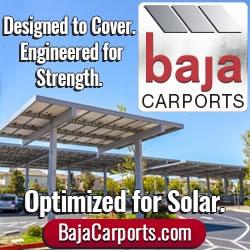 Baja Carports offers an extensive solar support system product line customized to customers' site specifications by in-house engineers, meeting their parking lot coverage, plus optimal PV production needs. Baja's Full Cantilever Tee is often paired with its Semi and Full Cantilever carports to meet live/loads up to 60psf and wind speeds to 160mph. All Baja products are pre-fabricated, bolted connections, pre-galvanized structural steel for fast on-site installation and project aesthetic requirements."