34 finalists now vie to win the distinguished Prize and be recognized for their contribution in the field of renewable energy and sustainability
Abu Dhabi, UAE, 17 October 2017 - International experts from the fields of energy, sustainability and education chose a shortlist of 34 finalists for the 2018 Zayed Future Energy Prize on Sunday and Monday during the third of a rigorous four-stage evaluation process. The finalists will now be discussed during a meeting of the prizes Jury at the end of this month, with the winners to be announced at the annual awards ceremony during Abu Dhabi Sustainability Week in January.

The finalists for the Non-Profit Organisation category are We Care Solar and Solar Sister that focus on expanding solar solutions and empowering women entrepreneurs in 'last-mile communities, while SELCO Foundation finances renewable and sustainable energy systems for low-income households in India. For the Small and Medium Enterprise category, Sunna Design, BBOXX Ltd and 1366 Technologies were named finalists. They are representative of the expansion of the solar market through the creation of smart solar street lighting, solar home systems and utility services, and solar wafers using more cost and energy-efficient process respectively. Entries were evaluated against four criteria, including impact, innovation, leadership and long-term vision.
Director of the Zayed Future Energy Prize, Dr Nawal Al-Hosany, said: "The Prize acts as a catalyst for the advancement of renewable energy solutions by rewarding and recognising those who have implemented sustainable policies and practices. This year marks a significant milestone for the Prize as we celebrate a decade of awarding individuals, schools and organisations for their positive impact on the world. By working to make clean energy a cornerstone of sustainable development across the globe, the Prize is bringing to life the legacy of our nations founding father, Sheikh Zayed bin Sultan Al Nahyan."
Dr. Behjat Al Yousuf, Chair of Selection Committee, Interim Provost, Masdar Institute of Science and Technology (part of Khalifa University of Science and Technology), added: "The footprint of the Zayed Future Energy Prize continues to grow every year and the calibre of entries is always outstanding, with technological innovation improving at an exceptional pace. This makes the judging process extremely competitive, and it is also at the same time rewarding to witness how innovative renewable energy is being embraced and implemented globally."
Simultaneously, the Global High Schools Committee also gathered over the two days to evaluate entries from high schools across the world, each of whom have their own vision for realising a clean energy project within their community. Entries received feature project proposals surrounding self-sufficiency as schools through rainwater harvesting and hydropower, harnessing solar power with the use of different types of batteries, and enhancing energy efficiency measures using green roofs or reflective films on glass windows. The deliberations from this committee resulted in 16 schools being selected as finalists from across five regions (Africa, The Americas, Asia, Europe and Oceania).
"This year, we saw entries from more new countries for the Global High Schools category, indicating that young people around the world are engaged and in tune with the need for sustainable practices. The Zayed Future Energy Prize has created a strong momentum for engaging and moulding future energy leaders. This year, the entries received reflected an impressive breadth and depth of thinking to propose innovative projects that will increase sustainability among their communities," said Dr. Abdulla Ismail Alzarouni, the Chair of the Global High Schools Committee, Professor of Electrical Engineering and Assistant to the President, Rochester Institute of Technology Dubai.
The 10th cycle of the Zayed Future Energy Prize saw a doubling in numbers for UAE submissions and a 37 percent increase in all categories compared to 2016. Nominations for the Large Corporation and Lifetime Achievement categories yielded 1,113 entries, while the remaining 1,183 submissions were for Small & Medium Enterprise, Non-Profit Organisation, and Global High Schools categories.
The evaluation process will see finalists from the Selection and Global High Schools Committees progressing to be evaluated by The Jury at the end of October 2017.
Featured Product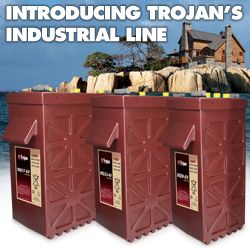 Trojan's deep-cycle batteries provide rugged durability, outstanding performance and long life for use in all types of solar energy installations. With over 90 years of experience, Trojan delivers the world's most reliable and trusted batteries in flooded, AGM, Gel, and Lithium types. These batteries enable solar equipment systems to operate at a peak level of performance in the harshest conditions or the most challenging of locations and are manufactured and tested to IEC standards.