-Today less than 80% of the worlds energy comes from fossil fuels, with China (32%) followed by the US (19%), the UK (10%), Japan (6%) and Germany (5%) as the leading investors of renewable energy -New capacity for renewable energies increased to a record 138.5 GW in 2016, accounting for 55.3% of all the GW of new power generation added worldwide last year -EnerTech company Kaiserwetter reports digitalization is the key to achieving sustainable energy for all by using the possibilities of Internet of Things (IoT) and smart data analytics
October 18th, 2017 - In observance of World Energy Day on 22nd October, Kaiserwetter, the international service provider for the management of renewable energy assets, applauds the global progress in sustainable energy. However, digitilization of the energy sector is the only way to meet the objectives of the World Energy Day to achieve safe and sustainable energy for all.

Clean energy is growing across the world
Since the 1990s, the clean energy sector as a whole has continued to grow year on year, a positive trend which contrasts with other energy sources like coal and nuclear in the electricity sector. Over the last year, renewable energy contributed to 19.3% of global energy demands and 24.5% of electricity production worldwide.China is the greatest investor of renewable energy, accounting for 32% of total investment worldwide, followed by the United States (19%), the United Kingdom (10%), Japan (6%) and Germany (5%).
In fact, new capacity for renewable electricity increased to a record 138.5 GW in 2016, accounting for 55.3% of all the GW of new power generation added worldwide last year. This makes 2016 the year with the highest clean energy output on record. Most importantly, this new capacity was delivered at a much lower cost: the 8% increase in new capacity over the previous year required 23% less investment.
However, despite this progress Kaiserwetter calls on the global investment community, as more needs to be done to fulfil the the objectives of the World Energy Day to achieve safe and sustainable energy for all.
Digitalization unlocks capital for renewable energy investments
Digitalization enables investors in the energy sector to maximize the return on investment and to minimize the risk of their renewable energy investments. Kaiserwetter has shown the potential of digitalization with the launch of its digital platform ARISTOTELES, which helps investors and financing institutions to secure their investments from an executive level perspective. It is the first digital solution on the market that integrates the possibilities of Internet and Things (loT), big data mining and smart data analytics by combining technical with financial data.
Hanno Schoklitsch, CEO of Kaiserwetter, comments: "Kaiserwetter celebrates World Energy Day and the impressive steps made in sustainable energy worldwide. However, the global transformation towards renewable energies can only be achieved with the help of digitalization and the Internet of Things (IoT). Investments in renewable energies, while using the IoT and smart data analytics, offer unexpected opportunities of boosting the expansion of renewable energies on a global scale."
About Kaiserwetter Energy Asset Management GmbH
Founded in 2012, Kaiserwetter is an independent and international service provider dedicated to the management of renewable energy assets focusing on digitalization.
Its range of services combines traditional, technical and commercial asset management with the digital integration of all processes and data. "ARISTOTELES", the innovative digital platform aggregates and correlates technical and especially all financial data with the goal of permanently maximizing energy production and minimizing investment risks. By applying these digital innovations investors and the financing capital shall be convinced forcing its investment in renewable energies.
The company offers its specialized services to investment funds, private equity investors, family offices and financing institutions. These digital services have allowed the company to position itself as a pioneer in a young market of Enertec companies.
Kaiserwetter manages wind and solar plants with a total output of 498 MW on behalf of third parties in four European countries. The internationally-focused company currently employs 50 people at its offices in Hamburg, Madrid, Copenhagen and New York.
For more information about our digital portfolio management tool ARISTOTELES: www.aristoteles.energy
Featured Product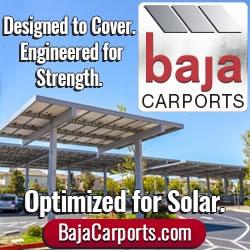 Baja Carports offers an extensive solar support system product line customized to customers' site specifications by in-house engineers, meeting their parking lot coverage, plus optimal PV production needs. Baja's Full Cantilever Tee is often paired with its Semi and Full Cantilever carports to meet live/loads up to 60psf and wind speeds to 160mph. All Baja products are pre-fabricated, bolted connections, pre-galvanized structural steel for fast on-site installation and project aesthetic requirements."