60,000 middle-class wind jobs, $50B private investment in rural America, business confidence would be preserved
WASHINGTON, D.C., Nov. 9, 2017 — Today's proposed Senate tax reform bill honors the 2015 bipartisan phase out terms for the wind energy Production Tax Credit (PTC). The PTC has been used to enable tens of billions in capital investment in rural America and to support tens of thousands of manufacturing and construction jobs spanning all 50 states. In 2015, the American wind industry tax reformed itself, supporting the bipartisan PATH Act to phase out the PTC through 2020, providing businesses with the certainty needed to continue to grow wind farms and jobs.

"The Senate tax reform bill keeps a promise to America's more than 100,000 wind energy workers and restores the confidence of businesses pouring billions of dollars into rural America," said Tom Kiernan, CEO of the American Wind Energy Association. "For a rapidly growing number of Americans, including our nation's veterans, wind power means well-paying, stable jobs. Fortunately for Americans, the Senate language honors Congresses' commitment to these workers and Senators Grassley, Thune, Heller and others are speaking out against retroactive tax hikes proposed in House tax legislation."
The Senate's tax reform bill rejects the House bill's drastic changes to the PTC phase down, including retroactive rule changes that put at risk tens of thousands of jobs and at least $50 billion of investment tied to projects already under construction and nearly complete. The House tax bill is already sending shock waves through the market. Bloomberg New Energy Finance and Goldman Sachs project new wind projects could be cut by more than half if the House language becomes law, also costing the jobs needed to build them and manufacture the 8,000 parts in a wind turbine.
The impact of the House's retroactive tax hike on the wind industry creates uncertainty for all industries. If Congress can arbitrarily retroactively change the rules, any business is forced to think twice before inking a deal to invest billions in U.S. infrastructure. Undermining infrastructure investment, including wind farms, hurts rural communities seeking to harness their resources as a source of jobs and drought-resistant income.
"The Senate has shown leadership in putting together a tax plan that works for U.S. wind workers, rural communities, and consumers who want affordable, reliable wind energy - but the fight to preserve America's wind jobs isn't over," said Kiernan.
Navigant Consulting projects that maintaining stable investment policy through the five-year PTC phase out will create $85 billion in economic activity and help grow another 50,000 American jobs, including 8,000 jobs at U.S. factories, through the end of President Trump's first term.
Boosting production of U.S. wind energy helps increase American energy independence and security. The majority of the value of an American wind farm is made-in-the-USA by 102,500 workers and 500 factories across all 50 states.
AWEA is the national trade association of the U.S. wind energy industry. We represent 1,000 member companies and over 100,000 jobs in the U.S. economy, serving as a powerful voice for how wind works for America. Members include global leaders in wind power and energy development, turbine manufacturing, and component and service suppliers. They gather each year at the Western Hemisphere's largest wind power trade show, the AWEA WINDPOWER Conference & Exhibition, next in Chicago, May 7-10, 2018. Find information about wind energy on the AWEA website. Gain insight into industry issues on AWEA's blog, Into the Wind. And please join us on Facebook, and follow @AWEA on Twitter.
Featured Product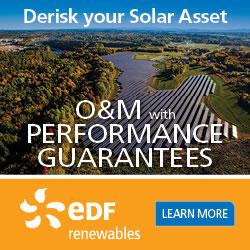 EDF Renewables offers the same innovative solutions that maximize the performance of our own 5.2 GW of installed projects. Because we're not an equipment manufacturer, our recommendations are transparent and data-driven. We cover the entire project lifecycle: from pre-commissioning support, through warranty and post warranty operation, to late stage and decommissioning.