Project for Los Angeles Department of Water and Power will use 13 Sunny Central Storage Inverters
ROCKLIN, Calif., November 14, 2017—Today SMA announced that 13 Sunny Central Storage inverters are being used in the Los Angeles Department of Water and Powers (LADWP) Beacon Energy Storage System, a 20 MW battery storage project at the Beacon Solar Plant in the Mojave Desert.

The new storage project will be owned and operated by LADWP to expand its energy storage portfolio, which already has 1,296 MW of energy storage capacity. The project will integrate solar resources into the grid and will help LADWP meet its target of 178 MW of new energy storage by 2021. It is strategically located to capture and mitigate the variability of 600 MW of solar power and 135 MW of wind power generated by several utility-scale renewable projects in LADWPs largest renewable energy corridor in neighboring Kern County.
"SMA is thrilled to work with Doosan GridTech, one of the top energy storage providers worldwide, to expand storage capabilities for LADWP and help them utilize more solar power," said John Susa, executive vice president of sales for the SMA America and the Asia Pacific regions. "We are confident that the Sunny Central Storage will be a reliable, robust solution to ensure a successful project for years to come."
Doosan GridTech is supplying the battery energy storage system for the project while its partner, KTY Engineering, will provide project and construction management. SMAs Sunny Central Storage 2750-EV-US, which is compatible with different types of battery technology, will provide comprehensive grid management services and allow for integration of renewable energy into the grid while ensuring maximum grid stability.
"We chose SMA for this project because of the companys proven ability to deliver product on time and the availability of its cutting-edge storage technology," said Dan Sowder, PE Doosans Vice President of Power Systems Integration.
About SMA
The SMA Group with sales of around €1 billion in 2016 is the global market leader for solar inverters, a key component of all PV plants. SMA offers a wide range of products and solutions that allow for high energy yields for residential and commercial PV systems and large-scale PV power plants. To increase PV self-consumption efficiently, SMA system technology can easily be combined with different battery technologies. Intelligent energy management solutions, comprehensive services and operational management of PV power plants round off SMAs range. The company is headquartered in Niestetal, near Kassel, Germany, is represented in 20 countries and has more than 3,000 employees worldwide, including 500 working in Development. SMAs multi-award-winning technology is protected by approximately 1,000 patents and utility models. Since 2008, the Groups parent company, SMA Solar Technology AG, has been listed on the Prime Standard of the Frankfurt Stock Exchange (S92) and is currently the only company in the solar industry that is listed in the TecDAX index. www.SMA-America.com
About Doosan GridTech™
Doosan GridTechis a global software and solutions provider that helps electric utilities and other megawatt scale power producers to evaluate, procure, integrate and optimize energy storage and other distributed energy resources. The Seattle-based company has managed nearly 65 MW of multiple energy storage and renewable integration projects on open standards software platforms across the country and in Southeast Asia. It is ranked as one of the top energy storage solution providers by Navigant Research and Bloomberg New Energy Finance. Its parent company, Doosan Heavy Industries & Construction Co Ltd, is headquartered in South Korea and is a multinational conglomerate with an emphasis on industrial and infrastructure products and services. www.doosangridtech.com
Featured Product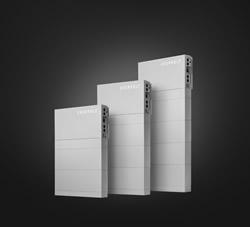 Extract maximum power production from every roof size and shape. HIT® AC Series combines the module efficiency of Panasonic solar panels with the intelligence of Enphase microinverters. A built-in IQ 7X microinverter with Individual MPPT (Module-level Power Point Tracker) tracking helps deliver an all-in-one module that offers design flexibility, reduced installation time, and a higher ROI. Field-replaceable microinverter with no DC wire management required yields lower cost of ownership.