-Sunstone Capital, Statkraft Ventures, Partech Ventures and Tim Schumacher invest in Series A financing roun -First online one-stop shop for customized residential solar systems -ZOLAR Online Configurator allows homeowners to conveniently choose from a wide range of brands and components
Berlin, November 16th, 2017 -The Berlin-based energy-start-up ZOLAR (www.zolar.de) has completed its Series A financing round led by Sunstone Capital and Statkraft Ventures with participation of Partech Ventures and internet entrepreneur Tim Schumacher. The financing consortium has invested 4 Mio. € in the rapidly growing company to support an accelerated roll-out and extension of ZOLARs product portfolio.

"We founded ZOLAR on the promise to make the purchase of a solar system for any house owner as simple and transparent as possible." says Alex Melzer, co-founder and CEO of ZOLAR. "With the provided capital, we will pursue our vision to power every house with decentralized renewable energy systems making peoples lives energy independent", adds Gregor Loukidis, co-founder and COO of ZOLAR.
As a matter of fact, the residential solar market is experiencing a significant growth. Due to decreasing component prices of solar modules and battery systems, for homeowners in most countries it is now cheaper to produce their own electricity than buying it from the grid. With solar energy, homes can lower their electricity bill effectively to zero. ZOLAR serves house owners with a new and convenient way to configure, choose and buy customized solar and battery systems online.
"For the first time ever, solar is at the stage where it has become the consumers best alternative. Not only is decentralized solar power lower cost than buying electricity from your utility, it will also heat your house and fuel your car. ZOLAR is the first full-service online provider for residential solar and the team is committed to take solar mainstream," explains Jimmy Fussing Nielsen, Managing Partner at Sunstone Capital.
On the companys website www.zolar.de house owners can sign-up for ZOLARs Online Configurator, which automatically creates a fixed-price offer for an optimal system configuration for their house. The configurator allows the user to customize a favorite system choosing from a wide range of solar module brands such as LG, Solarwatt or Trina and storage systems such as Mercedes-Benz, Varta or LG Chem without needing to have any prior knowledge. ZOLAR then takes care of the installation through its own solar experts and Germany-wide installer network.
"We are impressed by ZOLARs strong growth in their first year of operation. Given the favorable conditions for residential solar and considering ZOLARs smooth customer journey, we expect that an increasing number of households will choose to buy their solar systems online", explains Steffen Funck, Investment Manager at Statkraft Ventures.
About ZOLAR
ZOLAR is the first online provider that allows homeowners to customize their solar system on the web. Founded by Gregor Loukidis and Alex Melzer in Berlin, Germany in 2016, ZOLAR pursues the vision to power every house with affordable decentralized renewable energy to make peoples lives energy independent. The company not only actively pushes the Energiewende, but also wants to lower the CO2-footprint of every house.
About Sunstone Capital
Founded in 2007 and investing out of its fourth fund, Sunstone is one of Europe's leading early-stage venture capital firms. From its offices in Copenhagen and Berlin, Sunstone supports young tech-oriented companies in the start-up phase all over Europe. Sunstone is the early-stage investor behind successful European businesses such as GetYourGuide, Boozt, Prezi, Neo4j and Seriously.
About Statkraft Ventures
Statkraft Ventures GmbH is a European venture capital firm working with exceptional entrepreneurs driving fundamental change in the energy sector. Current investments in the residential energy space include Munich based smart thermostat company tado°. The company is exit-driven and backed by the Statkraft Group, Europes largest producer of renewable energy. Statkraft Ventures invests on common venture capital terms.
About Partech Ventures
Partech Ventures is a top tier transatlantic venture capital firm with offices in San Francisco, Paris and Berlin. Partech invests in Internet and information technology startups at seed, venture and growth stages. Partechs mission is to help outstanding entrepreneurs and disruptive companies to succeed in a global economy. Since 1982, Partech has completed 21 initial public offerings, and more than 50 M&A transactions over $100 million.
About Tim Schumacher
Tim Schumacher is the successful co-founder of Sedo and served as CEO until its acquisition by United Internet in 2012. Since then, Schumacher has co-founded and/or invested into various tech start-ups, such as Eyeo.com, Ecosia.org, Home.ht, Aklamio.com and Hitfox.com.
For more information please contact: Doreen Rietentiet, Tel: +4930609819500, dr@dwr-eco.com
Featured Product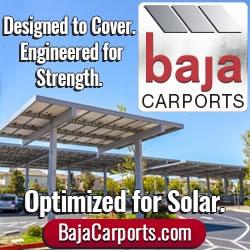 Baja Carports offers an extensive solar support system product line customized to customers' site specifications by in-house engineers, meeting their parking lot coverage, plus optimal PV production needs. Baja's Full Cantilever Tee is often paired with its Semi and Full Cantilever carports to meet live/loads up to 60psf and wind speeds to 160mph. All Baja products are pre-fabricated, bolted connections, pre-galvanized structural steel for fast on-site installation and project aesthetic requirements."