Advances in lead battery technology make it ideally suited to seize the huge opportunities in utility and renewable energy storage sector
London, UK (30 November 2017). The lead battery industry is redoubling its efforts to show investors and utility operators that lead batteries are a readily-available and cost-effective means of providing grid-scale energy storage today.

This was the message from industry leaders during a seminar on Friday, organised by the Advanced Lead Acid Battery Consortium (ALABC), held at the Institute of Materials, Minerals and Mining in London.
Representatives of the lead battery industry were encouraged by the unanimously positive response from end-users in the utility and renewable energy storage markets following presentations made at the seminar, which highlighted the considerable technical progress made by the technology in the past 20 years.
The speakers stressed that lead battery technology solutions meet all the requirements for energy storage installations, whilst also providing the most affordable option.
In addition, lead battery systems match and better rival technologies in lifetime and operational costs and are considered the safest technology because they are not subject to the same inherent safety issues which beset more recent systems. The huge installed base in utility projects, telecom and UPS installations worldwide has made them the most reliable, tried and tested technology in the world. Furthermore, more than 99% of lead batteries are collected and recycled at end of life in Europe and North America. This is far higher than any other battery technology.
"There are five essential reasons for utility operators to consider lead batteries in new energy storage systems they commission." said Dr Geoffrey May of ALABC, "the new generation of this technology meets all the technical requirements of energy storage applications, it is the most cost-effective, safest, most reliable and most recycled, sustainable technology available today."
Dr May explained that lead batteries are available which will provide up to 5000 deep cycles. This has a major impact on the total cost of ownership of a lead battery for energy storage and is more than a match for other battery energy storage technologies. In addition, research work carried out by ALABC has improved lead battery performance in the special conditions that are seen with renewable energy sources, particularly solar photovoltaic sources, where the battery is not fully charged at all times. This has focussed on the addition of special carbons to the battery electrodes and has now been widely adopted by many major battery suppliers.
Dr Andy Bush, President of the ALABC, which has co -ordinated and funded research and development to improve lead battery technology for the past 25 years said: "Lead battery technology has a great opportunity today to meet the needs of the energy storage industry. We are confident that the affordability, technical benefits and economically-driven recycling of these new-generation lead battery systems will result in widespread adoption in these developing markets."
About ALABC
The Advanced Lead Acid Battery Consortium is an international research co-operative comprised of lead producers, battery manufacturers, equipment suppliers, application developers, and research facilities organized to enhance the performance of lead batteries for a variety of markets, including hybrid electric vehicle (HEV) applications. A program of the International Lead Association, ALABC pools the resources of its global membership in order to perform specific research on advanced lead batteries that otherwise would not be possible by any single entity. For more information about the ALABC, visit www.alabc.org
International Lead Association (ILA)
ILA is the trusted and authoritative global trade association for the lead industry. Its member companies are at the forefront of lead mining, smelting and recycling and through ILA are working towards a vision of a sustainable global lead industry that is recognised for the positive contribution it makes to society. www.ila-lead.org
Featured Product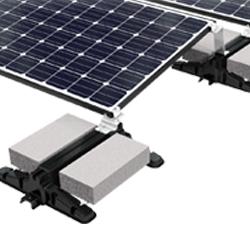 The Power Rail™ Commercial Mounting System is designed with the professional PV solar installer in mind. Both the XD/UD and LD/MD rails feature single tool assembly with the revolutionary patented RAD™ Lock-in-Place bolt for fast and secure module clamping. The high strength marine-grade aluminum rails include an integral wiring channel for securing cables and providing a professional finish.