• Safts modeling capability ensures the battery will help balance power excursions for more than 20 years • Battery energy storage system will also provide black start capabilities to other local generators
Paris, November 30, 2017 - Saft's Intensium® Max lithium-ion (Li-ion) containerized energy storage system was selected by Skylar Resources to provide black-start capability at the Grandview Substation in Glendale, California. The new battery energy storage system (BESS) will also enable local generators to be started in the event of an unplanned outage.

With near-instantaneous ability to respond to changes in load on the transmission network, this scalable project will enable Glendale Water & Power (GWP) to adjust the system accordingly for future energy needs, enhancing Glendales electric reliability. The BESS is also designed to support integration of renewable resources, compensating for their inherent variability.
"Reliable power is crucial for municipal utility systems who have to deliver essential resources to consumers daily," said Jim McDowall, Business Development Manager for Saft. "Todays power trends mean we have to manage our transmission grids effectively," he added. "Safts customized Li-ion solution provides GWP flexibility for the future, while enhancing stability, reliability and capacity of its transmission system."
BESS solutions like those commissioned on Glendales Grandview Substation are at the forefront of energy storage trends. It is estimated the energy storage market in the U.S. alone will increase to $2.5 billion by 2022. Globally, 2016 broke records for energy storage deployments, and researchers anticipate the market will grow nearly 50 percent in 2017.
"Customization is at the core of Skylars operations. We are very pleased with the completion and commissioning of the BESS at the Grandview Substation for our client Glendale Water & Power. This system is now one of the fastest responding storage systems for any municipal utility in Southern California. It will significantly improve electric reliability inside the City of Glendale. It gives GWP a flexible, state-of-the-art resource to meet its customers needs today and in the years ahead. Collaboration with Saft was key in helping GWP to optimize its operations," said William O. Perkins III, CEO and President of Skylar.
With power demand continually on the rise, Safts Intensium® Max energy storage technology addresses the need for supplementary capacity in a cost-effective and quick manner. Intensium® Max+ 20M batteries are manufactured in Safts Jacksonville facility.
About Saft
Saft specializes in advanced technology battery solutions for industry, from the design and development to the production, customization and service provision. For nearly 100 years, Safts longer-lasting batteries and systems have provided critical safety applications, back-up power and propulsion for our customers. Our innovative, safe and reliable technology delivers high performance in space, at sea, in the air and on land. Saft is powering industry and smarter cities, while providing critical back-up functionality in remote and harsh environments from the Arctic Circle to the Sahara desert. Saft is a wholly-owned subsidiary of Total.
Designed for Industry www.saftbatteries.com
Featured Product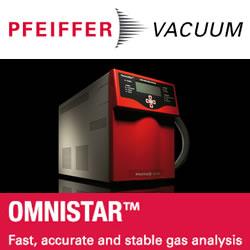 The Pfeiffer Vacuum OmniStar benchtop analysis system offers you a compact footprint, powerful software and Ethernet connectivity. It's the optimum solution for many real-time gas analysis applications. With the OmniStar, Pfeiffer Vacuum offers you a complete solution for gas analysis, in chemical processes, semiconductor industry, metallurgy, fermentation, catalysis, laser technology and environmental analysis. The turnkey OmniStar gas analysis system consists of heated, temperature-regulated gas inlet system, Quadrupole mass spectrometer, a dry diaphragm vacuum pump and HiPace turbopump. Unlike competing methods such as FTIR, OmniStar is suitable for qualitative and quantitative analysis of most gases.