High-impact smart energy management system and PPA will enable over $460,000 in savings for Maui community social good center
EnSync Energy Systems, a leading developer of innovative distributed energy resources (DERs), signed a 20-year power purchase agreement (PPA) with J. Walter Cameron Center (JWCC), a nonprofit incubator space for service agencies in the Maui community. The PPA will bring JWCC nearly half a million dollars in savings during the terms of the agreement.

The solar plus storage project encompasses a 148-kW photovoltaic (PV) installation and EnSync Energy's DER SuperModule™—244 kWh of energy storage supported by EnSync Energy's Matrix™ Energy Management System and DER Flex™ technologies. The solar energy system incorporates two subsystems: a 62-kW alternating current, PV-only system to directly serve the buildings' loads and an 86-kW direct current system connected to the SuperModule to store energy for off-peak solar hours and for demand charge mitigation. The batteries will be charged using 100 percent solar energy.
"This project has been tailored to both our functional site needs and our mission of improving the Maui community," said Cesar Gaxiola, executive director of J. Walter Cameron Center. "As we continue to expand our presence, this sustainable energy infrastructure model can be scaled up with a backup supply and a sophisticated financial package that brings significant cost savings for no money down."
JWCC provides over 43,000 square feet of office space across six individual buildings to 16 resident agencies, including The American Cancer Society - Hawaii Pacific, The American Red Cross and The Maui Chamber of Commerce. The center also provides program space and support resources to over 250 community groups that together serve 30,000 Maui residents.
Beyond cost reductions from the lower PPA rate, JWCC will benefit from demand charge mitigation services, which will decrease the center's utility bills by relying on energy storage to manage high demand charges. While the project will not export electricity to the grid, the system infrastructure has the ability to export, providing the center an opportunity to participate in potential grid services offered by the utility in the future.
The center consulted with EnSync Energy's project engineers to size the system to meet the center's operational needs. The project's SuperModule houses EnSync Energy's smart energy software-hardware solutions—the DER Flex software and the Matrix Energy Management hardware—and four 61 kWh lithium ion batteries. With EnSync Energy's scalable technology, the energy capacity of the SuperModule can easily be expanded as JWCC's energy requirements grow.
EnSync Energy's CEO Brad Hansen said, "Our customized, modular approach to distributed energy resource system design enables an optimized solution for any individual site. This project's focus on adaptability, affordability and interconnectivity also reflects the center's core goals of scalable growth and community support."
DER Flex and Matrix technologies respond to situational parameters and will be used by the JWCC for time-of-use shifting and demand charge mitigation. DER Flex assesses numerous external variables, such as weather forecasting, served load requirements and market price signals, to model when energy will be most expensive. This real-time analysis enables the system to automatically prioritize and synchronize the physical sourcing and delivery of electrons to create the best return.
Construction will commence in the coming months.
Featured Product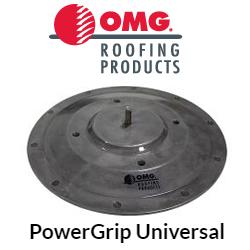 Eliminate Solar Rack Ballast and Reduce Rooftop Material Handling. PowerGrip™ Universal (PGU) is a commercial roof mount system designed to secure solar racks and other equipment to any type of commercial roofing system. PGU provides a secure connection directly to the roof deck or structural members and is designed to reduce or eliminate ballast in solar racking systems, so there's less weight on the roof and less material handling. Made of heavy-duty cast aluminum, PGU units include a base ring which is secured through the roofing cover and into the structural roof deck, and a waterproof top plate.