Rodman CPAs, a full service tax and accounting firm with a specialized renewable energy and clean technology practice serving "green" clients throughout the U.S., shares insight on the state of the solar, wind and biogas industries in the Northeast.
Rodman CPAs held their third and final "Solar Roundtable" for the year in November at their Waltham, MA office which was well attended by over 40 solar developers, installers and investors throughout the region who are interested in raising the profile of solar energy, deepening the understanding of changes in the industry and sharing ideas on best practices.

Over the year, the firm's roundtables covered topics both broad and specific, ranging from the complexity of the Solar Massachusetts Renewable Target (SMART) Program and the feasibility of the Investment Tax Credit (ITC Study) for various developers and tax reform, to energy storage, Tesla's battery wall, structuring tax equity deals, tax modeling, what is going on in the financing industry and more.
According to Steve Rodman, CPA, MST, CVGA, president, "We're seeing new technologies and initiatives that are driving innovation to make solar energy cost competitive. That along with the growing number of companies committing to clean energy and procuring electricity from renewable sources such as solar and wind is a promise of a brighter renewable energy future."
He continued, "We're also keeping a close watch on tax reform and its impact on green and renewable energy projects, and essentially how it will affect renewable energy developers and investors in a sector of the economy that has relied on federal tax credits and accelerated depreciation."
Rodman CPAs Solar Roundtables will continue in 2018. Those interested in attending or learning more should visit rodmancpa.com.
Green Energy Experts
Renewable energy producers and businesses that pursue energy efficiency initiatives rely on Rodman CPAs to provide them with a sustainable financial roadmap through expert partnership/corporate structuring for optimal tax benefit; grant qualification assistance and auditing; ongoing advisory services for federal, state and local tax incentives; and specialized strategic financial planning and management.
Rodman CPAs' Green Team includes the firm's president Steve Rodman, CPA, MST, and partners Kathy Parker, CPA, MST and Tom Astore, CPA JD, along with Elysha Sturm, Senior Accountant and Mark Vitello, CPA, Supervisor. Rodman CPAs is a charter member of the Mass Solar Coalition, as well as a member of Northeast Sustainable Energy Association (NESEA), Northeast Clean Energy Council (NECEC) and Solar Energy Industries Association (SEIA).
As green energy experts, Rodman CPAs are often guest speakers and panelists at renewable energy conferences and financial forums across the U.S. This year, partner Kathy Parker, CPA, MST, was guest speaker for several which included BioCycle REFOR17 (the official conference of the American Biogas Council) and two IEEE conferences. The firm's green team also attended Northeast Clean Energy Council's (NECEC) 10th Annual Green Tie Gala.
About Rodman CPAs
Rodman CPAs provides tax advisory, accounting, and business strategy to small and mid-sized emerging and established businesses. Named one of Accounting Today's Best Accounting Firms to Work for, and one of the largest accounting firms in Massachusetts by the Boston Business Journal, Rodman CPAs offers an innovative and strategic approach with the personal touch of a smaller regional CPA firm. For more than 50 years, Rodman CPAs has been specializing in customized accounting and tax solutions that improve business performance, processes, financial operations, and information technology.
The firm serves as a true business partner, helping clients perform and succeed during each stage of the business lifecycle. As domain experts in alternative energy, the "Green Team" at Rodman CPAs works with renewable energy producers and businesses throughout the U.S. offering tax advisory, financial, accounting services, and Investment Tax Credit (ITC) studies.
Rodman CPAs is an independent member firm of BDO Alliance USA, which enables them to expand services to clients by accessing the resources of BDO USA, LLP and other Alliance members, ensuring greater flexibility, efficiency, and cost-effectiveness. For more information, visit http://www.rodmancpa.com or contact (617) 965-5959.
Featured Product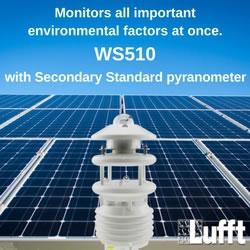 Professional weather sensors form the heart of large solar plants supporting their operation and performance. Lufft was the first manufacturer to combine several sensors in one housing, bringing the largest multiparameter weather sensor family with 19 members into being. Many of them are well-suited for solar site assessment and continuous monitoring. The most commonly used one is the WS600 delivering data on temperature, air pressure, wind, relative humidity and precipitation. Through its open protocol, it can easily be attached to radiation sensors e.g. from Kipp&Zonen. Other models have an integrated Silicon, Second Class or Secondary Standard radiation sensor.