20-year power purchase agreement improves local energy resiliency and provides cost savings for world-famous Hawaii attraction
For Immediate Release

LAIE, HAWAII - (PR Newswire - January 16, 2018) - EnSync, Inc. (NYSE American: ESNC), dba EnSync Energy Systems ("EnSync Energy"), a leading developer of innovative distributed energy resources (DERs), announced today that it signed a 20-year power purchase agreement (PPA) with the Polynesian Cultural Center (PCC) for a 396-kilowatt photovoltaic and inverter system.The PPA will reduce the facilitys kilowatt-hour rate, bringing an estimated savings of $43,000 in the first year alone to the Oahu tourism property in Laie, Hawaii.
The PCC, a nonprofit 501(c)(3) organization, was established to preserve and portray the cultures, arts and crafts of Polynesia, while providing employment opportunities for the thousands of students attending the adjacent Brigham Young University - Hawaii. The island villages, commercial kitchen, dining areas and theaters generate significant energy demand on the grid, and tie into even larger energy loads as part of a network of organizations sharing a campus. To meet this high energy demand, EnSync Energy will install solar arrays on three different building roofs on the PCC grounds.
"We are delighted to be associated with the world-renowned Polynesian Culture Center, an impact-conscious organization well known for educating nearly 700,000 visitors per year on the cultures of the Polynesian nations," said Brad Hansen, CEO and president of EnSync Energy Systems. "This solar project is just one example of the customized advanced energy systems we develop for our customers. EnSync Energys strategy for this project is to upgrade the existing infrastructure and deliver the highest value of energy today with a strong foundation for future electrical options. We are excited to be partnering with PCC on their energy needs through this installation and by the prospect of exploring opportunities for future projects together."
The onsite solar project enables PCC to generate energy to meet the organizations needs. PCCs solar project positions the nonprofit as a leader, bringing localized energy infrastructure services that will support the areas energy resiliency and connected infrastructure.
Following EnSync Energys recent announcement of signing PPAs that will save more than $33 million in electricity over the term of the agreements, the PCC solar project builds on EnSync Energys momentum in Hawaii as a leading DER provider.
+++++++++
About EnSync Energy Systems
EnSync, Inc. (NYSE American: ESNC), dba EnSync Energy Systems (EnSync Energy), is creating the future of electricity with innovative distributed energy resource (DER) systems and internet of energy (IOE) control platforms. EnSync Energy ensures the most cost-effective and resilient electricity, delivered from an electrical infrastructure that prioritizes the use of all available resources, such as renewables, energy storage and the utility grid. As project developer, EnSync Energys distinctive engagement methodology encompasses load analysis, system design consulting, and technical and financial modeling to ensure energy systems are sized and optimized to meet our customers objectives for value and performance. Proprietary direct current (DC) power control hardware, energy management software, and extensive experience with numerous energy storage technologies uniquely positions EnSync Energy to deliver fully integrated systems that provide for efficient design, procurement, commissioning, and ongoing operation. EnSync Energys IOE control platform adapts easily to ever-changing generation and load variables, as well as changes in utility prices and programs, ensuring the means to make or save money behind-the-meter, while concurrently providing utilities the opportunity to use DERs for an array of grid enhancing services. In addition to direct system sales, EnSync Energy includes power purchase agreements (PPAs) in its portfolio of offerings, which enables electricity savings for customers and provides a stable financial yield for investors. EnSync Energy is a global corporation, with joint venture Meineng Energy in AnHui, China, and energy project development subsidiary Holu Energy LLC in Hawaii, and DCfusion LLC, a power system engineering and design, consultancy and policy firm. For more information, visit www.ensync.com
About Polynesian Cultural Center
Located on Oahus beautiful North Shore, the Polynesian Cultural Center (PCC) is the only cultural tourist attraction of its kind in the world and a favorite of all visitors to Hawaii. An engaging, interactive celebration showcasing the people, culture, arts and crafts of Polynesia, the PCC has entertained millions of visitors from around the world since opening in 1963. A non-profit organization, 100 percent of PCCs revenue goes to daily operations and to support the education of its student-employees from neighboring Brigham Young University-Hawaii. For more information, visit www.Polynesia.com.
Safe Harbor Statement
This press release contains forward-looking statements within the meaning of Section 27A of the Securities Act of 1933, as amended, and Section 21E of the Securities Exchange Act of 1934, as amended, that are intended to be covered by the "safe harbor" created by those sections. Forward-looking statements, which are based on certain assumptions and describe our future plans, strategies and expectations, can generally be identified by the use of forward-looking terms such as "believe," "expect," "may," "will," "should," "could," "seek," "intend," "plan," "goal," "estimate," "anticipate" or other comparable terms. All statements other than statements of historical facts included in this press release regarding our strategies, prospects, financial condition, operations, costs, plans and objectives are forward-looking statements. Examples of forward-looking statements include, among others, statements we make regarding project completion timelines, our ability to monetize our PPA assets, statements regarding the sufficiency of our capital resources, expected operating losses, expected revenues, expected expenses and our expectations concerning our business strategy, forward-looking statements are neither historical facts nor assurances of future performance. Instead, they are based only on our current beliefs, expectations and assumptions regarding the future of our business, future plans and strategies, projections, anticipated events and trends, the economy and other future conditions. Because forward-looking statements relate to the future, they are subject to inherent uncertainties, risks and changes in circumstances that are difficult to predict and many of which are outside of our control. Our actual results and financial condition may differ materially from those indicated in the forward-looking statements. Therefore, you should not rely on any of these forward-looking statements. Important factors that could cause our actual results and financial condition to differ materially from those indicated in the forward-looking statements include, among others, the following: our historical and anticipated future operation losses and our ability to continue as a going concern; our ability to raise the necessary capital to fund our operations and the risk of dilution to shareholders from capital raising transactions; our ability to successfully commercialize new products, including our Matrix TM Energy Management, DER Flex TM, DER Supermodule TM, and Agile TM Hybrid Storage Systems; our ability to lower our costs and increase our margins; our product, customer and geographic concentration, and lack of revenue diversification; the length and variability of our sales cycle; our dependence on governmental mandates and the availability of rebates, tax credits and other economic incentives related to alternative energy resources and the regulatory treatment of third-party owned solar energy systems; and the other risks and uncertainties described in the Risk Factors and in Management's Discussion and Analysis of Financial Condition and Results of Operations sections of our most recently filed Annual Report on Form 10-K and our subsequently filed Quarterly Report(s) on Form 10-Q. We undertake no obligation to publicly update any forward-looking statement, whether written or oral, that may be made from time to time, whether as a result of new information, future developments or otherwise.
Featured Product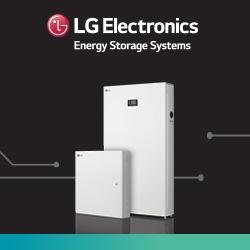 LG Solar is transforming today's solar landscape, offering precision-manufactured and high-efficiency solar panels for homeowners who demand high performance, reliability and consistently strong energy yield from a brand they can trust. LG modules feature outstanding durability, appealing aesthetics and high-efficiency technology, backed by a limited 25-year product, performance and labor (up to $450) warranty. Homeowners who purchase LG Solar modules know they're protected by a diversified global brand.