E-mobility is driving deployment of photovoltaics
Munich, January 17, 2018 - Photovoltaics (PV) and e-mobility, the ideal combination: Driving with solar power is becoming increasingly attractive. When vehicles are fueled by electricity from renewable sources, e-mobility is more than just the clean and sustainable mobility solution of the future. It also drives the deployment of photovoltaics. Trade visitors at Intersolar Europe 2018, the worlds leading exhibition for the solar industry, will learn about the diverse prospects created for the environment by the combination of PV and e-mobility and about the new areas of business and sales markets which are opening up. This years event will be held June 20-22, and will be taking place for the first time within the new innovative platform The smarter E Europe in Munich, along with other leading energy exhibitions - including Power2Drive Europe, the new exhibition for e-mobility and charging infrastructure.

With e-mobility, the new energy world is picking up speed. Electric vehicles are the clean transportation of the future - but only if they are charged using clean power. This makes e-mobility a future driver of the PV market. Ideally, electric vehicles are charged with solar power directly from the owners roof. This is particularly profitable for PV systems with a capacity of up to ten kilowatts (kW), as these are now exempt from the EEG levy on self-consumption in Germany. At roughly ten to twelve euro cents per kilowatt hour (kWh), the self-generated power is less than half the cost of power direct from an electricity supplier. The distance a driver can cover with self-generated solar power depends primarily on the energy consumption of the vehicle. For example, a PV system with a capacity of 3 kWp in a single-family home in Germany can provide roughly 2,800 kWh annually. That is enough for electric vehicle owners to drive about 14,000 kilometers (8,700 miles) emission free.
Electric vehicles can be driven and charging stations can be fed with electricity from PV systems. This opens up new business models for PV companies and system owners, who can profit from solar filling stations, for example.
End in sight for 20-year feed-in tariffs which drove German market
In the coming years - beginning in 2022 - the first PV systems will reach the end of the 20-year period of feed-in tariffs paid under the German Renewable Energy Sources Act (EEG). This imminent development is another driving force behind the combination of PV and e-mobility. Now is the time for investors and plant operators to give thought to how the electricity can be used in the future. Different variations of self-consumption are moving further into the foreground.
From installer to automobile seller
More and more automobile manufacturers recognize the potential of e-mobility and are offering electric vehicle models. At the same time, some are setting up new manufacturing sites for battery production. Installers too are expanding their business activities and making the transition to automobile sales. For example, solar technology suppliers are cooperating with manufacturers to offer electric vehicles for sale or lease. On the whole, the selection of suitable electric vehicles - including for commercial use - is becoming ever greater.
The smarter E Europe: Where energy and mobility interact
E-mobility is driving the solar industry, making a platform that combines the industrial fields of automobiles and energy even more important. With Intersolar and Power2Drive Europe, the new innovative platform The smarter E Europe is closing the gap between the two fields. Above all, the combination of PV and e-mobility plays a significant role in the presentations at the Intersolar Europe and Power2Drive Europe Conference. In addition, the many exhibition fora and workshops provide trade visitors and other attendees with valuable information about new business models and sales markets. From innovative charging solutions for vehicle-to-grid and payment systems to new technologies for electric vehicles and PV systems, The smarter E Europe makes room for the important topics of the future of energy. Together with ees Europe and EM-Power, it is the ideal meeting point to learn more about the future of the world of energy and transportation.
Intersolar Europe and the parallel events will take place from June 20-22, 2018 under the umbrella of The smarter E Europe at Messe München.
For more information, please visit:
www.intersolar.de/en
www.TheSmarterE.de/en
Intersolar Europe
With events spanning four continents, Intersolar is the worlds leading exhibition series for the solar industry and its partners. It unites people and companies from around the world with the aim of increasing the share of solar power in our energy supply.
Intersolar Europe takes place annually at the Messe München exhibition center in Munich, Germany and focuses on the areas of photovoltaics, solar thermal technologies, solar power plants, grid infrastructure and solutions for the integration of renewable energies. Since being founded, Intersolar has become the most important industry platform for manufacturers, suppliers, distributors, service providers and partners in the global solar industry. The accompanying conference consolidates selected exhibition topics and showcases international markets, large-scale power plants, financing and pioneering technologies.
With over 25 years of experience, Intersolar has the unique ability to bring together members of the solar industry from across the worlds most influential markets. Intersolar exhibitions and conferences are held in Munich, San Francisco, Mumbai, São Paulo and Dubai. These global events are complemented by the Intersolar Summits, which take place in emerging and growing solar markets worldwide.
In 2018, ees Europe, Europe's largest exhibition for batteries and energy storage systems, will take place in parallel to Intersolar Europe for the fifth time. Both exhibitions will also be complemented by two new events, Power2Drive Europe and EM-Power. Power2Drive Europe is dedicated to traction batteries for e-mobility and topics relating to charging infrastructure, while EM-Power is the exhibition for intelligent energy use in industry and buildings. All four exhibitions are being held under the umbrella of The smarter E Europe - the innovation hub for empowering new energy solutions.
In parallel with Intersolar Europe, automatica, the leading exhibition for smart robotics and automation, takes place every two years. It features the worlds largest range of industrial and service robotics, assembly solutions, machine vision systems and components. It gives companies from all relevant branches of industry access to innovations, knowledge and trends with a great deal of business relevance.
For more information on Intersolar Europe, please visit: www.intersolar.de/en
Intersolar Europe is organized by Solar Promotion GmbH, Pforzheim, and Freiburg Wirtschaft Touristik und Messe GmbH & Co. KG (FWTM).
Featured Product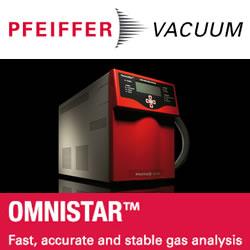 The Pfeiffer Vacuum OmniStar benchtop analysis system offers you a compact footprint, powerful software and Ethernet connectivity. It's the optimum solution for many real-time gas analysis applications. With the OmniStar, Pfeiffer Vacuum offers you a complete solution for gas analysis, in chemical processes, semiconductor industry, metallurgy, fermentation, catalysis, laser technology and environmental analysis. The turnkey OmniStar gas analysis system consists of heated, temperature-regulated gas inlet system, Quadrupole mass spectrometer, a dry diaphragm vacuum pump and HiPace turbopump. Unlike competing methods such as FTIR, OmniStar is suitable for qualitative and quantitative analysis of most gases.