The ceremony was marked by the participation of Mohamed Ould Abdel Aziz, President of Mauritania and HRH Prince Hussein Bin Abdullah II, Crown Prince of Jordan.
January 17, 2018 -Nine winners were recently announced at the Zayed Future Energy Prize awards ceremony during Abu Dhabi Sustainability Week, marking the historic 10th anniversary of the worlds preeminent sustainability award.

The ceremony was marked by the participation of Mohamed Ould Abdel Aziz, President of Mauritania and HRH Prince Hussein Bin Abdullah II, Crown Prince of Jordan.
Sheikh Mohamed bin Zayed Al Nahyan, Crown Prince of Abu Dhabi and Deputy Supreme Commander of the UAE Armed Forces, said: "2018 marks a momentous year for the UAE. It will see the nation coming together to commemorate the Year of Zayed, and be reminded of our Founding Father the late Sheikh Zayeds wisdom, benevolence and leadership. His environmental stewardship continues to shape the development of our nation, guiding it to greater heights while inspiring sustainability initiatives globally.
Nine awards were presented in five categories: Lifetime Achievement, Large Corporation, Small and Medium Enterprise, Non-Profit Organisation and Global High Schools. While high schools across the world were awarded for their vision and ingenuity in renewable energy projects, the remaining winners were acknowledged for their outstanding work advocating sustainability.
Al Nahyan congratulated the winners and highlighted the important role they play in improving lives in respective communities and furthering economic and social development. He also encouraged them to continue their work to develop solutions that can benefit the world.
Shuji Nakamura, Professor of Materials and Electrical & Computer Engineering at the University of California, Santa Barbara, received the Prizes Lifetime Achievement award for pioneering the development of white LED lights, an innovation that will have reduced electricity consumption in the US by an estimated 348TWh by 2027, saving more than US$30 billion. LED lights have displaced around 880,000 tonnes of carbon dioxide in Africa alone while extending energy access to millions of people. Nakamuras research on blue lasers and LEDs have been integral to the creation of Blu-ray discs, and to enhancements now taken for granted in TVs, mobile phones, and movie projectors.
Google was named Large Corporation winner for 2018 for its leadership in implementing renewable energy and reducing carbon emissions. Googles expertise in data analysis and digital innovation led to the development of the worlds leading "smart" thermostat through its subsidiary "Nest", and the utilisation of machine learning to optimise the integration of renewables in electricity grids.
The 2018 winner in the Small and Medium Enterprise category, Sunna Design, was honoured for its work in solar-powered street lighting, which has improved security, quality of life and socio-economic opportunities in 130 isolated villages and refugee camps in developing countries.
The SELCO Foundation, winner in this years non-profit category, offers micro-loans to extend energy access in impoverished communities, and education programmes aimed at raising awareness of the benefits of sustainability and renewable energy.
The Global High Schools category of the Zayed Future Energy Prize was established in 2012 to help cultivate tomorrows energy leaders and sustainability advocates. Each of this years school winners, representing a total of five world regions, demonstrated exceptional initiative in promoting sustainability and renewable energy in the local community.
The recipients are Aouda Saadia High School representing Africa; Centro Educativo Mbaracayu for the Americas; Bahrain Bayan School for Asia; Vladimir Nazor School for Europe; and Motufoua Secondary School representing Oceania.
Youth-supported sustainability projects have flourished thanks to the Global High Schools winners, generating an estimated 3 million kWh of renewable energy and displacing 2,372 tonnes of carbon dioxide in total.
Altogether, the winners of the Zayed Future Energy Prize have had a positive impact on 307 million people globally in the past ten years. As many as 8.5 million people have benefitted from training, while around 27.5 million have been introduced to renewable energy solutions through the prize.
Chair of the Zayed Future Energy Prize Jury and Former President of the Republic of Iceland, His Excellency Ólafur Ragnar Grímsson, said: "The Zayed Future Energy Prize has helped to transform lives in some of our poorest communities through its winners, while promoting innovation, education, new policies and other best practices in sustainability and renewable energy elsewhere on the global stage. The positive international dialogue encouraged through the prize is essential if we are to maintain the global consensus on the need for proactive action to mitigate climate change and to adopt more sustainable forms of energy."
He added: "I would like to thank the leadership of the UAE for their support and the role they played in the success of the Prize that was inspired by the late Sheikh Zayed Bin Sultan al Nahyan."
Dr Sultan Ahmed Al Jaber, UAE Minister of State and Director General of the Zayed Future Energy Prize, said: "Coinciding with the Year of Zayed, the 10th anniversary of the Zayed Future Energy Prize is a proud moment for the United Arab Emirates. The outstanding achievements of this years winners, and of all the prize recipients over the last decade, honour the legacy and vision of the UAEs founding father. The Prize and its winners impact is profound. Collectively, they have enhanced energy access and the use of renewable energy across the world; simultaneously uplifting the quality of life for many and mitigating climate change.
"The success of the prize demonstrates that true sustainable development not only requires leadership, innovation and investment from government and business, but also inventiveness and collaboration at the community level. We commend the 2018 winners of the Zayed Future Energy Prize, who are an inspiration to sustainability innovators."
In celebrating the 10th anniversary, the Zayed Future Energy Prize was attended by past winners, beneficiaries and the 2018 finalists.
Featured Product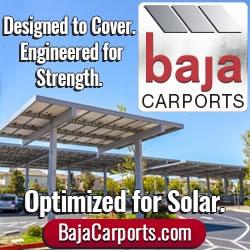 Baja Carports offers an extensive solar support system product line customized to customers' site specifications by in-house engineers, meeting their parking lot coverage, plus optimal PV production needs. Baja's Full Cantilever Tee is often paired with its Semi and Full Cantilever carports to meet live/loads up to 60psf and wind speeds to 160mph. All Baja products are pre-fabricated, bolted connections, pre-galvanized structural steel for fast on-site installation and project aesthetic requirements."