Community Solabration marks Grand Opening of La Loma, largest community solar project in ERCOT
Austin Energy, the City of Austins electric utility, recently began receiving solar energy from its La Loma Community Solar Farm in East Austin. The project is the largest community solar farm in the Electric Reliability Council of Texas (ERCOT) and the first in Texas to offer low-income customers a discounted rate on community solar. Austin Energy will celebrate the Grand Opening of La Loma at a Community Solabration Saturday, March 24.

The event runs from 10 a.m. to 12 p.m. with a media briefing and ribbon cutting at 10:30 a.m. Attendees can tour the solar farm, help plant sunflowers, enjoy free food and giveaways, visit with other city departments and other agencies, and participate in kids activities like face painting and solar car races.
Austin Energy Community Solabration Media Briefing and Ribbon Cutting
Saturday, March 24 at 10:30 a.m.
La Loma Community Solar Farm, 942 Lott Ave.
Note: Please wear closed-toe shoes and comfortable clothes.
MEDIA: See b-roll of solar panels being installed at La Loma.
Just northeast of Springdale Road and Airport Boulevard and adjacent to the Utilitys Kingsbery substation, La Loma boasts more than 9,000 panels. The 2.6 megawatt project will produce at least 4,400 megawatt-hours of electric power per year. Community solar allows multiple customers to share the output of a central facility rather than installing solar on their own roofs. Customers include renters, people with shaded roofs, and residents who cant afford the upfront costs of rooftop solar. More than half of Austin Energy customers are renters and have limited access to rooftop solar.
Following Austin City Council approval in December, Austin Energy dedicated half of La Lomas capacity to low-income customers in the City of Austin Utilities Customer Assistance Program at a discounted rate. To date, 130 have signed up for the 220 slots available in the discount program. The market-rate community solar option is fully subscribed with 220 participants and another 38 on the waitlist for future projects.
"Austin Energys Community Solar Program is another great example of what happens when the City Council, the community and the utility work together to drive value for all of our customers," said Jackie Sargent, General Manager of Austin Energy. "Our new program will help bring the benefits of our local solar offerings to even more of our customers."
Austin Energy has offered solar incentives to customers since 2004, and today more than 7,200 customers have solar panels on their rooftops. The Utilitys Community Solar Program launched more than a year ago with a 185-kilowatt rooftop solar array at the Palmer Events Center in Central Austin, which serves 23 customers. The program allows residential customers to meet their electric needs with 100 percent locally generated solar energy, and participants lock in the price for 15 years.
Austin Energys Customer Assistance Program provides utility discounts to some 37,000 energy customers who qualify by participating in at least one of seven specified social service programs.
Interested customers can learn more and subscribe to the program at www.austinenergy.com/go/communitysolar, or by calling 512-482-5346.
About ERCOT
ERCOT manages the flow of electric power to 24 million Texas customers - representing about 90 percent of the states electric load. As the independent system operator for the region, ERCOT schedules power on an electric grid that connects more than 46,500 miles of transmission lines and 570+ generation units. ERCOT is a membership-based 501(c)(4) nonprofit corporation, governed by a board of directors and subject to oversight by the Public Utility Commission of Texas and the Texas Legislature. Its members include consumers, cooperatives, generators, power marketers, retail electric providers, investor-owned electric utilities, transmission and distribution providers and municipally owned electric utilities.
About Austin Energy
Austin Energy, the City of Austins electric utility, serves more than 475,000 customer accounts and more than one million residents in Greater Austin. The utilitys mission — to safely deliver clean, affordable, reliable energy and excellent customer service — has guided Austin Energy in powering the community and supporting the regions growth since 1895. As a publicly owned utility, Austin Energy contributes more than $109 million annually to support important City services such as streetlights, parks, libraries and public safety. For more information about Austin Energy, visit austinenergy.com.
Featured Product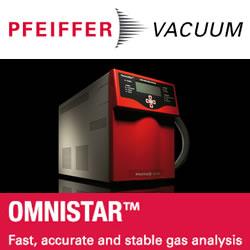 The Pfeiffer Vacuum OmniStar benchtop analysis system offers you a compact footprint, powerful software and Ethernet connectivity. It's the optimum solution for many real-time gas analysis applications. With the OmniStar, Pfeiffer Vacuum offers you a complete solution for gas analysis, in chemical processes, semiconductor industry, metallurgy, fermentation, catalysis, laser technology and environmental analysis. The turnkey OmniStar gas analysis system consists of heated, temperature-regulated gas inlet system, Quadrupole mass spectrometer, a dry diaphragm vacuum pump and HiPace turbopump. Unlike competing methods such as FTIR, OmniStar is suitable for qualitative and quantitative analysis of most gases.