Focus on Solar Panel Degradation Mechanism Analytics
DuPont Photovoltaic Solutions (DuPont) announced it has entered into a cooperation agreement with Envision, a leading digital energy company, to develop advanced predictive analytics in the area of photovoltaic (PV) module degradation and failures.

The parties will collaborate in field studies of module reliability, including solar panel backsheet failure mechanisms, in order to automate the collection of field data and improve the analytics for ageing solar assets to ensure the strongest possible energy output of sites throughout their lifespan. DuPont and Envision will look to combine their marketing efforts to promote the results and recommended solutions with solar asset owners, energy utilities and project developers, globally.
"DuPont is excited to be working with Envision," said Stephan Padlewski, regional marketing leader, DuPont Photovoltaic Solutions, Europe, Middle East & Africa. "By combining our material science capabilities and knowledge with Envisions expertise in big data analytics, we can help provide asset owners with a quantitative and predictive analysis of ageing for preventive maintenance of solar panels and their components in the field."
"We are very pleased to collaborate with the DuPont Photovoltaic Solutions organization to create best-in-class analytics for PV module degradation and risk mitigation," said Kam Mofid, general manager of Solar for Americas and head of Global Solar Center of Excellence, Envision. "Together, we are confident that we can develop very effective degradation analytics that all the key stakeholders in the industry can benefit from."
Envision is a leading digital energy company. Envision owns the worlds largest Energy IoT platform, EnOS™, currently managing 100GW of energy assets globally (about the same as the UKs entire generating capacity). Integrating Sonnen, ChargePoint, AutoGrid, and Bazefield, etc., Envision is building a comprehensive global energy IoT and smart city ecosystem. Founded in 2007, the companys heritage is in the wind sector; today Envision is Chinas second largest wind turbine company and the eighth largest in the world. Headquartered in Shanghai, Envision has regional offices across Asia, Europe, North and South Americas and has established global R&D and engineering centres in Denmark, Germany and the United States. Envisions mission is to "solve the challenges for a sustainable future;" the company is committed to creating a world of beautiful energy where everyone has access to clean, secure and affordable energy. For more information visit: http://www.envision-group.com.
DuPont™ Tedlar® polyvinyl fluoride films and DuPont™ Solamet® photovoltaic metallization pastes are part of a broad and growing portfolio of products represented by DuPont Photovoltaic Solutions (DPVS), a business unit of DowDuPont Specialty Products Division. DPVS connects science and technology from across the company on a global scale to help support the dramatic growth in the photovoltaic industry. To learn more, please visit http://photovoltaics.dupont.com.
About DowDuPont Specialty Products Division
DowDuPont Specialty Products, a division of DowDuPont (NYSE: DWDP), is a global innovation leader with technology-based materials, ingredients and solutions that help transform industries and everyday life. Our employees apply diverse science and expertise to help customers advance their best ideas and deliver essential innovations in key markets including electronics, transportation, building and construction, health and wellness, food and worker safety. DowDuPont intends to separate the Specialty Products Division into an independent, publicly traded company. More information can be found at http://www.dow-dupont.com.
Featured Product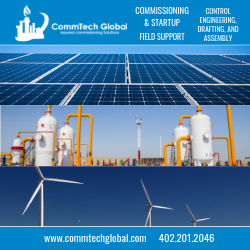 CommTech Global Solutions, LLC, provides professional and reliable commissioning services to customers in all realms of the energy industry. We blend our skills in engineering and technology with innovative business models, offering a complete range of services to assist you for a successful and in compliance operational startup. Consolidation of all our service domains gives our clients a comprehensive set of expertise and far-reaching experience on each project.