UCAIug to develop testing and certification for grid-edge DER management technology
WASHINGTON, D.C. — The Smart Electric Power Alliance (SEPA) has announced a transitional milestone in its work on Open Field Message Bus (OpenFMB), a critical technology for allowing grid-edge distributed energy resources (DERs) to connect and communicate with each other. The educational nonprofit is transferring OpenFMB, which it has led since the project's inception three years ago, to the Utility Communications Architecture International Users Group (UCAIug).

Also a nonprofit, UCAIug promotes the development of standards and testing for real-time technologies for utilities and other related industries.
"As a catalyst for industry innovation, SEPA has grown OpenFMB from original concept to an engaged community including some of the nation's largest utilities and most forward-thinking solution providers," said Aaron Smallwood, the group's Senior Director of Advisory Services. "We are at a pivotal moment in the technology's evolution, so the time is ripe for UCAIug to further develop the tools and testing needed for full commercialization of OpenFMB."
SEPA, in partnership with Duke Energy, started work on OpenFMB in 2014, in response to the growth of DERs and other smart technologies on the grid, and the resulting need for more interoperability and information sharing among these systems. Most simply put, the technology makes this critical level of grid-edge communication possible by "translating" between the relevant protocols of different devices.
"With the wide spectrum of technologies in today's utility operational systems, it is important to have access to interoperability frameworks, such as OpenFMB, that have the potential to enhance resiliency, security and scalability," said Stuart Laval, Duke Energy's Director of Technology Development and co-chair of the OpenFMB Users Group. "I commend SEPA for successfully completing its work on this project, and look forward to its continued involvement."
SEPA is now transitioning ownership and operation of the OpenFMB Collaboration Site and Code Repository to UCAIug and its newly created OpenFMB Users Group, but will continue to support the project in an advisory capacity.
"Building cross-industry communities of stakeholders is essential to accelerating innovation in our power sector," said Sharon Allan, SEPA's Chief Innovation Officer. "SEPA is proud to have worked with the OpenFMB group from the beginning to get the technology established, demonstrated and growing. But with that success come new needs for the next steps of commercialization and industry adoption -- and further expansion of the OpenFMB community."
About SEPA
The Smart Electric Power Alliance (SEPA) is an educational nonprofit working to advance the utility industry's transition to a clean energy future through education, research, standards and collaboration. SEPA offers a range of research initiatives and resources, as well as conferences, educational events and professional networking opportunities. SEPA is founder and co-sponsor of Solar Power International and winner of the Keystone Policy Center's 2016 Leadership in Energy Award. For more information, visit www.sepapower.org.
Follow SEPA on Twitter, Facebook and LinkedIn.
Featured Product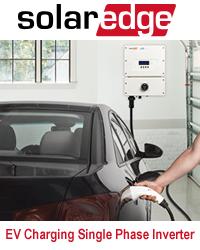 The SolarEdge PV inverter combines sophisticated digital control technology with efficient power conversion architecture to achieve superior solar power harvesting and best-in-class reliability. The fixed-voltage technology ensures the solar inverter is always working at its optimal input voltage over a wider range of string lengths and regardless of environmental conditions. A proprietary data monitoring receiver has been integrated into the inverter and aggregates the power optimizer performance data from each PV module. This data can be transmitted to the web and accessed via the SolarEdge Monitoring Portal for performance analysis, fault detection and troubleshooting of PV systems.