Mayor of Los Angeles Eric Garcetti announced a major new solar array at the Los Angeles Convention Center by PermaCity
LOS ANGELES, April 4, 2018 /PRNewswire/ -- PermaCity celebrates leading the way in LA as the go to solar commercial contractor completing the South Hall roof of the Los Angeles Convention Center providing 2.21 megawatts bringing the total to 2.58 megawatts enough to power 565 Los Angeles residents.

The Mayor was joined by CEO of PermaCity Jonathan Port, City Councilmembers Nury Martinez, 6th District and Chair of the Energy, Climate Change, and Environmental Justice Committee, and Curren D. Price, Jr., 9th District, along with officials from the Los Angeles Department of Water and Power (LADWP), the Los Angeles Department of Convention & Tourism Development, and Environment California Research & Policy Center, which released the new national solar rankings report today, Shining Cities 2018: How Smart Local Policies Are Expanding Solar Power in America.
The solar installation designed and constructed by PermaCity was selected by the Convention Center as a result of public bid. This project awarded would have not been possible if it was not for PermaCity's patented, UL and ICC certified SolarStrapTM technology a game changer for commercial rooftop installation as it works seamlessly with leading roof products, yielding world record performance up to 60 percent more power over the system's life and labor friendly.
"One of the challenging aspects of our project involved planning and designing the installation of the roof top solar array in a manner that did not disrupt the numerous events we host in the exhibit halls below. PermaCity's design solution and execution of the project was terrific; allowing us full continuity of business without a hitch," says Thomas Fields, Chief Operating Officer, LA Department of Convention and Tourism Development.
Los Angeles attributes the growth of local solar PV as a direct result of LADWP's solar Feed-in Tariff (FiT) and customer net-metering programs, including Solar Incentive Program (SIP). LADWP's FiT program is the largest offered by any municipal utility in the U.S., generating 47 megawatts of solar projects with another 56 megawatts in development. PermaCity's breakthrough SolarStrapTM racking technology has supported more than 60 percent of these projects.
"Thank you to the Mayor, Convention Center, and LADWP for making this job happen, creating great paying jobs for our locals and vets," Jonathan Port, PermaCity CEO. "We also thank the Los Angeles Work Investment Board (WiB), IBEW Local 18 & Local 11, Roofers Local 36, and Labor Local 300 for providing training and workforce."
In January 2018, PermaCity launched two new enterprises with a mission to grow solar and jobs: (1) A $250M fund dedicated for solar projects and new roofs; and, (2) PermaCity-Empower Corp to offer solar jobs to veterans and careers through the Unions.
About PermaCity, the largest commercial rooftop solar developer and installer in Los Angeles. Since 2003, we have worked with public facilities, real estate Portfolio owners and business owners to convert unused roof assets into revenue while contributing to a sustainable climate, reducing heat island, and elimination of local air pollution. Known for performance and innovation now with more than 9 million square feet of commercial solar roofs and 100 megawatts of installed solar capacity. Other clients include; Westmont, 16.4 megawatts and the most powerful solar roof known, Anheuser Busch, Forever 21, 20th Century Fox Studio, AmeriCold, Costco, and Cathay Bank. URL: permacity.com email: info@permacity.com
Featured Product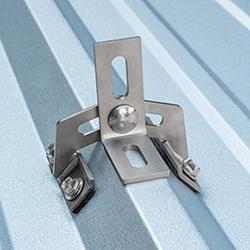 QuickBOLT Low Profile QuickBOLT with Microflashing™ is the industry's affordable, UL Certified Asphalt Shingle mounting system. The Microflashing™ is compressed by the collar on the bolt to create a water-tight seal. With an installation time of less than one minute, the Low Profile QuickBOLT allows installers to complete more jobs.