The world's largest provider of monocrystalline PV modules seeks to offset 201 tariffs with high-efficiency technology pairings.
LONGi Solar, manufacturer of high-efficiency monocrystalline solar cells and modules and wholly-owned subsidiary of the largest supplier of monocrystalline silicon wafers, LONGi Group, today shared details surrounding the companys recent participation at the Bloomberg New Energy Finance (BNEF) Future of Energy Summit in New York City. LONGi had a presence at conference sessions and hosted both a workshop and an exclusive media event, where executives shared details of the companys recent growth and discussed ongoing North American partnerships.

Both Archie Flores, general manager, LONGi Solar (US), and Ken Johnston, director of North American sales, discussed the companys innovation in monocrystalline PV products and business strategies to grow the North American solar market in formal conference sessions.
"We are outspending our top competitors on research and development (R&D). We are spending the most on solar energy innovation than anyone in China," said Archie Flores on panel "Thriving in the Downstream PV Market: Tools and Best Practices From Solar Leaders." In 2017, LONGi spent $175 million on R&D.
In additional to two speaking opportunities at the event, LONGi solar hosted a workshop and dinner in which a mixed room of investors, utilities and engineering, procurement and construction firms discussed the current state of the PV market, outlined technical advantages of LONGis monocrystalline PERC module technology and shared important results from recent case studies. When compared to polycrystalline modules, LONGis bifacial mono PERC solution offers an average energy yield increase of 3.93 percent and can lower LCOE by up to twenty percent. When paired with appropriate tracker technologies, energy yield can be boosted by up to fifteen percent and, depending on the installation, counteract financial penalties of unfavorable market conditions or policies.
At LONGis exclusive media event, members of both business and trade media gathered to speak with top leadership and discuss recent company growth and expectations for the future of the North American solar market. Li Zhenguo, president and founder for LONGi Green Energy, shared LONGis plans to increase monocrystalline wafer capacity to 45 GW by 2020 and highlighted the companys leading investment in R&D. Over the past three years, LONGi has invested 287 million USD into internal R&D - a strategy that has led to 109 percent growth in year-over-year shipments, 60.94 percent annual revenue growth in modules and 13.36 percent annual revenue growth in wafers. LONGi increased module production capacity by 30 percent in 2017 and is now number one in China for domestic module shipments. Li Zhenguo also touched upon the companys close technology partnership with American conglomerate DuPont and how this collaboration has led to the launch of the new Hi-MO2 bifacial module with market-leading efficiency and reliability.
Addressing the markets growing interest in bifacial technology, Li Zhenguo said, "Last year we shipped 20 MW of bifacial modules. This year we are likely to sell more than a GW of bifacial modules. Regions where utility scale is popular, like the U.S. and Mexico, are ordering it. In three to five years we expect to see 90 percent of the industry using bifacial technology."
The BNEF Future of Energy Summit was a platform for LONGi to effectively communicate the benefits of its monocrystalline technology and connect with prospective North American partners. As more and more customers realize the benefits of mono PERC technologies, LONGis footprint in the U.S. will continue to expand.
Featured Product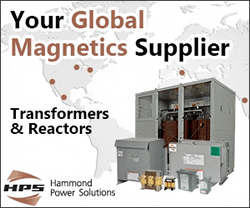 HPS is the largest manufacturer of dry-type transformers in North America. We engineer and manufacture a wide range of standard and custom transformers that are exported globally in electrical equipment and systems. We support solid industries such as oil and gas, mining, steel, waste and water treatment, and wind power generation. HPS leads the industry in these markets through its technical design strength, breadth of product, and manufacturing capabilities, making HPS a stronger company both fundamentally and financially.