California still tops lists: PG&E No. 1 in solar, SCE No. 1 in storage
RANCHO MIRAGE, CA -- The Smart Electric Power Alliance (SEPA) has announced its annual Top 10 lists recognizing the U.S. utilities that added the most new solar and storage to the grid in 2017. Compiled as part of SEPA's 11th annual Utility Market Survey, the lists include the top utilities in four categories: new solar megawatts and watts per customer, and new storage megawatts and watts per customer.

On the solar megawatts list, Pacific Gas and Electric (PG&E) regained the No. 1 spot this year with 831.3 megawatts (MW), while Southern California Edison (SCE), last year's No. 1, was second with 547.1 MW. The small town of Madison, Maine took the top spot on the watts per customer list, with 1,819.6 watts per customer (W/C).
On the Utility Storage Top 10, SCE ranked No. 1 on new megawatts, with 56.2 MW, while the Kauai Island Utility Cooperative (KIUC) was No. 1 in new storage watts per customer, with 415.3 W/C. All Top 10 winners will be recognized at an awards luncheon on April 25 at SEPA's Utility Conference in Rancho Mirage.
"Despite a small dip in the general solar market, we are seeing new regional and state markets making gains across the country and across all types and sizes of utilities," said Julia Hamm, President and CEO of SEPA. "Beyond their impressive numbers, this year's winners embody a range of strong models for innovation and leadership that our industry will be able to build on as we move toward a clean, smart and resilient energy future."
This year's Utility Solar Top 10 lists are based on data provided by 423 utilities, representing around 114 million customers across the United States. The Storage Top 10 lists draw on data from 169 utilities, representing 70.7 million customers. The full lists in all categories are attached.
Key takeaways include:
• While California utilities took the top two spots on the solar MW list, the rest of the Top 10 in this category show the ongoing growth of strong regional markets. Rounding out the top five are No. 3 Xcel Minnesota (522.3 MW), No 4 Duke Energy Progress in North and South Carolina (355.4 MW) and No. 5 Xcel Colorado (318.8 MW).
• Nine of the Top 10 utilities on the solar watts per customer list are small municipals or electric cooperatives, underlining the spread of solar in rural communities. Joining Madison on the list are No. 3 Anza Electric Cooperative in California (1,455.5 W/C), No. 4 Clarksville Light and Water in Arkansas (1,202.1 W/C), and No. 5 Pickwick Electric Cooperative in Tennessee (1,195.9 W/C).
• By contrast, the Top 10 lists for storage -- both megawatts and watts per customer -- show growth still centered in the Southwest and Hawaiian markets, which have high levels of solar. Several utilities in these regions appear on both storage lists, including -- SCE, KIUC, Tucson Electric Power and San Diego Gas & Electric.
"The 2018 Utility Survey results reflect a pivotal moment in the U.S. energy transition," Hamm said. "As utilities increasingly focus on solar and storage as distributed resources providing value to customers and the grid."
"Storage is critical for KIUC, due to Kauai's very high photovoltaic solar penetration, which reaches 80 percent during the mid-day period, on our completely islanded electric grid," said Brad Rockwell, the utility's Power Supply Manager. "We require both short-duration power to support solar variability and long-duration energy to enable continued development of low-cost solar since we cannot export any surplus."
In the coming months, SEPA will release a series of Market Snapshot reports -- on solar, storage and demand response -- containing more data, analysis and insights from the 2018 Utility Survey. To receive alerts on these and other SEPA publications, contact us at communications@sepapower.org.
About SEPA
The Smart Electric Power Alliance (SEPA) is an educational nonprofit working to facilitate the utility industry's transition to a clean energy future through education, research and collaboration. SEPA offers a range of research initiatives and resources, as well as conferences, educational events and professional networking opportunities. SEPA is founder and co-sponsor of Solar Power International and winner of the Keystone Policy Center's 2016 Leadership in Energy Award. For more information, visit www.sepapower.org.
Featured Product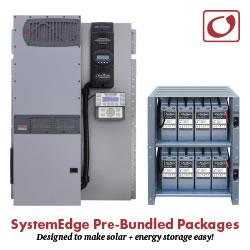 Each pre-bundled package is designed to make solar plus energy storage easy. By combining OutBack's most popular FLEXpower pre-wired systems with matched OutBack energy storage, SystemEdge takes the guesswork out of installing solar plus storage. Every SystemEdge package includes a FLEXpower factory pre-wired system, application-specific EnergyCell batteries and racking, FLEXware ICS Plus combiner and all the necessary connection hardware.