Over 5,500 MW in Q1 wind announcements boost development pipeline 40 percent over Q1 2017
WASHINGTON — Strong demand for affordable, reliable wind energy drove a busy first quarter for new U.S. wind farm announcements. Wind powers low cost and stable energy prices motivated utility and non-utility customers to sign contracts for 3,500 megawatts (MW) of U.S. wind capacity in the first quarter of 2018, a high water mark in recent years, according to a new report released today by the American Wind Energy Association (AWEA). The U.S. Wind Industry First Quarter 2018 Market Report also reveals 5,523 MW in first quarter wind project announcements, adding to a total of 33,449 MW of wind power capacity in the combined construction and advanced development pipeline.

"Word is out that wind power is an excellent source of affordable, reliable and clean energy," said Tom Kiernan, CEO of AWEA. "Our industry is consistently growing the wind project pipeline as leading companies, including utilities and brands like AT&T and Nestle, keep placing orders. Strong demand for wind power is fueling an economic engine supporting a record 105,500 U.S. wind jobs in farm and factory towns across the nation."
Utilities and Fortune 500 brands both continue to scale up investments in wind energy because it makes good business sense. The cost of wind power has fallen by two-thirds since 2009, making wind cost-competitive with other energy sources. In fact, in strong wind resource regions like the Great Plains and Texas, wind is the most cost-effective source of new electricity. And because wind power has no fuel costs, buyers can lock in low rates for decades to protect against future fuel price spikes.
Wind energy customers signed over 3,500 MW in long-term contracts called power purchase agreements (PPAs) in the first quarter. Thats the highest volume of PPA announcements in any quarter since AWEA began tracking them in 2013. Six companies including Adobe, AT&T and Nestle signed wind PPAs for the first time, while Bloomberg, Facebook, Nike and T-Mobile became repeat customers. In addition, utility buyers including PacifiCorp and DTE Energy made large-scale announcements to develop and own wind power.
Across the country, 36 wind projects representing a combined 5,523 MW announced that they either began construction or entered advanced development in the first quarter. Construction started on 1,366 MW of wind capacity and 4,158 MW entered advanced stages of development, which includes projects that have found a buyer for their energy, announced a firm turbine order, or have been announced to proceed under utility ownership. The full pipeline of wind farms under construction or in advanced development now totals 33,449 MW, a 40 percent increase over this time last year and the highest level since this statistic was first measured at the beginning of 2016.
Seven new wind farms came online across seven states in the quarter, totaling 406 MW. In total, there are now 89,379 MW of installed wind capacity in the United States. Thats more than 54,000 wind turbines operating in 41 states plus Guam and Puerto Rico and enough installed capacity to power more than 27 million American homes.
Wind power is a 50 state industry supporting a record 105,500 U.S. jobs. Economic and environmental benefits of wind power, as well as in-depth market trends, are available in AWEAs recently released U.S. Wind Industry Annual Market Report 2017. An interactive infographic highlighting top trends is also available.
The people and technology driving wind power to new heights will gather next week in Chicago, May 7-10, for the WINDPOWER Conference and Exhibition, the Western Hemispheres largest wind power gathering. WINDPOWER is where the vision and business deals that will drive the future of the industry happen. Members of the media can join AWEA in the Windy City by registering here for a free WINDPOWER Conference press pass.
###
AWEA is the national trade association of the U.S. wind energy industry. We represent 1,000 member companies and over 100,000 jobs in the U.S. economy, serving as a powerful voice for how wind works for America. Members include global leaders in wind power and energy development, turbine manufacturing, and component and service suppliers. They gather each year at the Western Hemispheres largest wind power trade show, the AWEA WINDPOWER Conference & Exhibition, next in Chicago, May 7-10, 2018. Find information about wind energy on the AWEA website. Gain insight into industry issues on AWEA's blog, Into the Wind. And please join us on Facebook, and follow @AWEA on Twitter.
Featured Product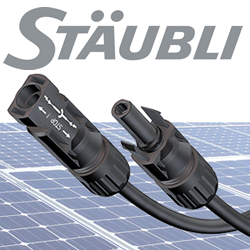 ​Stäubli Electrical Connectors are used on more than 300 GW, over 50% of the PV capacity worldwide. The MC4 family of UL and TUV listed products include connectors, in-line fuses, branch connectors, cable assembly and more.