The new version of the design software PV*SOL premium 2018 makes the design of photovoltaic systems even easier and more efficient.
The Berlin-based company Valentin Software, which is well-known for its worldwide industry solutions, has adapted its market-leading design and simulation programs PV*SOL and T*SOL to the latest technical developments for 2018 and expanded them for the latest applications. With the updated versions, system designers and operators can design their solar systems according to the latest knowledge, simulate accurate yield calculations under site-specific conditions and thus also perform accurate financial calculations, taking state support measures into account. The company will be presenting its new products to the public in June at the world's leading trade fair Intersolar Europe in Munich.

PV*SOL 2018 - Design of PV plants with 3D model import
The new version of the design software PV*SOL premium 2018 makes the design of photovoltaic systems even easier and more efficient.
For the input of object data, 3D models in different file formats can now be imported into the software via a new interface. This makes it possible to import realistic and detailed 3D objects created with photos taken from different perspectives (e.g. using a drone). This will add another important tool to the already existing possibility of importing floor plans, cadastral maps and screenshots from web-based satellite maps (e.g. Google Earth) directly into the 3D visualization and thus integrating them to scale into a project.
Flexibility has been significantly increased with regard to the subsequent configuration of the modules, which are automatically placed on an object. The new possibility of polystring configuration allows completely different strings to be connected in parallel or series to an MPP tracker. This is required, for example, to connect an east-west roof parallel to one MPP tracker. Even different modules in a string can now be interconnected, e.g. defective modules that are no longer available which need to be replaced by similar new ones. Modules with different orientations can now also be connected in one string via the integration of power optimizers (e.g. SolarEdge, Tigo). These new functionalities increase the flexibility of the design process enormously and allow even more detailed configuration and simulation of the PV system.
Other useful additions for the optimization of a system are the output of the I-V characteristics for each time step of the simulation, as well as an energy flow diagram representing the overall system including the battery system, consumers and also an electric vehicle.
The further the feed-in tariff decreases, the more important it is to consider the self-consumption of PV electricity for the profitability of a photovoltaic system. Since the self-consumption can be increased by storing the PV power in battery systems, the dimensioning of the battery system is also of great importance.
PV*SOL is a valuable tool for sizing a PV system correctly, as well as for determining profitability. A dimensioning aid for sizing the battery storage carries out the calculation of the battery for the user, thus facilitating project design.
Both PV*SOL and PV*SOL premium are available in German, English, French, Italian, Polish, Portuguese and Spanish.
T*SOL 2018 - Automatic dimensioning through parameter optimization
The new version T*SOL 2018 allows its users to enter and save complex heat storage parameters themselves. This makes the program even more flexible to use and more precisely observe and work out the economic efficiency that is so important for commercial applications. The automatic parameter optimization function with its economic target variables is ideal for this purpose. These include, for example, the capital value, the return and the heat price. Thus, it is possible to determine the influence of the size of various components of a solar thermal system, e.g. to optimize the size of a storage tank or the number of collectors for their impact on the economic efficiency.
A variety of tools are available for the evaluation of the results. The project report provides detailed simulation outputs, which are recognized by German government funding programs. Furthermore, graphs can be created with a wide range of temperature and energy data for more in-depth analysis. If an energy label is required according to EU directives, you can also create this with T*SOL.
Valentin Software has updated the extensive component databases in the new version and made them easier to use.
Valentin Software at Intersolar Europe
Valentin Software will be presenting its new products from June 20 to 22, 2018 at Intersolar Europe in Munich, Germany, booth B3.550. Several live design sessions for the current program versions will take place daily at the booth. And on the occasion of the company's 30th anniversary, a few surprises are planned. For further information on PV*SOL and T*SOL see:
https://www.valentin-software.com/en/products
About Valentin Software
Valentin Software GmbH has been in business for 30 years. With the PV*SOL, T*SOL and GeoT*SOL brands for dynamic simulation, design, yield and profitability forecasts for photovoltaic, solar thermal and heat pump systems, the Berlin-based software company has made a name for itself as a world leading provider of innovative design software for sustainable energy supply. Its customers include engineers, system designers, architects, installation technicians, trades and manufacturing companies in the field of electrical, heating and building technology.
Featured Product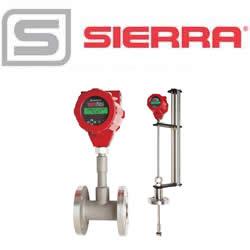 Sierra was the first to introduce a combination volumetric vortex and multivariable mass flow meter in 1997. Today, Sierra's completely redesigned InnovaMass® iSeries™ 240i/241i builds on two decades of success measuring five process variables for gas, liquid and steam with one connection. Now, with the latest hyper-fast microprocessors, robust software applications, field diagnostic and adjustment capability, and a new state-of-the-art flow calibration facility, Sierra's vortex iSeries delivers precision, performance, and application flexibility never before possible.