Solaria's PowerXT® modules have been added to Dividend Finance's solar financing platform.
Solaria PowerXT®, Aesthetic, High-Efficiency Modules, Added to Dividend Finances Solar Financing Platform

JUNE 4, 2018 - Solarias PowerXT® modules have been added to Dividend Finances solar financing platform. Solaria, a global provider of solar module technologies, and Dividend, a leading provider of solar and home energy financing, are focused on facilitating wider solar deployment by fostering successful connections between homeowners, installers, investors, and other stakeholders in the solar value chain.
"Dividend Finance is an accomplished industry leader thats accelerated the maturation of residential solar loans," said Solaria CEO Suvi Sharma."Were very excited that Dividend is incorporating Solaria PowerXT into its financing platform. This new agreement pairs two innovators in the solar industry. The availability of Solaria products through Dividends financing program underscores that PowerXT is an industry leading module. This new relationship empowers homeowners to transform their properties into aesthetic on-site power plants. Pairing Dividends financing expertise with Solarias industry-leading modules provides best in class value for homeowners keen to deploy solar energy."
Solarias flagship rooftop product, the PowerXT, is a high value, aesthetic and extremely high energy yield solar module. Ideal for space-constrained roofs, Solaria's sleek high output modules feature a black backsheet and attractive, uniform appearance. The propriety PowerXT technology platform uses Solarias advanced cell interconnect and module production processes, significantly boosting power generation and providing outstanding performance. High energy yield PowerXT modules ensure that solar installers maximize power deployment on customer roofs - enabling them to install attractive, cost-effective on-site power plants that accelerate payback period and profitability.
About Solaria Corporation
Solaria Corporation is a solar technology company that is paving the way for distributed, clean power generation through optimized solutions for a range of applications. Leveraging its proven core technology, field performance and sophisticated automation, Solaria delivers solutions that address a unique set of requirements for rooftops and buildings. Solaria headquarters are in California. For more information, please visit www.solaria.com.
Contact: Susan DeVico sdevico@solaria.com 510 339-1527
Featured Product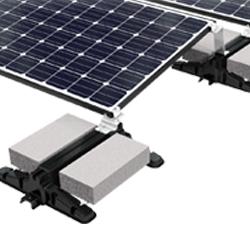 The Power Rail™ Commercial Mounting System is designed with the professional PV solar installer in mind. Both the XD/UD and LD/MD rails feature single tool assembly with the revolutionary patented RAD™ Lock-in-Place bolt for fast and secure module clamping. The high strength marine-grade aluminum rails include an integral wiring channel for securing cables and providing a professional finish.