Rick Grant, a service technician with GEM Energy of the Rudolph Libbe Group, was recently honored by The Association of Union Contractors (TAUC).
Rick Grant, a GEM Energy service technician, received honorable mention in the 2018 James J. Willis Craftperson of the Year awards competition presented by The Association of Union Contractors (TAUC).

Grant joined GEM Energy in 2015 and is a 20-year member of Local 50 Plumbers, Steamfitters & Service Mechanics.
The James J. Willis Craftperson of the Year Award was created in 1989 to honor outstanding labor-management cooperation and quality craftsmanship in the construction industry.
GEM Energy provides comprehensive services and technologies to improve customer business performance and reduce facility operation costs. GEM Energy's expertise encompasses engineering, procurement, construction, operations and maintenance. Services include combined heat and power (CHP) systems, HVAC and plumbing, facility management, utility procurement, solar development, building automation controls and energy efficiency solutions. Facilities served are commercial, industrial, institutional and mission critical.
GEM Energy is part of the Rudolph Libbe Group (RLG), a one-stop provider of construction and facility services that range from site selection and construction to energy solutions and ongoing facility management. The full-service contractor, comprised of Rudolph Libbe Inc., GEM Inc., GEM Energy, Lehman Daman and Rudolph Libbe Properties, is focused on ensuring our customers' success. The Rudolph Libbe Group is headquartered in Toledo with offices in Cleveland, Columbus and Lima, Ohio; Ithaca, New York; and Detroit, Michigan areas. For additional information, visit RLGBuilds.com and @RLGbuilds.
Featured Product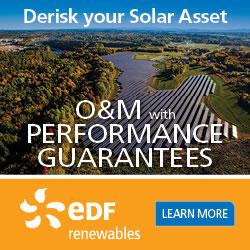 EDF Renewables offers the same innovative solutions that maximize the performance of our own 5.2 GW of installed projects. Because we're not an equipment manufacturer, our recommendations are transparent and data-driven. We cover the entire project lifecycle: from pre-commissioning support, through warranty and post warranty operation, to late stage and decommissioning.