Solar FlexRack is expanding their solar tracker, fixed tilt racking and project support services across the western regions of Canada. The company will attend the Solar Canada Conference in Calgary, Alberta June 20th and 21st to share their latest new product offerings and talk about their activity in Saskatchewan, Manitoba and British Columbia.
Youngstown, OH, June 5th, 2018 - Solar FlexRack™, a division of Northern States Metals and an innovative leader in photovoltaic mounting and solar tracker solutions, has expanded its solar tracker, fixed tilt racking and project support services across the western regions of Canada. Recently closed supply contracts include commercial and industrial projects, along with distributed generation in Saskatchewan, Manitoba and British Columbia.

Solar FlexRacks solar tracker, racking and services offerings are the superior choice for developers and EPCs looking to reduce their solar project risks and, ultimately, budgets. Solar FlexRacks teams are experts in Northern climates, terrains, and subsoils. That deep experience of delivering hundreds of megawatts of trouble-free solar installations in snow and ice country has solidified the Solar FlexRack name.
Steve Daniel, Executive Vice President of Solar FlexRack said, "Our team includes geotechnical, structural, civil and mechanical engineers. They have cut their teeth designing solar foundations in climates from Alaska to the Caribbean and have special training in conditions where frost is a critical factor. We use sophisticated testing systems to provide accurate and carefully analyzed data for precise results."
Schedule a meeting with Solar FlexRack at Solar Canada, June 20th through the 21st at the BMO Centre in Calgary, Alberta. Presented by the Canadian Solar Industries Association (CanSIA), Solar FlexRack will join an estimated 2,200 attendees at the conference to share important information on their companies and to get the latest updates on the growth of the Canada solar industry.
Solar FlexRack, an industry-leading company delivering an expanded range of high quality solar tracker, racking and project support services, provides a choice in racking and services so companies can optimize energy yields and reduce risks in the solar projects they build. Representatives from Solar FlexRack will be available to share more information on their cold country experience and the successful projects theyve supported. Please schedule a meeting in advance to talk with the Solar FlexRack team onsite.
About Solar FlexRack
Solar FlexRack, a division of Northern States Metals, is an integrated solar company that offers custom-designed, fixed tilt ground mount and single-axis solar tracker systems in the commercial and utility scale solar mounting industry. Solar FlexRack also offers full turnkey packages, including engineering, geotechnical, pullout testing, field, layout, and installation services, to address the actual site conditions of an installation, providing a full scope of services from design to delivery and installation. Solar FlexRack has completed 1.8 GW of solar racking installations in 40 states across America and five countries globally. For more information, go to www.solarflexrack.com and follow us on Twitter, Facebook and LinkedIn.
Solar FlexRack media inquiries, please contact:
Staci Lombardo
slombardo@solarflexrack.com
330-799-1855
Featured Product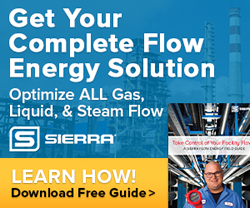 Download Flow Energy Guide - Written by Engineers For Engineers. Learn how to save on energy costs by optimizing your facility flows that impact costs like compressed air, natural gas, steam, and hot or chilled water.