BYD Canada announces that their zero-emission battery-electric trucks are officially available for import into Canada
Victoria, BC (6/20/2018) - Build Your Dreams (BYD) Canada announced their zero-emission, battery-electric trucks are officially available to import into Canada for sale and operation. The announcement was made upon receiving confirmation of compliance with Canadian Motor Vehicle Safety Regulations (CMVSR) and Canadian Motor Vehicle Safety Standards (CMVSS), and inclusion on the "Vehicle Manufacturers Registry" with Transport Canada.

As required, BYD must maintain an active and ongoing compliance program, provide current documentation and testing to support their declaration of compliance to applicable CMVSS, as well as have the ability to facilitate product recalls if required.
Transport Canada, the department within the government of Canada which is responsible for developing regulations, policies and services of transportation, first approved the sale and operation of BYD buses back in April 2014. Since that time, BYD buses have proven all-season performance, including use in service on local and commuter routes for agencies such as St. Albert Transit in extreme cold weather. BYD had more electric buses on the Canadian roads than any other firm, with 9 of the 13 buses delivered to date.
The minimum performance levels that vehicles and equipment must meet in order to legally operate on Canadian roads includes several standards beyond the U.S. Federal Motor Vehicle Safety Standards.
"This is wonderful news and something that our compliance team has been working hard to achieve," said BYD Canadas Vice President, Ted Dowling. "BYD is the world leader in heavy duty electric vehicles and having the ability to bring these to Canada fits perfectly with the Canadian Climate Change policies."
BYDs zero-emission battery-electric trucks deliver a host of environmental benefits as well as a number of advantages to communities such as reduced noise pollution. They can be used to replace fleets of fossil fuel burning trucks that include Municipal Service, Refuse and Recycle Fleets, Courier and Delivery Vehicles to name a few.
In November 2017, Loblaw, the largest Canadian food retailer, trialed the BYD Class 8 Tractor to deliver groceries from their Vancouver Distribution Center to a local store in West End Vancouver.
"Electric vehicles are our future, from the large fleet of trucks taking products from distribution centers to stores to an evolution in how local, home deliveries are done," said Wayne Scott, Senior Director, Loblaw Companies Limited. "Loblaw has a goal to reduce our carbon emissions by 30% by 2030, and we believe zero-emission battery-electric trucks will help us get there, hopefully sooner than planned."
ABOUT BYD
The Official Sponsor of Mother Nature™, BYD is the worlds largest manufacturer of electric vehicles and the overwhelming global leader in battery-electric buses with nearly 40,000 buses in service across North America, South America, Asia and Europe. BYD is also an industry leader in several other high-tech sectors, including high-efficiency automobiles, medium- and heavy-duty trucks, electric forklifts, SkyRail, energy storage and solar power generation. BYD is also one of the worlds largest manufacturers of rechargeable batteries. BYD is a publicly traded company with 60% of its stocks owned by North American investors. Warren Buffetts Berkshire Hathaway is the largest single shareholder.
Featured Product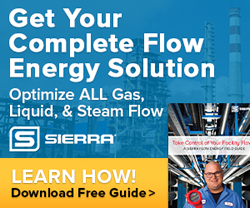 Download Flow Energy Guide - Written by Engineers For Engineers. Learn how to save on energy costs by optimizing your facility flows that impact costs like compressed air, natural gas, steam, and hot or chilled water.