ELECTRIFY forms partnership with TAKE Energy Corporation to deploy peer-to-peer energy trading platform SYNERGY with PowerPods in Kyushu
Earlier this month, Japans TAKE Energy Corporation (TEC) entered into a partnership agreement with ELECTRIFY to deploy our peer-to-peer trading platform SYNERGY together with our PowerPods in Japans Kyushu region. Consumers in Kyushu will soon be able to trade excess solar energy from the regions solar farms with the ease-of-use, transparency, and security provided by ELECTRIFYs blockchain platform.

"ELECTRIFY has progressed very significantly in the development of their blockchain platform," said Kazuma Takemoto, CEO of TEC. "We are very keen to work with ELECTRIFY to realize P2P energy trading in Kyushu."
Following the partnership with TEPCO, Japans largest utility company, signed in April this year, ELECTRIFY is well-positioned for expansion into Japan in the later half of the year. Both agreements now cover two out of eight regions in Japan including the metropolis of Tokyo, and potentially serve over a third of the Japanese population across central and southwestern Japan. This collaboration is also in line with Japanese policy goals of increasing the countrys solar and overall renewable energy use.
"This partnership with TAKE Energy furthers our goal of democratising energy markets around the world and empowering consumers with the ability to track and identify their source of power. This will create savings and efficiencies in energy costs for generation companies, retailers, and consumers," said Martin Lim, COO and Co-Founder of ELECTRIFY.
"Japan is a very important market for us, with more than 400 electricity retailers across the country following deregulation of the market in 2016. We see this as a market that will help us in our global expansion plans and also in Singapore when the market is deregulated at the end of the year," Martin added.
As part of the collaboration, Take Energys subsidiary Kumamoto Electric Power will feature selected consumers and ELECTRIFYs PowerPod devices at solar farms in the Kumamoto Prefecture. The PowerPods will collect information about power production and consumption between solar producers and consumers, with data powering the SYNERGY platform by enabling comparisons between the amount of energy generated by the solar farms, the prices offered, and market demand.
Featured Product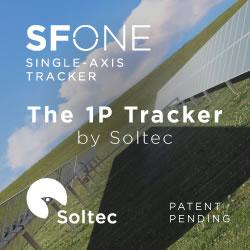 Soltec manufactures and supplies solar trackers designed and proven for extreme climate conditions, which is an ideal solution for any region's environment. Soltec's trackers are self-powered, requiring no additional PV module or grid-powered connection. Bifacial modules collect energy on both the front and rear sides, capturing reflected irradiance from the ground surface under and around the tracker and from other modules. Depending on site conditions, bifacial yield-gain can reach +30 percent.