EM-Power is aimed at professional energy customers and prosumers. Many visitors attended the Compact Energy Forums to explore in greater depth the information available at the exhibitors booths.
Munich/Pforzheim, July 2, 2018 — EM-Power, the exhibition for intelligent energy use in industry and buildings and one of the two new energy exhibitions held under the umbrella of The smarter E Europe, came to a successful close at Messe München on Friday. The total of 1,177 exhibitors in attendance in Munich included 150 suppliers showcasing products and services relating to energy efficiency and energy management, representing the range of topics covered by EM-Power. The roughly 47,000 visitors who flocked to The smarter E Europe as a whole enjoyed the opportunity to learn all about every aspect of intelligent and efficient energy use in buildings, neighborhoods and industrial enterprises. EM-Power focuses on topics such as energy management, neighborhood energy concepts, energy services and contracting, power-to-heat applications and cogeneration systems. Held this year for the first time, alongside the parallel events taking place as part of The smarter E Europe — Intersolar Europe, ees Europe and Power2Drive Europe — EM-Power is dedicated to the areas of the new energy world concerning energy consumers and users.

EM-Power is aimed at professional energy customers and prosumers. Many visitors attended the Compact Energy Forums to explore in greater depth the information available at the exhibitors booths. Tailored to specific target groups, these half-day forums presented best practice projects and solutions concentrating on, for example, the commercial housing industry, neighborhoods and municipal properties, the hotel and hospitality industry, and hospitals and care facilities. Thursday was devoted entirely to energy efficiency in industry and production facilities. Drawing on four examples of best practice projects, the German Federal Agency for Energy Efficiency (BfEE) organized two series of presentations on the market for energy efficiency services in industry. The visitors particularly appreciated the practical relevance of the sessions, which shared a great deal of information that they will be able to apply directly in their professional or private lives.
Digitalization, decentralization and decarbonization
Residential buildings and neighborhoods in cities have a particularly significant role to play in the energy transition. When it comes to energy efficiency, the focus is increasingly moving away from individual buildings to building complexes. Thanks to renewable energies, energy storage, energy management systems and smart building automation, it is now possible to make the operation of production facilities or entire districts climate-neutral. In neighborhoods, smart and efficient interaction between individual technologies within the system also offers particularly great potential for energy savings. "The trends we are seeing in the energy industry can be summarized as the three Ds — digitalization, decentralization and decarbonization," says Luka Cuderman, Product Manager for Digital Services at Alpiq. "These topics will play an increasingly crucial role in the future. The number of decentralized systems on the market is on the rise and these must be better integrated if the smart grid is to prove a success. Achieving this requires digital solutions like those already offered by Alpiq."
Today, two factors in particular are becoming more and more important. The first is the ability for home owners, for example, to produce and intelligently use their own electricity. The Swiss start-up ecocoach presented an exemplary solution in this field with the first major unveiling of its ecocoach system, an intelligent energy management system that combines elements of smart home and smart energy solutions. The second factor is the ability to integrate this privately generated energy into a network of energy producers, to manage and intelligently use excess capacity, to make energy storage systems available and to balance out power fluctuations. "Decentralized and intelligent energy storage, distribution and use are the way forward. The industry is currently focusing on how to combine these with the concept of smart homes," explains Pirmin Reichmuth, CEO of ecocoach.
Visitors were presented with one excellent solution to this issue at the booth of Ferroamp Elektronik AB. The Swedish company was one of the winners of The smarter E AWARD in the Smart Renewable Energy category. Using its PowerShare technology and a "bottom-up" approach, it has created a modular system that makes energy from one or more shared photovoltaic (PV) systems available to multiple users. The PowerShare technology enables the flexible integration of PV installations, energy storage units, small-scale wind energy systems and electric vehicle charging.
An example of decentralized energy generation via smaller wind energy systems was presented at the shared booth of BVKW, the German association for small-scale wind energy installations, which together with several companies showed how these systems can be set up efficiently and used on their own or as part of a network. Their solutions generated a great deal of interest and the shared booth attracted a steady flow of visitors throughout the event.
The smarter E Europe: Together under one roof
Taking into account the new events EM-Power and Power2Drive Europe as well as Intersolar Europe and ees Europe, The smarter E Europe 2018 welcomed 1,177 exhibitors and around 47,000 visitors. The smarter E Europe links together the four exhibitions, conferences and forums and highlights the synergies arising from the topics of renewable power generation, distribution, storage and intelligent energy usage. "The response weve encountered is excellent, the concept is clearly extremely popular, and everything weve seen and heard confirms that were on the right path," says Markus Elsässer, CEO of Solar Promotion GmbH. Daniel Strowitzki, Managing Director of Freiburg Wirtschaft Touristik und Messe GmbH & Co. KG, adds: "As the organizers, we are extremely pleased and were looking forward to The smarter E Europe 2019."
EM-Power and the parallel events will all be taking place under the umbrella of The smarter E Europe at Messe München from May 15-17, 2019.
For more information, please visit:
www.EM-Power.eu/en
www.TheSmarterE.de/en
About EM-Power
EM-Power, the exhibition for intelligent energy use in industry and buildings, is the first exhibition in Germany where professional energy customers — with their demand for efficient energy technologies, intelligent control systems and energy savings — and the key concepts underpinning the energy transition in industry and the building sector take center stage.
EM-Power is a unique platform for acquisition, exchange and information on the topic of smart energy generation and consumption behind the meter. The exhibition presents renewable and efficient energy technologies, smart energy management systems and services, as well as operator models which are crucial for the professional prosumer of today and tomorrow.
Compact expert forums and accompanying seminars showcase specific information for various target visitor groups, such the real estate sector, hospitals and care facilities, local authority energy officers, hotels and food service, the production industry and more.
In 2018, EM-Power took place in parallel to Intersolar Europe, the worlds leading exhibition series for the solar industry and its partners, ees Europe, the continents largest exhibition for batteries and energy storage systems, and Power2Drive, the new exhibition for charging infrastructure and electromobility. All four exhibitions are held under the umbrella of The smarter E Europe — the innovation hub for empowering new energy solutions.
For more information on EM-Power, please visit: www.EM-Power.eu/en
EM-Power 2018 was organized by Solar Promotion GmbH, Pforzheim and Freiburg Wirtschaft Touristik und Messe GmbH & Co. KG (FWTM), with Messe München GmbH (MMG) as a co-organizer.
Featured Product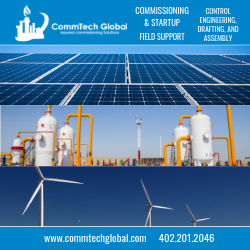 CommTech Global Solutions, LLC, provides professional and reliable commissioning services to customers in all realms of the energy industry. We blend our skills in engineering and technology with innovative business models, offering a complete range of services to assist you for a successful and in compliance operational startup. Consolidation of all our service domains gives our clients a comprehensive set of expertise and far-reaching experience on each project.