Ballard Power Systems today announced that El Dorado National fuel cell electric buses (FCEBs), powered by Ballard FCveloCity®-HD modules, have successfully completed rigorous testing at The Altoona Bus Research and Testing Center.
VANCOUVER, B.C., CANADA and ALTOONA, PA, USA - Ballard Power Systems (NASDAQ: BLDP; TSX: BLDP) today announced that El Dorado National fuel cell electric buses (FCEBs), powered by Ballard FCveloCity®-HD modules, have successfully completed rigorous testing at The Altoona Bus Research and Testing Center under a program established by the Federal Transit Administration (FTA) (https://www.revgroup.com/news-single/enc-hydrogen-fuel-cell-transit-bus-altoona-testing).

Furthermore, El Dorado National FCEBs are now eligible for a $300,000 voucher incentive under the California Hybrid and Zero-Emission Truck and Bus Voucher Incentive Project (HVIP). The California Air Resources Board (CARB) and HVIP are focused on accelerating the purchase of cleaner, more efficient trucks and buses in California (https://www.californiahvip.org/eligible-technologies/).
El Dorado Nationals 40-foot Axess Fuel Cell Electric Bus is now available for sale with the substantial HVIP incentive in California, enabling transit agencies to electrify bus fleets and meet future regulations for zero-emission transit. These buses offer extended range, exceeding 260 miles, can be quickly refueled with hydrogen and ensure full route flexibility.
"With these positive results, fuel cell technology will now be a viable and production-ready technology for transit operators looking for zero-emission travel," according to Mike Ammann, Vice President of Sales for El Dorado. "With the ability to refuel within 20 minutes and a proven transit duty cycle range of over 200 miles, the Axess FCEV is the only zero-emission transit bus that can seamlessly integrate into existing transit fleets."
El Dorado National has extensive experience in manufacturing reliable transit buses, having produced 20 FCEBs in its Riverside, California plant, all powered by Ballard in collaboration with BAE Systems, under the American Fuel Cell Bus (AFCB) program. The latest version of El Dorado Nationals Axess FCEB offers additional hydrogen storage, thereby extending the range beyond 300 miles.
Rob Campbell, Ballard Chief Commercial Officer said, "We are delighted to be working with a leading bus OEM in El Dorado National. Successful completion of testing at the Altoona facility represents a key milestone and, together with HVIP eligibility, will unlock the potential for zero-emission fuel cell buses in California. Transit agencies throughout the United States can now acquire Altoona-tested fuel cell buses powered by Ballard."
There are currently 21 FCEBs in operation with several transit agencies in California, some with many years of revenue service. These buses operate on long routes with demanding duty cycles under extreme weather conditions. This includes the Coachella Valley, where Sunline Transit currently operates 8 fuel cell electric buses.
According to Lauren Skiver, CEO and General Manager of Sunline Transit Agency, "We have put the systems in place to accurately review the performance, costs, lifecycle and reliability of our (FCEB) fleet ….. Its not really a challenge, but we need to treat the fuel cell buses like any other bus in our fleet. They are not garage queens. The buses need to be deployed in all conditions …. and they are meeting availability targets."
Ms. Skiver continued, "Operationally, our hydrogen fleet is just like our other platforms and is well integrated into our maintenance program. The total cost per mile is comparable to CNG buses we have in service."
As cities and new regulations push transit agencies to accelerate the transition of their fleets to zero-emission vehicles, FCEBs such as the El Dorado National Axess - powered by Ballards FCveloCity®-HD module - offer an affordable one-to-one replacement for diesel and CNG buses in California, with no compromise in terms of service and no road-side infrastructure.
About Ballard Power Systems
Ballard Power Systems (NASDAQ: BLDP; TSX: BLDP) provides clean energy products that reduce customer costs and risks, and helps customers solve difficult technical and business challenges in their fuel cell programs. To learn more about Ballard, please visit www.ballard.com.
This release contains forward-looking statements concerning anticipated product performance, customer benefits and market demand for our products. These forward-looking statements reflect Ballards current expectations as contemplated under section 27A of the Securities Act of 1933, as amended, and Section 21E of the Securities Exchange Act of 1934, as amended. Any such forward-looking statements are based on Ballards assumptions relating to its financial forecasts and expectations regarding its product development efforts, manufacturing capacity, and market demand.
These statements involve risks and uncertainties that may cause Ballards actual results to be materially different, including general economic and regulatory changes, detrimental reliance on third parties, successfully achieving our business plans and achieving and sustaining profitability. For a detailed discussion of these and other risk factors that could affect Ballards future performance, please refer to Ballards most recent Annual Information Form. Readers should not place undue reliance on Ballards forward-looking statements and Ballard assumes no obligation to update or release any revisions to these forward looking statements, other than as required under applicable legislation.
This press release does not constitute an offer to sell or the solicitation of an offer to buy securities. The Ballard Common Shares have not been registered under the United States Securities Act of 1933, as amended, or the securities laws of any other jurisdiction and may not be offered or sold in the United States absent registration or an applicable exemption from registration requirements.
Further Information: Guy McAree +1.604.412.7919, media@ballard.com or investors@ballard.com
Featured Product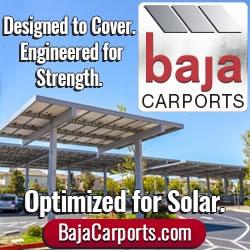 Baja Carports offers an extensive solar support system product line customized to customers' site specifications by in-house engineers, meeting their parking lot coverage, plus optimal PV production needs. Baja's Full Cantilever Tee is often paired with its Semi and Full Cantilever carports to meet live/loads up to 60psf and wind speeds to 160mph. All Baja products are pre-fabricated, bolted connections, pre-galvanized structural steel for fast on-site installation and project aesthetic requirements."