- 81% of asset and operations managers attending ONYX InSights European Wind Turbine Technical Symposium cite larger, more efficient turbine technology as most effective route to reducing levelized cost of energy for the wind industry - ONYX InSight warns against cuts to operations budgets in light of growing technical complexity
Nottingham, 18 July 2018 - Larger and more efficient turbine technologies will be the key driver in reducing the wind industrys levelized cost of energy (LCOE) and ensuring it remains competitive with other energy sources. This is according to some 81% of the asset and operations managers who attended ONYX InSights European Wind Turbine Technical Symposium on 19-20 June.

However, 79% of delegates also cited a need for higher-quality data to improve the reliability of their organizations assets, in addition to discussing the role of asset monitoring, early failure detection and advanced maintenance scheduling in increasing the efficiency of turbine fleets.
ONYX InSight, a joint venture between Romax Technology and Castrol, is a leading predictive analytics partner for wind asset owners and operators worldwide. Through the use of physics-based and data-driven predictive analytics it allows wind operators better control and reduced costs in their operations.
Evgenia Golysheva, Head of Consultancy at ONYX InSight, warned against focusing cost-cutting and efficiencies too tightly on operations budgets if the industry is to get the best from new, larger, but more complex turbine technologies:
"A new generation of larger, more advanced turbines will mean more complex machinery, operating in harsher operating conditions around the world. But its a mistake to think that all of these new technologies will be more reliable than their predecessors thanks to lessons learned from older designs, or that operating costs will reduce naturally as the industry matures without increased understanding and streamlining of operations and maintenance processes."
Golysheva was speaking to more than 50 wind asset and operations managers at the symposium, held at the University of Nottingham Innovation Park. Discussions focused on the latest trends and challenges in wind farm operations and lifetime extension, with presentations and a panel discussion highlighting the relationship between optimised practices, understanding the root causes of failures, and asset value.
"The complexity of new, larger turbine designs, combined with an increasingly short design and prototype stage and challenges to the supply chain, means that an optimised approach to operations and maintenance is required to ensure technicians can meet the challenges presented by new failure modes," continued Golysheva.
Attendees at the symposium agreed on the importance of being able to accurately predict when a gearbox component might fail, and of securing longer lead times to allow for proactive repair or replacement. Equally, more than half of those present said they thought owners and operators were failing to take advantage of the turbine data already available to them, either through lack of access or an inability to integrate the data into their organisation.
However, they also pointed to the significant advantages such data provides when used effectively. Eight in ten said they used data for failure detection and prediction, with a similar number using it to better analyse performance - acknowledging the role turbine life extension has to play in improving long-term financial returns.
"The symposium proved an excellent forum to share the thoughts and experiences of the wind industrys leading asset and operations managers and get their views on how the operational challenges they face can best be addressed," said Bruce Hall, CEO of ONYX InSight.
"Its clear that smarter, data-driven approaches to operational decisions will be crucial to extending asset lifetimes, reducing the LCOE and getting the most from the new turbine technologies that will come online over the next few years."
ONYX InSights next Technical Symposium will take place in Denver, Colorado, USA on 18-19 September.
- Ends -
About ONYX InSight
ONYX InSight is a joint venture, combining Romax Technologys 30 years of expertise in software, services and data analytics for gearbox, bearings and rotating machinery with Castrols global reach and knowledge of wind turbine lubrication.
The venture will deliver reduced operations and maintenance costs through smart and unbiased predictive analytics underpinned by real-world engineering expertise for wind energy industry and beyond.
For more information, visit: https://onyxinsight.com/
Featured Product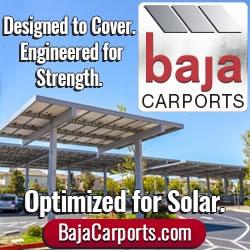 Baja Carports offers an extensive solar support system product line customized to customers' site specifications by in-house engineers, meeting their parking lot coverage, plus optimal PV production needs. Baja's Full Cantilever Tee is often paired with its Semi and Full Cantilever carports to meet live/loads up to 60psf and wind speeds to 160mph. All Baja products are pre-fabricated, bolted connections, pre-galvanized structural steel for fast on-site installation and project aesthetic requirements."