Shelby, NC, August 23, 2018. At this years Solar Power International (SPI), the globally active

Schletter Group will present its new tracking system. With a width of four metres, this single-axis
tracking system not only allows a ground coverage ratio that few other systems can match, but
thanks to its patent pending locking mechanism it also has the same level of stability as a fixed
mounting system.
"For the first time ever, this tracker combines the benefits of our fixed mounting systems with the additional yields of a tracking system," Dr Cedric Zapfe said. He and his team in Germany worked closely with the U.S. engineering team to develop the system. "Easy assembly and servicing were also key aspects when designing the system." An innovative drive concept is at the heart of this new tracker. It requires no hydraulic dampers and completely avoids the dangerous 'galloping effect under wind loads.
"This new tracker incorporates inputs from our customers in North America and leverages the experience and innovation of the Schletter group," remarked Russell Schmit, North American CEO. "We are confident that this tracker will meet or exceed expectations in terms of performance and reliability."
Locking mechanism for the greatest structural stability While most other tracking systems use hydraulic dampers or similar supporting structures to mitigate the vibrations and torsional forces caused by the wind, this Schletter system works with a self-locking mechanism. Each post is equipped with a mechanical locking element which automatically locks as soon as the row has stopped moving. This newly-developed and patent pending drive system fully eliminates vibrations over the entire row which can be caused by wind. Therefore the system, while at rest, has the properties and durability of a fixed mounting system and is designed to withstand wind speeds of up to 160 miles per hour.
Maximum ground cover ratio The tracker has a rotational range of ±60 degrees and tracks the sun astronomically. Each row can be up to 120 metres long and is driven by one centrally located motor. At four metres in width, each row is wide enough to hold either two panels oriented vertically or four horizontally, thus up to 480 square metres of solar array can be installed per row and motor. This allows operators to make optimal use of the available land and a ground cover ratio of more than 50 percent can be achieved - one of the highest in the industry.
Self-powered and wireless communication
The motor and the control systems are self powered by a dedicated PV panel in each row with a battery
pack ensuring greatest possible reliability of operation. The system is controlled through wireless technology which completely obviates expensive wiring for both power supply and communication.
Fast installation due to high degree of pre-assembly As the upper sub-assembly already comes pre-mounted to the motor unit, installing the system is very quick and safe. The motor and the control system are put into operation according to the principle of plug and play. The system is manufactured mostly from galvanised steel and can stand either on pile-driven or concrete foundations. Furthermore, the system is able to compensate slopes in the terrain of up to 10 degrees.
Very easy maintenance To make maintenance and servicing easier, mechanical connections between the rows have been deliberately avoided. This allows unhampered vehicle access between the rows, for instance during servicing and maintenance work. The Schletter Group will present the tracking system at the Solar Power International, Hall C, Booth 2448.
About the Schletter Group
The Schletter Group is one of the leading manufacturers in the world of photovoltaic mounting systems made of aluminium and steel. The Group manufactures mounting systems for roofs, façades and open areas (solar farms) as well as solar carports. With production facilities in Germany, the USA and China as well as an international network of distribution and service companies the Schletter Group is active in all important international markets. The Schletter Group has around 750 employees in total. Group sales amounted to around EUR 281 million in 2017. www.schletter-group.com
Featured Product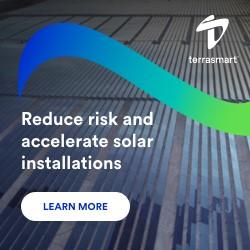 We push the limits in renewable energy, focusing on innovation to drive progress. Pioneering new solutions and ground-breaking technology, and smarter ways of working to make progress for our clients and the industry.