Performance needs of hybrid electric vehicles and other modern applications are requiring the lead battery to evolve. Tydrolyte is a new electrolyte that offers critical performance improvements and is a less toxic drop-in replacement for sulfuric acid in lead batteries. It can be adopted into the mfg. process without additional capital costs.
Introducing Tydrolyte, a Better Performing, Less Toxic, Drop-In Replacement for Sulfuric Acid in Lead Batteries

Offers critical performance improvements required to reduce system cost and
improve efficiency in stop/start, hybrid electric vehicles and other applications
AUSTIN, Texas - August 28, 2018 - Tydrolyte LLC is introducing its patent-pending, novel, safe, and superior performing electrolyte solution for automotive, motive, and stationary storage lead battery manufacturers. Tydrolyte™ is a less toxic drop-in replacement for toxic sulfuric acid in lead batteries. A whitepaper with independent test results available at www.Tydrolyte.com demonstrate the potential of this breakthrough material to increase battery life, battery efficiency and charge acceptance. These are critical performance parameters needed for stop/start and mild hybrid vehicles as well as other lead battery applications. The global lead battery market is expected to reach $84.46 billion by 2025 according market research firm Grand View Research.
Tydrolyte will be at the 16th European Lead Battery Conference and Exhibition Sept. 4-7 in Vienna, Austria, and at The Battery Show Sept. 11-14 in Novi, Michigan.
"Tydrolyte is a novel innovative chemistry and a promising new approach to advancing lead batteries. It eliminates the drawbacks of handling sulfuric acid including safety, storage, disposal and insurance. Even more importantly, initial tests demonstrate that it may improve some critical performance parameters," said Paul Bundschuh, CEO Tydrolyte LLC. "Another benefit is that as a drop-in replacement the new electrolyte doesnt require any change in existing paste recipes, production technology, or equipment, so battery manufacturers can switch to it easily."
The lead-acid battery consisting of lead, lead oxide, and a sulfuric acid electrolyte was invented in 1859 by French physicist Gaston Planté and is the oldest type of rechargeable battery. Lead batteries have been and continue to be the most popular rechargeable battery with over 400GWh shipped annually according to market research firm Avicenne Energy. This is equivalent to over 400 giga-factories of established capacity spread throughout world.
"In spite of its historic success, many aspects of lead battery chemistry are not fully understood, and this provides a significant opportunity to further enhance the performance of worlds most popular rechargeable battery technology" stated Dr. Boris Monahov, PhD, program manager at the Advanced Lead-Acid Battery Consortium (ALABC). "We are delighted to welcome Tydrolyte into membership of the ALABC, and strongly support companies such as Tydrolyte in pursuing innovative new solutions to the challenge of improving lead battery performance. There is a bright future for the lead battery, but it is essential that the industry continues to drive innovation to meet future market requirements. We look forward to working with Tydrolyte in the future."
Lead batteries are one of the worlds most environmentally sustainable industrial products. 100% of lead battery material is recyclable, and in the U.S. and Western Europe, 99% of lead batteries are recycled, achieving the designation of the worlds most recycled product. The entire lead battery circular economy including manufacturing, consumer product, and post-consumer recycling is accomplished with minimal human exposure to lead materials.
About Tydrolyte LLC
Tydrolyte LLC has exclusive global rights and was established to commercialize the novel, patent-pending Tydrolyte electrolyte in lead battery and other battery applications. Tydrolyte is a novel, safe, and superior performing electrolyte solution for automotive, motive, and stationary storage lead battery manufacturers. Tydrolyte is a less toxic, drop-in replacement for toxic sulfuric acid in lead batteries that can eliminate the regulatory cost burdens. It may also improve performance by extending battery life through lower hold current, water loss and corrosion, as well as increasing efficiency and charge acceptance through lower DC charge resistance. It can be easily adopted by lead battery manufacturers without additional capital expenses or production technology. For more information or to see our results, visit https://www.tydrolyte.com/.
###
Media Contact:
Mercom Communications www.mercomcapital.com
Wendy Prabhu tydrolyte@MercomCapital.com
1.512.215.4452
Featured Product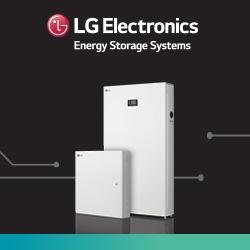 LG Solar is transforming today's solar landscape, offering precision-manufactured and high-efficiency solar panels for homeowners who demand high performance, reliability and consistently strong energy yield from a brand they can trust. LG modules feature outstanding durability, appealing aesthetics and high-efficiency technology, backed by a limited 25-year product, performance and labor (up to $450) warranty. Homeowners who purchase LG Solar modules know they're protected by a diversified global brand.