• Equity investment of approximately $163M from Weichai, at 15% premium; Weichai to be Ballard's largest shareholder • Deal includes $90M technology transfer, Joint Venture establishment, Weichai commitment for at least 2,000 fuel cell commercial vehicles • Broad-Ocean Motors to increase holdings to retain 9.9% ownership for additional proceeds of approximately $20M
VANCOUVER, BC, CANADA and JINAN & WEIFANG, CHINA - Ballard Power Systems (NASDAQ: BLDP; TSX: BLDP) today announced at a public event in Jinan, Shandong Province, China that it has entered into a strategic collaboration with Weichai Power Co., Ltd. ("Weichai"; http://en.weichaipower.com/), which includes (i) a substantial equity investment by Weichai in Ballard of approximately $163 million, representing a 19.9% interest in the company and reflecting a price based on a 15% premium to the 30-day VWAP, (ii) establishment of a joint venture ("JV") to support Chinas burgeoning Fuel Cell Electric Vehicle ("FCEV") market, (iii) a $90 million technology transfer program to the JV related to Ballards next-generation LCS fuel cell stack and power modules for bus, commercial truck and forklift applications in China, and (iv) a commitment by Weichai to build and supply at least 2,000 fuel cell modules for commercial vehicles in China, as announced by Weichai today.

In addition, Zhongshan Broad-Ocean Motor Co., Ltd. ("Broad-Ocean"; www.broad-ocean.com/en/index.html) - a current Ballard strategic investor and Chinese partner - has agreed to invest a further approximately $20 million at the same 15% premium to maintain its 9.9% ownership position in Ballard. As a result, the Weichai and Broad-Ocean equity investments in Ballard will total approximately $183 million.
All the foregoing transactions are expected to close in Q4 2018, subject to completion of definitive agreements, regulatory approvals and other customary closing conditions.
Established in 2002 and with listings on the Hong Kong and Shenzhen stock exchanges, Weichai Power Co., Ltd. is a leading automotive and equipment manufacturer specializing in the production of powertrains, automobiles, intelligent logistics, automotive parts and components. In 2017 Weichai manufactured more than 617,000 engines, 149,000 heavy duty trucks and 200,000 forklift trucks, and generated total revenue of 151.57 billion RMB (approximately $22.7B), with an employee base of 74,474 people.
Subject to closing, the strategic collaboration announced today includes these key elements:
1. Strategic Equity Investments - Weichai will purchase a sufficient number of Ballard shares so as to hold a 19.9% ownership position following the transaction (including completion of Broad-Oceans share purchase), becoming Ballards largest shareholder. This equity investment will generate approximately $163 million of gross proceeds to Ballard through the subscription and purchase of shares issued from treasury at a price per share of $3.54 based on a 15% premium to the 30-day VWAP (volume weighted average price) of $3.08.
Weichais investment will be subject to 2-year "standstill" and resale restrictions (subject to customary exceptions). For so long as Weichai holds at least 15% of Ballards outstanding shares, it will have the right to nominate two directors to Ballards board of directors, and Ballard will expand its board from the current seven directors to nine directors after closing. Weichai has also agreed that, in the event of a third-party offer to buy Ballard, Weichai will have the right to make a superior proposal or otherwise must vote its shares in accordance with the Ballard board recommendation.
In addition, Broad-Ocean has agreed to purchase a sufficient number of Ballard shares so as to maintain its 9.9% ownership position (after completion of Weichais purchase). This equity investment will be made at the same price per share as paid by Weichai and will generate approximately $20 million of gross proceeds to Ballard through the subscription and purchase of additional shares issued from treasury.
Proceeds are planned to be used for investment in Ballards core fuel cell business and to support M&A transactions.
2. Technology Transfer and China Joint Venture - Weichai and Ballard have agreed to form a joint venture company in Shandong Province, China, with Weichai and Ballard initially owning 51% and 49%, respectively. The JV will pay $90 million to Ballard under a technology transfer program for the exclusive rights to manufacture Ballards next generation LCS fuel cell stack and certain LCS-based modules for the bus, commercial truck and forklift markets in China. The JV will exclusively purchase Membrane Electrode Assemblies (MEAs), a critical technology component of each fuel cell, from Ballard under a long-term supply agreement. Weichai and Ballard will fund pro rata shares of the JV based on a business plan that is currently under discussion. Weichai will hold three of five JV board seats and Ballard will hold two, with Ballard having certain shareholder protection provisions. Ballard will also retain an exclusive right to the transferred technologies outside China.
Broad-Ocean has also expressed an interest in acquiring a 10% ownership position in the JV, which would correspondingly reduce Ballards ownership position. Discussions regarding this investment are currently underway between the parties.
3. Fuel Cell Sales - Weichai separately announced today that it has agreed to supply a minimum of 2,000 fuel cell modules for commercial vehicles in China by 2021. This is the largest announced planned commercial fuel cell vehicle deployment in history globally. Specific terms related to the supply of fuel cell power modules for commercial vehicles, including scope, product mix, pricing and timing of shipments, are under discussion between Weichai and Ballard.
"Today marks an exciting and historic milestone on our roadmap to commercialize fuel cell vehicles, as we embark on a long-term collaboration with Weichai," said Randy MacEwen, Ballard President and CEO. "Ballard is thrilled to partner with Weichai, the worlds largest manufacturer of diesel engines, with a corporate strategy to be Chinas leader in zero-emission fuel cell powertrains and FCEVs. Weichai brings considerable expertise in the traditional motive power business, including engine design, application engineering and powertrain integration, along with extensive customer relationships, deep knowledge of the China market, substantial operations scale, supply chain muscle and a solid balance sheet. Weichai together with its parent company is also well positioned with its portfolio of acquisitions and investments in leading bus, truck and material handling OEMs. In addition, Broad-Oceans anticipated participation in this strategic collaboration, including its incremental investment in Ballard, is further validation of the exciting China market opportunities."
Mr. MacEwen continued, "As strategic partners and shareholders, Weichai and Broad-Ocean are strongly aligned with the interests of Ballards shareholders. The new JV will offer a compelling framework through which our next-generation LCS fuel cell stack and power modules will be successfully integrated into buses, commercial trucks and forklifts for the China market. Weichais announced plan to deploy a minimum of 2,000 fuel cell commercial vehicles in China by 2021 is the largest commitment of commercial FCEVs to date globally. We believe this strategic collaboration will create an unparalleled ability to effectively address the Heavy and Medium Duty Motive markets in China with the most technologically advanced and competitively positioned fuel cell products, as we drive down costs and approach commercial scaling."
Mr. Tan Xuguang, Chairman and CEO of Weichai stated, "The transition in China to zero-emission vehicles is underway, and we expect fuel cells to play an important role in a variety of motive applications. Weichai, through our joint venture with Ballard, intends to be the leader in development of the Fuel Cell Electric Vehicle supply chain, by offering the most advanced fuel cell stacks and modules. Ballard is the global leader in PEM fuel cell technology and power products, and we envision a strong collaboration with formidable capabilities to address the large market in China for zero-emission buses, commercial trucks and material handling equipment."
Mr. Charles Lu, Chairman of Broad-Ocean added, "Weichais visionary entry into the fuel cell industry and significant investment in Ballard are strong indicators of the future market potential. We are thrilled to deepen our strategic collaboration with Ballard and Weichai. We also plan to be a strategic customer of the joint venture."
Ballard is in ongoing discussions with existing partners in China to ensure continued support for products using current generation technology, and to facilitate a smooth future transition to products based on next-generation technology.
BMO Capital Markets acted as financial advisor to the Company in connection with this transaction.
Conference Call
Ballard will host a conference call to discuss this transaction on Wednesday, August 29, 2018 at 11:00 a.m. Eastern Time (8:00 a.m. Pacific Time). Interested investors can access the live conference call by dialing +1.604.638.5340. Alternatively, a live audio and slide webcast can be accessed through a link on Ballards homepage (www.ballard.com). Following the call, the audio webcast and presentation materials will be archived in the Earnings, Interviews & Presentations area of the Investors section of Ballards website (www.ballard.com/investors).
About Ballard Power Systems
Ballard Power Systems (NASDAQ: BLDP; TSX: BLDP) provides clean energy products that reduce customer costs and risks, and helps customers solve difficult technical and business challenges in power and energy. To learn more about Ballard, please visit www.ballard.com.
This release contains forward-looking statements concerning future events or developments, including the closing of the announced transaction, the performance of the joint venture, anticipated product development efforts and product performance, customer benefits and market demand for our products. These forward-looking statements reflect Ballards current expectations as contemplated under section 27A of the Securities Act of 1933, as amended, and Section 21E of the Securities Exchange Act of 1934, as amended. Any such forward-looking statements are based on Ballards assumptions relating to its financial forecasts and expectations regarding its product development efforts, manufacturing capacity, and market demand.
These statements involve risks and uncertainties that may cause Ballards actual results to be materially different, including general economic and regulatory changes, detrimental reliance on third parties, performance risks related to existing joint venture and partners, successfully achieving our business plans and achieving and sustaining profitability. For a detailed discussion of these and other risk factors that could affect Ballards future performance, please refer to Ballards most recent Annual Information Form. Readers should not place undue reliance on Ballards forward-looking statements and Ballard assumes no obligation to update or release any revisions to these forward looking statements, other than as required under applicable legislation.
This press release does not constitute an offer to sell or the solicitation of an offer to buy securities. The Ballard Common Shares have not been registered under the United States Securities Act of 1933, as amended, or the securities laws of any other jurisdiction and may not be offered or sold in the United States absent registration or an applicable exemption from registration requirements.
Further Information: Guy McAree +1.604.412.7919, media@ballard.com or investors@ballard.com
Featured Product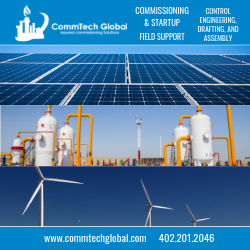 CommTech Global Solutions, LLC, provides professional and reliable commissioning services to customers in all realms of the energy industry. We blend our skills in engineering and technology with innovative business models, offering a complete range of services to assist you for a successful and in compliance operational startup. Consolidation of all our service domains gives our clients a comprehensive set of expertise and far-reaching experience on each project.