Six Rising Women SPI Fellows selected to attend this years Solar Power International for networking and career development as part of both organizations workforce diversity efforts.
Brooklyn, NY —WRISE and GRID Alternatives today announced their selection of six women for the 2018 Rising Women SPI Fellowship. The fellowship is an opportunity for women from diverse backgrounds who are interested in solar careers to visit Solar Power International (SPI) for networking, mentorship and solar education. Part of GRID and WRISEs workforce diversity initiatives, the program is aimed at women training for careers in installation and design as well as college and graduate students studying renewable energy and related fields.

2018 Rising Women SPI Fellows:
• Kathryn Corp, University of Washington
• Allison Naganuma, Swarthmore College
• Suliyat Olagbenro, University of Michigan
• Janice Scott, EcoTech Institute
• Gowri Srirarmagiri, University of Delaware
• Jessica Wagner, Illinois Central College
"The women receiving this years awards are already making a positive impact in the renewable energy field," said WRISE Executive Director, Kristen Graf. "The Rising Women SPI Fellowship is an exciting opportunity that allows us to bring more women to this important annual event and help jumpstart their careers in the field. I look forward to seeing their careers grow in the years to come."
"Womens voices and talents are critical to the solar industrys continued growth and innovation," said Erika Symmonds, Vice President of Workforce Development and Service-Learning at GRID Alternatives. "Were excited to partner with WRISE to help make the connection between an industry that needs a strong workforce and talented women looking to advance their careers, whether as solar installers, engineers or entrepreneurs."
WRISE and GRID will publicly recognize the fellows during the Solar Power International 2018 Conference and Exhibition in Anaheim, California at an event following the GRID Alternatives SPI Job Fair on Wednesday, September 26, 2018.
###
About Women of Renewable Industries and Sustainable Energy:
WRISE was founded in 2005 and works to promote the education, professional development, and advancement of women to achieve a strong diversified workforce and support a robust renewable energy economy. Since that time, WRISE has grown to an organization with local chapters in the US and Canada; national programming that includes activities at renewable trade shows across the country, the Leadership Forum, Take Charge Workshops, mentoring, professional development and webinar series; and a growing grassroots network of more than 6,500 women and men.
About GRID Alternatives:
GRID Alternatives is a national leader in making clean, renewable energy accessible to low income communities and communities of color. Using a unique, people-first model, GRID develops and implements renewable energy projects that serve qualifying households and affordable housing providers, while providing hands-on job training. GRID has installed solar for more than 11,000 families to-date, helped households and housing providers save $327 million in lifetime electricity costs, and trained nearly 38,000 people. GRID Alternatives has nine regional offices and affiliates serving California, Colorado, the mid-Atlantic region, and Tribal communities nationwide, and serves communities in Nicaragua, Nepal and Mexico. For more information, visit www.gridalternatives.org.
Featured Product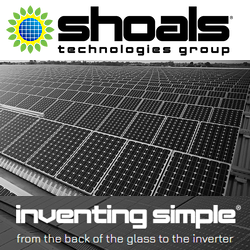 Inventing Simple® isn't just a slogan to us, it's a way of life. Using simple plug-and-play ideology, we revolutionized solar installations in 2003 with our Interconnect System™. Our harnessing system is now the gold standard EPC's use around the world. By using simple ideas, we are making solar energy a more affordable and clean power source for future generations.