SolarEdges expanded StorEdge solution with a backup interface provides backup power to the entire house, eliminating the need to pre-select backed-up loads.
ANAHEIM, CALIFORNIA (September 20, 2018) - SolarEdge Technologies, Inc. ("SolarEdge") (NASDAQ: SEDG), a global leader in smart energy, is unveiling at Solar Power International its expanded StorEdge solution that now offers immediate energy backup of the entire house.

SolarEdges expanded StorEdge solution with a backup interface provides backup power to the entire house, eliminating the need to pre-select backed-up loads. This solution offers easier and faster installation with integration of the meter and auto transformer into the backup interface, and eliminates the need for an additional back-up panel. Higher power and higher capacity backup systems are also supported with multiple batteries connected.
"This expanded solution ensures that homeowners are better prepared, safer, and no longer have to be left without power during blackout events," stated Lior Handelsman, VP of Marketing and Product Strategy, and Founder of SolarEdge. "By further enhancing our StorEdge solution with backup for all house loads, we are providing customers with more flexibility and control over the energy they produce, store, and consume. This advancement is another demonstration of how SolarEdge is leading the industry in expanding the PV inverters role within the energy ecosystem, from a simple DC/AC converter to a holistic energy management system."
StorEdge support for backup of the entire house is expected to be available by the end of 2018.
Solar Power International attendees are invited to visit the SolarEdge booth (2614) to meet with local and global members of our management and sales teams, learn more about SolarEdge's newest product offerings, and participate in daily trainings.
About SolarEdge:
SolarEdge is a global leader in smart energy technology. By leveraging world-class engineering capabilities and with a relentless focus on innovation, SolarEdge creates smart energy solutions that power our lives and drive future progress. SolarEdge developed an intelligent inverter solution that changed the way power is harvested and managed in photovoltaic (PV) systems. The SolarEdge DC optimized inverter seeks to maximize power generation while lowering the cost of energy produced by the PV system. Continuing to advance smart energy, SolarEdge addresses a broad range of energy market segments through its PV, storage, EV charging, UPS, and grid services solutions. SolarEdge is online at solaredge.com
Featured Product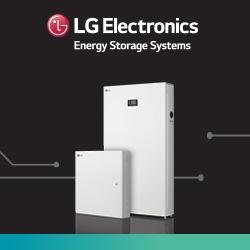 Meet LG Electronics Home 8 Energy Storage System (ESS), a whole home battery backup solution built with installers and their homeowner customers in mind. The ready-to-deploy Home 8 features just one SKU and a modular assembly for fast installation. It can be AC-coupled or solar-powered and is engineered with a grid-connected inverter, four battery modules, and a Smart Energy Box featuring a 7'' LCD touchscreen with commissioning wizard for easy setup. Each Home 8 unit can store up to 14.4 kWh of usable power, helping homeowners gain pure independence from the grid. Plus, installers can connect up to four units, bringing customers up to 57.6 kWh of total backup power-all easily managed and monitored through intuitive mobile apps.