Sense, whose intelligent home energy monitor interprets the power usage and activity of devices in the home, today announced that more than 50 solar partners have joined the Sense partner program in over two dozen states and Canadian provinces where homeowners are embracing solar power.
Solar Power International, Anaheim, CA—September 24, 2018—Sense, whose intelligent home energy monitor interprets the power usage and activity of devices in the home, today announced that more than 50 solar partners have joined the Sense partner program in over two dozen states and Canadian provinces where homeowners are embracing solar power.

The programs rapid growth reflects the value that Sense brings to both homeowners and installers. After a decade or more of 50%+ growth, residential market growth has slowed in several leading states, according to SEIA, and installers are refining their business strategies to engage homeowners, build trust and improve their project completion rates.
The Sense home energy monitor tracks the power usage and activity of individual devices in the home, monitoring solar production and comparing it to home energy usage with overlaid graphs and historical trends. Home owners can instantly see their trends, adjust energy consumption, and find ways to become more efficient.
For homeowners who are considering solar panels, Sense engages home-owners in analyzing their energy needs, giving them greater confidence in their decisions about the solar proposal. For their part, installers can develop more accurate proposals. Once the solar installation is live, homeowners can see how much energy they are producing compared to energy usage on a real-time basis in the Sense app. They can manage their homes energy consumption daily, weekly and monthly, set goals and create alerts, making their investment more valuable in both the short and long term.
The Sense partner program offers a variety of benefits including wholesale discounts, installation training and support, a fleet management dashboard so that solar partners can collaborate with homeowners on their energy usage, and the ability for partners to share branded content through Senses highly engaging app interface.
Comments from Sense partners:
Wells Solar & Electrical Services, TX, Amy Olsen, Director of Marketing: "Sense educates our customers about energy conservation in conjunction with getting solar. Every Wells Solar customer gets a Sense with their solar installation. On our end, it gives us the ability to view energy usage if a customer has questions about their bill. We selected Sense over other energy monitors for its easily understood customer interface."
Rising Sun Solar, MO, Keith Murphy, President: "Sense is a great add-on that complements our solar power product mix perfectly. Since adding Sense as a partner, we're noticing our closing percentages increase and our customers are about as excited to get Sense installed as they are solar itself. Sense provides a necessary tool on the back end to verify our production against the homeowner's consumption and our original production estimates."
Red-Line Electric & Solar, AZ, Joshua Farley, President: "Sense has allowed us an opportunity to provide a cutting-edge monitoring solution that is able to monitor both consumption and PV production in one place, all while displaying our brand and giving our clients the assurance that our company is here when they need us!"
Avid Solar, MA, Russell Aney, CEO: "In Massachusetts, many of our customers are trying to power their homes with 100% renewable energy, but net metering limitations constrain the size of the solar PV system they can install. Sense helps them to not only better understand their consumption patterns throughout the day, it also guides them to what appliances are actually causing it, allowing them to track that power consumption and cost over time. This deeper insight empowers them to make informed conservation decisions as they strive to stay within the limits of their solar generation. Amazing and helpful!"
LA Solar, CA, Ara Petrosyan, CEO: "Sense is better than other monitoring solutions because it shows energy consumption alongside solar production, and it's the easiest to install. We've seen Sense working to continually enhance the monitors ability to identify more devices and their loads. For these reasons, Sense is a good choice for whole house consumption and solar production."
Good Faith Energy, TX, Mohammed Abdalla, Founder & CEO: "The Sense energy management unit has transformed the way we do solar and energy storage sales. It empowers both the end-user and the installation company. The client has a full understanding of their energy consumption habits and their real-time solar production, and the Sense Fleet Manager allows us to generate reports with real data to assist us in sizing energy storage systems, all with the click of a button! We couldnt be happier with our partnership with Sense."
HelioPower, CA, Brad Schmehl, President: HelioPower uses Sense to expand our Whole House Energy approach to incorporate energy monitoring for Solar customers on and off-grid, as well as customers who cant go solar but still want to reduce their energy costs. With Sense, homeowners are able to manage how, where and when they are consuming power, make improvements, and see an immediate, real-time impact."
About Sense
Sense's mission is to make all homes intelligent by keeping people informed about what's happening in their homes, and helping to make them safer, more efficient, and more reliable. Founded in 2013 by pioneers in speech recognition, Sense uses machine learning technology to provide real-time insights on device behavior, even for those devices that are not "smart." Customers rely on Sense for a wide range of uses including checking what time their kids get home, monitoring their home appliances, determining whether they left appliances running or doors open and identifying how to reduce their energy costs. Sense is headquartered in Cambridge, Mass. To make sense of your energy use, visit: https://sense.com.
Featured Product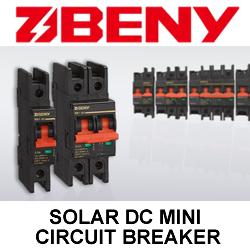 The BB1-63 modular miniature circuit-breakers can be used in solar DC circuits up to 1200 VDC (4-poles execution). Application in solar DC circuits, battery energy storage systems and UPS. Arc flash barrier design keeps solar equipment more safe and reliable. For DC circuit over-current protection.