New capability enables integration of Pika Smart Batteries into existing solar energy systems
Pika Energy has announced new capabilities that will enable any PV system owner to couple Pika Energy storage to their existing solar array. Pika's Harbor™ smart battery is one of the most powerful and efficient smart batteries on the market, storing up to 17.1kWh of energy and supplying up to 10kW of output thanks to the Panasonic Lithium-Ion (Li-ion) battery modules.

The category-leading power and capacity of the Pika Harbor™ smart battery has until now been reserved for owners of a Pika Energy Island™, Pika's DC-coupled solar-plus-storage platform. After the release of this update to the Pika Energy Island™ any existing solar (PV) system will be able to couple with Pika's leading battery technology. The upgrade is expected to be available by Dec 2018.
"The new capability offered by Pika will give tens of thousands of PV system owners access to one of the best energy storage systems available on the market," said Mukesh Sethi, General Manager, Solar and Energy Storage Division, Panasonic Eco-Solutions North America, a division of Panasonic Corporation of North America. "This advancement is just another example of why Panasonic continues to collaborate with Pika for solar energy storage solutions in the residential and light commercial markets."
Pika Energy is also announcing two new configurations of the Harbor™ smart battery that will allow even more customers to access their advanced solar-plus-storage technology. Pika will be adding 8.6 kWh and 14.3 kWh options to the existing range of Harbor™ smart battery configurations, allowing system owners to better match their energy needs and their budget to a Pika smart battery product with greater accuracy. Uniquely, Harbor™ smart batteries can be upgraded for more power and capacity post-installation by adding Panasonic Li-Ion battery modules. Pika's line-up now ranges from 8.6 kWh to 17.1 kWh of useable capacity.
"Our goal is to provide the most powerful, longest lasting and seamlessly integrated energy system for our customers." said Ben Polito, CEO of Pika Energy. "The option to add a Pika Battery to an existing array is incredibly important for homeowners at a time when many of the current options from other manufacturers are underpowered, incompatible or unavailable. The new additions to the Harbor™ smart battery series mean that homeowners now have a full range of options to meet any need and any budget. As a Pika smart battery owner's requirements change and grow, their system can be upgraded and expanded."
Pika's storage systems are especially valuable to solar system owners in coastal and storm-prone areas in need of a reliable extended backup solution. On its own, the Pika Energy Island™ solar plus storage can supply up to 50A of backup power, enough to power the average American home. When coupled to an existing array, Pika system owners will have access to even more power - allowing them to run larger loads even when the grid is down. Additional features including black start capability, a local user-interface, and the ability to charge/discharge from the grid give customers more control, storm-proof resiliency and the flexibility to take advantage of state-specific solar and storage incentives.
Pika's smart batteries are available across North America via a network of distributors and certified installers. Visit http://www.pika-energy.com/purchase to get connected with a distributor or installer of Pika Energy products.
About Pika Energy
Pika Energy is the maker of the Pika Energy Island™, the most powerful solar-plus-storage system on the market. Pika's Harbor™ smart battery series is powered by Panasonic Li-ion technology and features more power, capacity and capability than any other residential smart battery on the market. Pika Energy's products are developed and manufactured in the United States and are sold and installed throughout the United States, Puerto Rico and Canada. For more information please visit: http://www.pika-energy.com
About Panasonic Corporation of North America
Newark, NJ-based Panasonic Corporation of North America is a leading technology partner and integrator to businesses, government agencies and consumers across the region. The company is the principal North American subsidiary of Osaka, Japan-based Panasonic Corporation and leverages its strengths in Immersive Entertainment, Sustainable Energy, Integrated Supply Chains and Mobility Solutions to enable its business-to-business customers. Panasonic was highlighted in Forbes Magazine's Global 2000 ranking as one of the Top Ten Best Regarded Companies for 2017. The ranking is based on outstanding scores for trustworthiness, honesty with the public and superior performance of products and solutions. Learn more about Panasonic's ideas and innovations at Panasonic.com.
Featured Product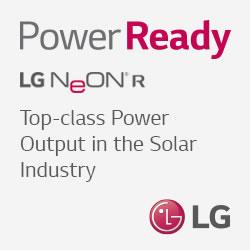 The NeON R module features "Back Contact" cell technology delivering an entirely black panel that is aesthetically pleasing and energy efficient. The cell's seamless, surface blends perfectly into nearly all rooftop designs while the module's electrodes are positioned on the rear of the cell. Using LG's N-type cell structure, the panels produce 365W of energy, up to 7.3kWp, compared to 5.8kWp of the p-type cell. The module's new design minimizes LID, thereby delivering a longer lifespan and increased energy output.