Valley Forge and Hancock plans take advantage of seasonality to better manage energy spend over time
BURLINGTON, Mass., Oct. 15, 2018 - Patriot Energy Group has launched two new hybrid energy strategies for businesses looking to take advantage of seasonal price fluctuations to better manage energy costs.

The Valley Forge plan takes advantage of an index-based price for eight months of the year and fixes in an energy-only hedge price for the months of December though March. The Hancock Portfolio plan also takes advantage of an index-based solution but locks businesses into energy-only hedge at peak hours during the volatile winter and summer months. These months consist of December through February, and June through August and typically include the hours of 7am-11pm Monday through Friday. During off-hours those months and throughout the rest of the year, clients receive index-based pricing, which allows for a more aggressive strategy with less of a risk premium.
Clients using these plans will harness the power of aggregate purchasing to get advantageous pricing from suppliers.
"Clients locked into long-term fixed rates lose the opportunity for the ability to take advantage of pricing at times when rates dip during the 'shoulder months of fall and spring," said Craig Wall, Patriot Energy Group Director of Supplier and Product Management. "Because rates are typically lower in the fall and spring, many clients locked into year-round fixed rate plans lose the ability to take advantage of these market conditions. In addition, these new plans help minimize the exposure to price spikes during the most volatile periods during the winter and summer."
For more information about these new plans, visit www.patriotenergygroup.com.
About Patriot Energy Group
Patriot Energy Group is one of the largest and fastest growing retail electricity and natural gas management firms operating in all competitive markets throughout the U.S. As a client-side energy broker/advisor Patriot Energy Group works closely with clients to help manage risks associated with energy costs and has a proven track record of energy procurement representing over $500 million in energy spending. Patriot Energy Group offers professionally managed and diverse energy purchasing strategies, which combine unique fixed, index, and hybrid rate structures, as well as a comprehensive suite of energy efficiency and management options. Learn more at www.patriotenergygroup.com.
Featured Product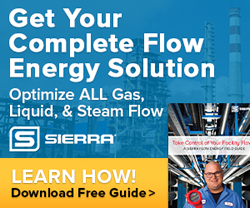 Download Flow Energy Guide - Written by Engineers For Engineers. Learn how to save on energy costs by optimizing your facility flows that impact costs like compressed air, natural gas, steam, and hot or chilled water.