altE, the Massachusetts based solar and renewable energy equipment distributor, announced the agenda for their 8th annual solar conference. The conference will be held February 11th – 13th, 2019 at the Devens Common Center in Devens, MA.
altE, the Massachusetts based solar and renewable energy equipment distributor, announced the agenda for their 8th annual solar conference. The conference will be held February 11th - 13th, 2019 at the Devens Common Center in Devens, MA. The agenda includes an optional pre-conference day of technical training on February 11th for both beginner and experienced installers. During the main conference on Feb 12th and 13th there will be more than 35 hour-long technical training sessions taught by solar industry experts—with over 13 offering sessions NABCEP continuing education credits.

During the optional pre-conference training day on Feb 11th, there will be two learning tracks for solar installers. The first, a track for experienced installers, is titled "PV and the 2017/2020 National Electrical Code (NEC)". This course will be taught by Sean White, former IREC Master Trainer of the Year, and will offer solar installers NABCEP continuing education credits. The second track, called "Intro to Solar Grid-tie and Battery Backup", is for installers and installer employees new to the industry. Both tracks are taught by respected industry veterans and offer attendees an opportunity to further their solar knowledge.
"We work really hard to provide a strong education value to solar installers at our annual conference. Our goal is to provide a wide range of technical learning opportunities as well as access to the latest solar products and trends. And have some fun along the way," said Sascha Deri, CEO of altE. "This year's line up of technical workshops is one of our best to date and we're excited to share it with the solar industry."
The 2019 edition of the conference will focus on energy storage. Installers will have the chance to stay on the leading edge of this segment of the renewable energy sector—for both off-grid and grid-tie with battery backup applications. Grid-tie with battery backup is rapidly becoming a financial reality for average homeowners as the price of equipment falls, giving installers an additional line of business to offer consumers. The agenda includes classes and the opportunity to see the latest product offerings firsthand from both traditional lead acid chemistry and lithium battery producers. Energy storage manufacturers scheduled to attend include Crown Battery, OutBack Power, Trojan Battery, SimpliPhi Power and KiloVault.
Some of the classes during the main conference offering NABCEP credits include sessions on rapid shutdown, bifacial PV technology and system design and scalability. The sessions offer technical system design and assembly instruction that installers can apply directly in the field. Solar technical representatives from MidNite Solar, Schneider Electric and Hanwha Q Cells are just some of the longstanding industry experts that will be leading sessions.
Other notable classes include independent offerings from OutBack Power and Canadian Solar. The specialist from OutBack will teach a two-part course on hybrid energy systems that can be configured off-grid, grid-tie with battery back and grid-tie only—a great solution for consumers on a budget looking to add batteries at a later date. Canadian Solar will be leading a technical installer training that will offer NABCEP continuing education credits for installers.
Included with conference registration is breakfast, lunch and coffee throughout the day on February 12th-13th. During the evening of February 12th there will be a dinner reception followed by a free local beer and wine tasting. The Devens Conference Center—accessible less than an hour west of Boston by car—is located at 31 Andrews Parkway Devens, MA 01434. They can be reached by phone at (978) 772-0188. Additionally, for installers travelling from outside the area there are blocks of rooms reserved at preferred prices (mention the Alternative Energy conference when making your reservation to get preferred prices).
altE is a global supplier of solar, wind and renewable energy equipment with projects installed on every continent in the world. Their headquarters and main warehouse is located west of Boston, MA in Boxborough, MA USA. They've been "making renewable do-able" since 1999. To learn more about altE and solar energy systems visit their website: http://www.altEstore.com.
For more information, visit the altE 2019 Solar Installer Conference website (https://www.altestore.com/store/info/2019-solar-conference/). Follow along on social media with #altESolarCon.
Featured Product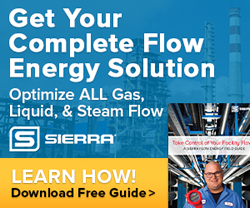 Download Flow Energy Guide - Written by Engineers For Engineers. Learn how to save on energy costs by optimizing your facility flows that impact costs like compressed air, natural gas, steam, and hot or chilled water.