In the period of 11-14 March 2019, ADS-TEC, the Nuertingen-based battery specialist, will be a gold sponsor in Duesseldorf and will be presenting its wide range of products for private homes, industry and infrastructure as well as its leading HPC fast charging technology for E-mobility at Stand E18 in Hall 8b. The system can be ordered from ADS-TEC as of now!
In the period of 11-14 March 2019, ADS-TEC, the Nuertingen-based battery specialist, will be a gold sponsor in Duesseldorf and will be presenting its wide range of products for private homes, industry and infrastructure as well as its leading HPC fast charging technology for E-mobility at Stand E18 in Hall 8b. The system can be ordered from ADS-TEC as of now!

For a long time, ADS-TEC has been focused on using stationary storage solutions for network stability and offers scalable systems ranging from 19 kWh up to multi-megawatt hours. ADS-TEC offers storage-based, fast charging solutions for the immense power requirements of future E-mobility on the low-voltage grid. This makes using the existing distribution grid a viable option, and removes the need for costly grid expansions.
High Power Charging (HPC Booster and HPC Dispenser)
At this year's Energy Storage, the company will present its world-leading fast charging technology as its latest development: the extremely compressed HPC Booster storage system with separate HPC Dispenser fast charging column. The system offers fast charging processes of up to 320 kW for ranges of up to several hundred kilometres within just a few minutes of charging and can easily be integrated anywhere in the limited-power distribution grid. With a surface area of 1.2 m x 1.2 m and a capacity of 140 kWh including inverter and air-conditioning technology, it is the world's most compact and powerful battery system. The HPC solution was developed in cooperation with the Porsche Engineering Group.
PowerBooster - E-mobility and local storage
As an additional solution for E-mobility and as a local storage unit ADS-TEC also offers the PowerBooster outdoor battery system in a compact mini-container, which delivers high performance to fast charging stations and can be recharged using low output via the available mains connection point. This not only saves valuable time, but also costly medium-voltage systems, construction cost subsidies and expensive grid expansions.
Meanwhile the PowerBooster can be used as a grid service station for network services (e.g. frequency control, reactive power supply or peak capping) almost anywhere and directly outdoors while connected to the 400-volt distribution network. The PowerBooster is available in various sizes of up to 240 kWh. Big-LinX Energy, ADS-TEC's cloud-based IoT platform, allows all distributed storage systems to be monitored, securely coupled and integrated into customers' higher-level management systems.
StoraXe rack systems starting at 19 kWh
The StoraXe "Home & Small Business" product portfolio for private households, apartment buildings, businesses, and commercial and public facilities includes storage systems of 19, 28 or 47 kWh. The systems are closed cabinet systems with integrated inverter, air conditioning and control. In 2018 they were once again awarded the "Top storage battery" by Manager Magazine. Due to their high energy density, number of cycles and constant high performance, they offer further-reaching application possibilities than simple self-consumption optimisation, which makes them particularly economical and lucrative.
Storage solutions from 50 kWh for industry and infrastructure
Another focus is on industrial storage solutions, which are primarily utilised for peak load capping, load management, emergency power applications and for combining with larger PV systems or as hybrid power plants. The systems cover bandwidths from 50 kW/kWh up to several mW/mWh. Large format customised solutions usually come in the container format. The modular design and the comprehensive IT management system allow almost unlimited scaling options. High-quality battery cells ensure the highest performance and lowest capacity losses across the batteries' lifetime.
Added value of the ADS-TEC cloud solution "Big-LinX® Energy"
As a company with decades of experience in the IT sector, ADS-TEC has created the IoT platform Big-LinX, which allows globally distributed systems to be connected to each other online. "Big-LinX Energy" provides different energy management tools. These already help during the planning, enable monitoring, remote maintenance or data analysis during operation and provide many possibilities for future business models and integrations. The added value of StoraXe systems from ADS-TEC lies primarily in IT and the added value provided by Big-LinX Energy.
Unique to ADS-TEC is the ability to capture status data all the way down to the cellular level. Each individual cell is controlled over its entire service life via its own battery management system. If deviations from the agreed operating parameters occur during operation, warnings are sent to the operator via the cloud. This allows the operator to initiate preventive maintenance operations before the risk of damage occurs.
ADS-TEC Energy GmbH - Technology for Professionals - 100% Made in Germany
ADS-TEC Energy GmbH is a joint venture between the ADS-TEC Group and BOSCH. Based on decades of experience with Li-ion storage technologies from the industrial PC sector, ADS-TEC develops and produces highly efficient battery storage and fast charging systems in the energy sector. Starting with capacities from 19 kWh for private houses and smaller commercial enterprises all the way up to scalable industrial storage systems, infrastructure solutions in the multi-megawatt range for energy providers and grid operators and self-sufficient energy supply systems, the company has been providing professional solutions to a broad based clientele for many years now. The SRS2019 industrial storage system with 19 kWh was recently named "Top storage battery 2018" by Manager Magazine online and, according to "brand eins", ADS-TEC is one of the most innovative companies in Germany in the "Energy & Environment" category.
The newly developed fast charging technology for electric mobility is proving to be ground-breaking. It is unsurpassed worldwide in its compactness in terms of capacity and performance.
ADS-TEC's CEO, Thomas Speidel, is president of the German Energy Storage Association (Bundesverband Energiespeicher e.V., BVES). Through the initiatives in numerous projects funded on the state and national level, ADS-TEC maintains close relationships with businesses and research institutions along the entire value chain.
Featured Product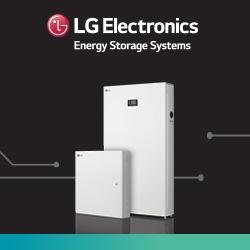 LG Solar is transforming today's solar landscape, offering precision-manufactured and high-efficiency solar panels for homeowners who demand high performance, reliability and consistently strong energy yield from a brand they can trust. LG modules feature outstanding durability, appealing aesthetics and high-efficiency technology, backed by a limited 25-year product, performance and labor (up to $450) warranty. Homeowners who purchase LG Solar modules know they're protected by a diversified global brand.