New market report, a wide range of sessions and a conference on the topic of Africa
Munich, February 7th, 2019 - The sunniest regions of the world are located in Africa and the Middle East. So it's particularly surprising that these regions are home to less than five of a total of 450 gigawatts of photovoltaics (PV) capacity worldwide. Africa holds enormous potential for renewable energies. Renowned experts will be exploring just how great this potential is with presentations at the Intersolar Europe Conference on May 14 and 15. The organizers of Intersolar Europe and the conference of the same name will also be presenting the results of their latest market study, the Intersolar Solarize Africa Market Report, which was carried out by the German Solar Association (BSW-Solar) on their behalf. In the exhibition halls themselves, visitors will also have the chance to learn everything worth knowing about solutions that are tailored to local conditions. Intersolar Europe will take place from May 15-17 at Messe München - in parallel to three other leading energy exhibitions as part of The smarter E Europe, the innovation hub for empowering new energy solutions.

Falling prices, a growing population and optimal local conditions mean that Africa holds enormous potential for the expansion of renewable energies - particularly of PV. Many companies and institutions have already recognized the opportunities that the continent offers and are working to expand their operations there, in close collaboration with local distributors in the various key markets. Numerous PV projects are currently underway. For example, Nigeria recently put out a call for tenders for the construction and operation of a 100 megawatt solar park. The country aims to generate 20 percent of its total energy mix from solar power by 2030. Currently, demand is largely met by gas and hydroelectric power plants. In the Seychelles, meanwhile, a solar park is springing up on Romainville Island. Construction should be complete before the end of the year. Once in operation, the park will produce around seven million kilowatt hours of energy per year, leading to annual savings of over 1 million dollars. And the energy storage technology used should soon make it possible to shut down the diesel systems which currently work around the clock to produce electricity. Alongside these major developments, smaller projects are also flourishing in Africa. The Kilaguni Safari Lodge, for example, will be the first lodge in Kenya to cover 100% of its energy needs with self-generated solar power.
The future of solar energy in Africa
This boom in new projects is accompanied by rising fossil fuel prices and lower costs for PV. Solar power is helping African countries to end their reliance on water power and on often expensive diesel supplies. PV is an attractive, clean and sustainable solution to guarantee security of supply in many parts of the continent and improve access to a stable, rapidly scalable power supply. It can be either grid-connected or grid-independent and can be used to supply both businesses and private homes.
Most African countries currently have low per-capita power consumption. But as the population and the number of businesses continue to grow, the rate of electrification and the secured power supply can no longer keep pace with demand - creating obstacles to further economic development. Many countries in Africa need to strengthen their economy and trade, which will only be possible when a stable and reliable power supply is in place. Renewable energies, especially PV coupled with efficient storage technologies, can go a long way towards improving the energy supply.
Intersolar Europe Conference: Africa in the spotlight
To highlight the enormous potential that the continent holds for the PV market, the organizers of Intersolar Europe will be presenting the Intersolar Solarize Africa Market Report. This study identifies the market needs and business opportunities for the solarization of Africa, broken down into the individual regions (Northern, Eastern, Western and Southern Africa as well as parts of Central Africa). The report also analyzes the most important supporting guidelines for PV projects, including the self-consumption guidelines. The key findings of the report will be presented for the first time at Intersolar Europe.
Another conference session appears particularly interesting in light of the auctions and calls for tenders now taking place in the MENAT countries: "From Fossil Fuels to Photovoltaics: Solar Power in the MENAT Markets." At this session, experts will discuss their experience in the field and highlight opportunities that the generation of solar power in this region opens up for the industry. It will be well complemented by the session "Emerging Technology for an Emerging Market: PV Systems in Africa," which will introduce business models that are emerging on the continent and explore the obstacles that investors should expect to encounter in terms of regulation and infrastructure.
Image source: © Solar Promotion GmbH
Intersolar Europe and the parallel exhibitions will take place from May 15-17, 2019 as part of the innovation hub The smarter E Europe at Messe München.
For more information, please visit:
www.intersolar.de/en
www.TheSmarterE.de/en
Intersolar Europe
With events spanning four continents, Intersolar is the world's leading exhibition series for the solar industry and its partners. It unites people and companies from around the world with the aim of increasing the share of solar power in our energy supply.
Intersolar Europe takes place annually at the Messe München exhibition center in Munich, Germany and focuses on the areas of photovoltaics, solar thermal technologies, solar power plants, grid infrastructure and solutions for the integration of renewable energies. Since being founded, Intersolar has become the most important industry platform for manufacturers, suppliers, distributors, service providers and partners in the global solar industry. The accompanying conference consolidates selected exhibition topics and showcases international markets, large-scale power plants, financing and pioneering technologies.
With over 25 years of experience, Intersolar has the unique ability to bring together members of the solar industry from across the world's most influential markets. Intersolar exhibitions and conferences are held in Munich, San Francisco, Mumbai, São Paulo and Dubai. These global events are complemented by the Intersolar Summits, which take place in emerging and growing solar markets worldwide.
In 2019, ees Europe, Europe's largest exhibition for batteries and energy storage systems, will take place in parallel to Intersolar Europe for the sixth time. The two exhibitions will be complemented by the Power2Drive Europe and EM-Power exhibitions, which both debuted in 2018. Power2Drive Europe is dedicated to traction batteries for e-mobility and topics relating to charging infrastructure, while EM-Power focuses on intelligent energy use in industry and buildings. All four exhibitions are being held at the innovation hub for empowering new energy solutions: The smarter E Europe.
For more information, please visit: www.intersolar.de or www.thesmartere.de.
Intersolar Europe is organized by Solar Promotion GmbH, Pforzheim, and Freiburg Wirtschaft Touristik und Messe GmbH & Co. KG (FWTM).
Featured Product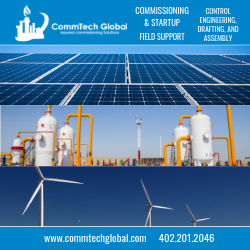 CommTech Global Solutions, LLC, provides professional and reliable commissioning services to customers in all realms of the energy industry. We blend our skills in engineering and technology with innovative business models, offering a complete range of services to assist you for a successful and in compliance operational startup. Consolidation of all our service domains gives our clients a comprehensive set of expertise and far-reaching experience on each project.