The 19-Percent Efficient Commercial Solar Panel with Proven Shingled Cell Design Delivers Superior Power, Reliability, Value and Savings Compared to Conventional Panels
In October 2018, SunPower (NASDAQ: SPWR) acquired the SolarWorld Americas facility in Hillsboro, Oregon, making good on its commitment to invest in American manufacturing. Just four months later, SunPower is assembling its high-quality 19-percent efficient Performance Series solar panel (P19 or P-Series) for commercial customers in the U.S. factory, leveraging U.S.-made automated stringing equipment and a workforce of about 200.

Experience the interactive Multichannel News Release here: https://www.multivu.com/players/English/8252053-sunpower-p-series-solar-panels-american-manufacturing/
"Today we celebrate the revival of American solar panel manufacturing as SunPower's high-quality P19 product starts coming off the line in Oregon," said Tom Werner, SunPower CEO and chairman of the board. "Now that we're in full production, we look forward to meeting our strong U.S. commercial market demand with these high-performance American-assembled panels."
SunPower will begin fulfilling commercial customer orders and shipping P19 solar panels from Oregon in the coming weeks. Several high-ranking Fortune 500 companies, an auto dealer in Texas, and a church in Missouri are just some of the customers who will soon benefit from SunPower® panels that were assembled in America. SunPower is currently the No. 1 commercial solar provider in the U.S. with the most megawatts installed according to Wood Mackenzie (formerly GTM Research). Incorporating P19 into a comprehensive high-efficiency product portfolio that includes SunPower's Maxeon®-based X- and E-Series solar panels - as well as the company's newly-developed Next Generation Technology coming this year - will enable SunPower to maintain this leadership position.
SunPower's P19 solar panel architecture leverages a unique cell interconnect technology developed by a U.S.-based company called Cogenra Solar and funded in part by the U.S. Department of Energy (DOE) SunShot Initiative. SunPower acquired Cogenra in 2015 and introduced P-Series solar panels that same year.
Now made in several geographies, P-Series panels are currently the most deployed shingled cell solar panels in the world and are highly reliable. For the second year running, DNV GL - a global independent energy expert and certification body - has named the P-Series solar panel a top performer in all five DNV GL tests that measured reliability through thermal cycling, damp heat, humidity-freeze, dynamic mechanical load and potential induced degradation.
"As a leading solar technology and energy services provider, we pride ourselves on offering the industry's most efficient solar panels available today that we design, engineer and manufacture ourselves," Werner continued. "With strong U.S. solar demand expected to continue, we are committed to offering our customers the option to buy industry-leading SunPower solar panels assembled right here at home."
About SunPower
As one of the world's most innovative and sustainable energy companies, SunPower (NASDAQ: SPWR) provides a diverse group of customers with complete solar solutions and services. Residential customers, businesses, governments, schools and utilities around the globe rely on SunPower's more than 30 years of proven experience. From the first flip of the switch, SunPower delivers maximum value and superb performance throughout the long life of every solar system. Headquartered in Silicon Valley, SunPower has dedicated, customer-focused employees in Africa, Asia, Australia, Europe, and North and South America. For more information about how SunPower is changing the way our world is powered, visit www.sunpower.com.
Featured Product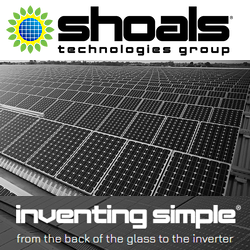 Inventing Simple® isn't just a slogan to us, it's a way of life. Using simple plug-and-play ideology, we revolutionized solar installations in 2003 with our Interconnect System™. Our harnessing system is now the gold standard EPC's use around the world. By using simple ideas, we are making solar energy a more affordable and clean power source for future generations.