The storage-based 320 kW HPC fast-charging solution can now be ordered directly from ADS-TEC
From 15th to 17th May, ADS-TEC will be presenting "High Power Charging", the world's most compact and powerful fast-charging solution for the limited-power distribution grid, at the electrical energy storage (ees) trade fair at Stand 230 in Hall B1 as part of Intersolar Europe/ the smarter E Europe 2019.

The battery and IT expert from Nuertingen, Germany, will also be presenting their extensive product portfolio of scalable lithium-ion battery storage systems for homes, businesses, industry and infrastructure and demonstrating the unique features of these systems: the high level of integration, as everything above the cell comes from a single source, and the secure IT connection and added value created by the company's own cloud solution.
The German Energy Storage Association (Bundesverband Energiespeicher e.V., BVES) and the StoREgio association will also be represented at the stand.
Based on decades of experience, ADS-TEC develops and produces highly professional battery storage systems, including energy management systems, under the "StoraXe" label. The modular design provides almost unlimited options in terms of scalability and comprehensive IT solutions open up new operating and business models.
Battery-backed fast-charging solutions for e-mobility are one of the company's focuses. This will bring a large demand for high electrical power into the distribution grid in the near future. As an alternative to grid expansion, ADS-TEC offers solutions to provide the highest charging capacities, even in a low-voltage grid.
"High Power Charging" at up to 320 kilowatts: HPC booster and HPC dispenser
The new HPC charging solution consists of an extremely compressed, cube-shaped "HPC booster" storage system together with one or two charging stations, the "HPC dispenser". The storage system, with a capacity of 140 kilowatt hours, is a complete system including inverter, control technology and air conditioning with a base area of less than 1.5 square meters and a capacity of 320 kilowatts. The principle is similar to that of a toilet cistern: the battery is slowly charged and empties in one go using the high-speed charging station. A DC charging capacity of up to 320 kilowatts is possible at one station, or up to 160 kilowatts each when distributed between two dispensers. This allows a range of several hundred kilometres to be charged in just a few minutes. The system uses the existing distribution grid effectively and without the need for costly grid expansion. Its extremely small size makes it easy to integrate, even in inner-city areas, and, with its high-quality design, it also fulfils high-end functions. Charging is low noise and is therefore also suitable for residential areas. Most recently, the charging system was selected as the number 1 highlight by "pv magazine".
On 15th May, Karl Knezar, Head of Sales Charging Infrastructure at ADS-TEC Energy, will give a presentation on "Storage-assisted High Power Charging in limited grids" in the ICM Munich, hall 13A starting from 17.00 clock.
"PowerBooster" mini container system
Another solution that can be integrated quickly is the compact "PowerBooster" outdoor battery system by ADS-TEC, which has a capacity of up to 240 kilowatts. It also delivers high performance to fast-charging stations while being recharged at low power at the available grid connection point. Again, complex medium-voltage systems, construction subsidies or expensive grid expansion can be avoided. As a grid storage unit and residential solution, the PowerBooster can be installed almost anywhere, even outdoors, and connected to the 400-volt distribution grid. Many grid-related functions, such as voltage stability, delay for optimum bandwidth utilisation, frequency control, reactive power supply or peak capping, are all possible. Energy providers and local grid operators are already successfully using the PowerBooster on temporarily overloaded distribution grids by means of volatile producers and consumers such as PV installations and e-vehicles.
Flexible use of home and industrial storage
Storage products from the ADS-TEC "Home & Small Business" energy division are designed for private households, apartment buildings, businesses and commercial and public facilities. The product portfolio includes 19, 28 and 47 kilowatt hours as closed cabinet systems and can be individually upgraded to 100 kilowatt hours and beyond.
The exceptional energy density and consistently high performance of all StoraXe storage products enable more far-reaching usage concepts than simple optimisation of private consumption, for example, to charge electric vehicles quickly or connect centrally to various cloud services via the company's own IoT platform solution, Big-LinX Energy.
Storage solutions for industry and infrastructure
Storage solutions from the ADS-TEC "Industrial & Infrastructure" division cover bandwidths between 100 kilowatt hours and several megawatt hours and are primarily used for tasks such as peak load capping, load management, control energy, emergency power applications and in combination with wind or larger PV installations. For large format applications, ADS-TEC supplies customised turnkey solutions in 20 or 40 foot containers or as a rack version for existing buildings and allow seamless integration at the customer's premises.
The modular design and the comprehensive IT management system provide almost unlimited options in terms of scalability. High-quality battery cells from the industrial sector ensure the highest performance and low capacity losses during the lifetime of the batteries. In addition, ADS-TEC customers value the options for guarantee design based on special IT tools and in consultation with the cell manufacturers.
Off-grid solutions
Off-grid solutions can be implemented particularly effective and reliable with the StoraXe storage technology. An optimally aligned system with a stable control system and its own energy management can achieve fossil fuel use reductions of up to 50 percent in hybrid systems with PV, wind and diesel, for example. ADS-TEC provides customised solutions in turnkey containers and provides optimum integration into the off-grid system.
Added value through the cloud platform "Big-LinX® Energy" by ADS-TEC
There are comprehensive physical usage options as a result of the particular energy density and consistently high performance of all storage systems by ADS-TEC. The individual storage systems can be operated in a connected manner, in a swarm, for example. The distributed systems can be monitored, securely coupled and integrated into customers' higher-level management systems and virtual power plants using the Big-LinX Energy cloud solution. "Big-LinX Energy" offers various energy management tools. These already help with planning, take over monitoring during operation, remote maintenance or data analysis and provide many possibilities for future business models and integrations.
The added value of StoraXe systems lies not only in the level of integration and the high-performance hardware, for example, ADS-TEC has its own highly optimised battery management system, but above all in the IT connection and the added value provided by Big-LinX Energy.
ADS-TEC - Technology for Professionals - 100% Made in Germany
The ADS-TEC Energy GmbH is a joint venture between the ADS-TEC Group and BOSCH. Based on decades of experience with lithium-ion storage technologies from the industrial PC sector, ADS-TEC develops and produces highly efficient battery storage and fast charging systems in the energy sector. Starting with capacities from 19 kilowatt hours for private houses and smaller commercial enterprises all the way up to scalable industrial storage systems, infrastructure solutions in the multi-megawatt range for energy providers and grid operators and self-sufficient energy supply systems, the company has been providing professional solutions to a broad based clientele for many years now. The SRS2019 industrial storage system with 19 kilowatt hours was recently named "Top storage battery 2018" by Manager Magazine online and pv magazine awarded the HPC booster the "Energy Storage Highlight" award. The newly developed fast charging technology for electric mobility is proving to be ground-breaking. It is unsurpassed worldwide in its compactness in terms of capacity and performance.
ADS-TEC's CEO, Thomas Speidel, is president of the German Energy Storage Association (Bundesverband Energiespeicher e.V., BVES). Through the initiatives in numerous projects funded on the state and national level, ADS-TEC maintains close relationships with businesses and research institutions along the entire value chain.
Featured Product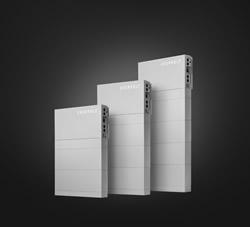 Extract maximum power production from every roof size and shape. HIT® AC Series combines the module efficiency of Panasonic solar panels with the intelligence of Enphase microinverters. A built-in IQ 7X microinverter with Individual MPPT (Module-level Power Point Tracker) tracking helps deliver an all-in-one module that offers design flexibility, reduced installation time, and a higher ROI. Field-replaceable microinverter with no DC wire management required yields lower cost of ownership.